Leadership Impact
How the Center advances the greater good
We enable hundreds of leaders each year to change anything – from themselves to the world. For decades, this has translated to amazing impact for nonprofit and civic organizations in the Louisville region. Driving the most significant transformation are teams we've convened through the Ignite Louisville Challenge, Encore Louisville teams, Bingham Fellows projects, and alumni initiatives. We're now calling these Community Acceleration Teams.
What are Community Acceleration Teams?
Community Acceleration Teams are groups of business and community leaders who work together to make nonprofits thrive.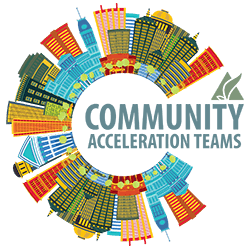 Teams can provide:
Pro-bono strategic consulting on organizational issues
Project design and implementation for your area of need
Participating nonprofits come away with:
Improved operations
Increased exposure
More strategic focus
Connections with potential board members and strategic volunteers.
Ready to work with a Community Acceleration Team?
Submit a proposal for a Community Acceleration Team
See FAQ for partnering with Leadership Louisville Center or contact Aimee Jewell at ajewell@leadershiplouisville.org if you have further questions.
Examples of ways Community Acceleration Teams have helped nonprofits:
"Our Ignite Team was an exceptional group with a broad set of skills and a deep passion and commitment to their community. Their work transformed our space into a home for our youth, solidified foundational policies, and drastically increased our visibility and notoriety in the community. They helped LYG achieve steps that could have taken years to complete if not for their presence, dedication, and enthusiasm.
-Jason Peno (FL '18), Executive Director, Louisville Youth Group, a nonprofit agency serving LGBTQ+ youth

"The team of experienced individuals from Encore Louisville provided concrete action steps that will improve board communications and working relationships, and strengthened my skills as a CEO. Teams allow nonprofits to access a group of talented professionals to provide services that could not be accessed in any other way.
-Jackie Ford (BF '19, LL '17, FL '15), CEO, Girl Scouts of Kentuckiana

"Our team were superheroes. They wholeheartedly jumped into the progression and development of our nonprofit without hesitation. Since day one they were dedicated to our success. They have helped develop a model of sustainability, secure funding, acquiring a building to work out of, and the knowledge to be impactful and intentional on our mission and vision to serve our youth to the best of our ability."
-Anthony Richardson, Founder & Executive Director, Inside the Lines, a nonprofit that helps student athletes excel academically and build leadership skills, while enhancing their athletic foundation

"The Serenity House has a good history and is deeply needed in our community but was very much in need of some direction for the sustainability and succession planning. The recommendations and finding of our team ranged from board development, leadership, financial, organizational change and marketing our story and was met with overwhelming support from our leadership. I just want to reiterate how thankful and appreciative I am to have had their help with this process."
– Ed Umbreit, Board Member, Serenity House, a residential facility for recovering male alcoholics
Other ways we help nonprofits
Connect with potential board members and strategic volunteers from our pool of active and engaged civic program participants and alumni.
Access leadership training
Examples of how nonprofits have benefitted from involvement with Leadership Louisville Center
"In Louisville, 1+1=3, and Leadership Louisville Center opportunities have greatly benefited me and Family Scholar House. A great number of classmates are donors, committee members, and active volunteers. The partnership and financial support for our families of single parents seeking higher education is significant."
– Cathe Dykstra (LL '09, BF '07, LN '06, FL '04), President & CEO, Family Scholar House, a nonprofit that helps families and youth succeed in education and achieve life-long self-sufficiency

"We are saving lives around the world with safe water, and have been supported by connections made with 30+ board members, volunteers, and contributors through the Leadership Louisville Center. This was critical support that that launched WaterStep to a new level of respect and recognition as a valuable asset in the world of water, innovation and compassion"
– Mark Hogg (LL '12), CEO, WaterStep, a nonprofit organization that saves lives globally by training local residents to use safe water technology

"With significant support from active, trained leaders we connected with through several different Leadership Louisville Center programs. New Roots and our Fresh Stop Market initiative is helping thousands of people gain access to fresh, healthy food. We now stand poised to be a national model, putting Louisville on the map as THE innovative food justice capital of the country."
– Karyn Moskowitz (BF '13), Executive Director, New Roots, a nonprofit that provides access to fresh food in underserved areas