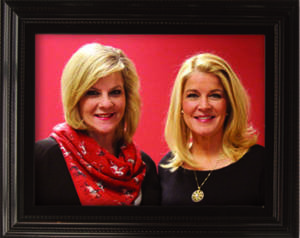 Together with presenting sponsor Delta Dental of Kentucky, the Leadership Louisville Center and Today's Woman magazine host 100 Wise Women to bring successful women leaders – Wise Women – together with emerging women leaders to share perspectives on themes presented by distinguished keynote speakers.
The next 100 Wise Women event on November 28 will feature sisters Tammy York-Day and Tonya York-Dees to share how they've achieved professional success and channeled philanthropic passion into amazing community impact.  Together, they created the "Unbridled Eve Gala" which has raised funds to feed more than 1,250 children annually.  In their day jobs, Tammy is COO of Delta Dental of Kentucky and Tonya owns an event and business strategy company, York Management, Inc. Following their keynote remarks, "wise women" hosts will facilitate conversation at each table, allowing women in attendance to engage in meaningful conversation and build their network of women leaders.
Registration is now open for the Tuesday, November 28 event to be held from 8-10 a.m. at The Olmsted, 3701 Frankfort Ave.; the cost is $35. These events sell out quickly, so register soon at www.leadershiplouisville.org/100ww. For more information, contact the Leadership Louisville Center at (502) 561-0458 or email info@leadershiplouisville.org.
About 100 Wise Women
Designed to increase the base of Louisville's qualified, connected women leaders, over 1,150 women attended the events in 2016, representing about 350 companies from industries including major employers, small businesses, professional service firms, universities, government agencies and nonprofit organizations of all kinds. Every event has sold to capacity since the series started in 2007. Proceeds from 100 Wise Women go to the Joan Riehm Women's Leadership Fund, created to allow women to participate in Leadership Louisville Center programs.  Since the scholarship fund was created in 2007, 127 women have received scholarships totaling more than $122,000.
100 Wise Women provides a unique and ideal opportunity for developing a network of mentors, colleagues and friends – networks that are essential to helping women lead in their careers and in the community. The conversations related to career success and professional and personal goals between distinguished women leaders and emerging career women allow the women to foster comfortable mentoring relationships. The majority of 100 Wise Women attendees are at the level of director or above and many others are emerging leaders or in early management positions.
100 Wise Women is held in partnership with the Leadership Louisville Center and Today's Woman magazine.  The Presenting sponsor is Delta Dental of Kentucky.  The event is also supported by Gold sponsor Ford Motor Company; Silver sponsor EY; and Bronze sponsors Allegra Marketing Services, Anthem Blue Cross Blue Shield, ARGI Financial Group, Citizens Union Bank, Humana Inc., and MCM CPAs & Advisors. Additional support is provided by Julie Pogue Properties and University of Louisville Athletics.
About Delta Dental of Kentucky and Making Smiles Happen®:
Delta Dental of Kentucky is committed to bright smiles and healthy lifestyles for its 700,000 enrollees and the communities we serve. Delta Dental of Kentucky is part of a family of companies that collectively are among the largest, most experienced dental plan administrators in the nation. Our network of providers gives our customers access to high-quality, affordable dental care.
Making Smiles Happen® is Delta Dental of Kentucky's promise to serve our communities and residents one smile at a time. Aimed with the task of promoting oral health to the citizens of Kentucky, this initiative supports many non-profit partners. Giving back is a core component of our culture at Delta Dental, and Making Smiles Happen enables this support to be given to organizations that champion a better quality of life for citizens throughout our Commonwealth.
About the Leadership Louisville Center
Created in 1979, the Leadership Louisville Center is the region's most valuable resource for leadership development and civic engagement.  Its mission is to grow and connect a diverse network of leaders who serve as catalysts for a world-class community through dynamic programming and strong community connections.  Over 7,000 community leaders have graduated from the Center's programs that include Leadership Louisville, Focus Louisville, Ignite Louisville, Bingham Fellows, and Encore Louisville.  The Leadership Green Room was launched in 2015 and serves as the training and talent development arm of the Center, expanding the resources available to the region's business community and employee base.  In 2011, the Leadership Louisville Center was recognized as one of the top seven community leadership programs in the U.S. in a benchmark study by the Center for Creative Leadership, the "gold standard" global provider of executive leadership education and research.  Learn more at www.leadershiplouisville.org.
# # #
For more information, contact:
Holly Prather, Vice President
Main: (502) 561-0458   Direct: (502) 753-6503