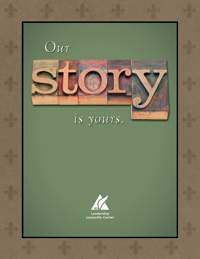 Program graduates and friends of the Leadership Louisville Center will soon receive our year-end impact report, "Our Story is Yours," in mailboxes. You can also download it here by clicking the image at left. Take a moment to enjoy inspiring stories of graduates empowered with knowledge and connections, who are turning dreams of a better community into reality.
This report shares our pride and admiration for citizens who continually step up to build a stronger community. You'll find stories of the "birth" of the Happy Birthday Park, to the growth of YouthBuild Louisville and Family Scholar House, to education initiatives from the 2012 Bingham Fellows class and more.
Do you have your own story?
We invite you to share it with us. The re-telling builds momentum for other civic-minded individuals to follow suit.With great appreciation for the investments you've made in our programs, in membership in the Center, as donors to our scholarship funds and most importantly as civic leaders and volunteers, we wish you a happy, healthy and inspiring 2013!
Cynthia Knapek,
President
Leadership Louisville Center