FEATURING KEYNOTE SPEAKER:
---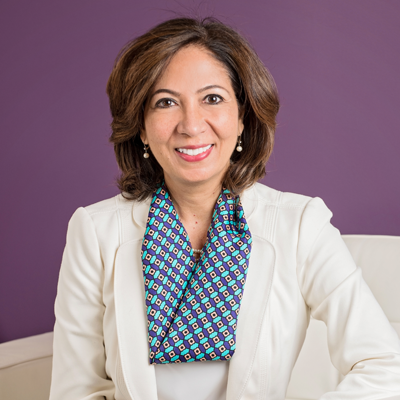 Vidya Ravichandran
CEO and Founder, GlowTouch LLC
Date: Wednesday, September 20, 2023
Time: 8:00 – 10:00 a.m. ET
Where: In Person at The Olmsted, on the campus of Masonic Homes Kentucky, 3701 Frankfort Ave., Louisville, KY 40207
Tickets: $35 Members, $50 Non-Members
REGISTER NOW

Presenting Sponsor:

---
Vidya Ravichandran entered the business world working on the human genome project and has since become an entrepreneur, launching a global technology firm, GlowTouch. She was only one of a few female, minority CEOs early in her career, and as this has slowly increased, she has championed and promoted women into leadership positions and focused on opportunities for disadvantaged populations. Definitely a 'wise woman' with lessons to share, Vidya is driven to leave a legacy of service to others, and we look forward to hearing her story!
---
Every woman needs a network of strong women in their lives to grow their confidence, courage, and connections.
This is why the 100 Wise Women event series was created. Hosted four times a year, women leaders come together to connect and learn at this meaningful, interactive breakfast event.
Every 100 Wise Women event includes the same essential ingredients:
Open Networking & Breakfast
Keynote Address
Facilitated Discussion
Sharing of Lessons Learned
These events foster deep, meaningful connection that go beyond your typical "networking." Our keynote speakers are candid, inspirational, and wise beyond measure. If you're interested in meeting incredible, strong, women looking to make a difference in the lives of the community and other women, you don't want to miss this event. Indeed, it often sells out – so make sure to purchase your tickets soon!
Proceeds from 100 Wise Women go to the Women's Leadership Fund, created to allow women to participate in Leadership Louisville Center programs. Since the scholarship fund was created in 2007, over 200 women have received scholarships totaling more than $200,000 to participate in Focus Louisville, Ignite Louisville, Leadership Louisville, Bingham Fellows, the Alice Houston Women's Leadership Program, and LeadingBetter™ training courses.
---
MORE ABOUT VIDYA
---
Vidya Ravichandran is the CEO and Founder of GlowTouch, a global enterprise that provides customer care and technology outsourcing services. Headquartered in Louisville, KY, the company started as a small technology services company 20 years ago. Today GlowTouch has grown to almost 3,000 employees in the US, India, Philippines and the Dominican Republic and services a diverse portfolio of global clients. GlowTouch is continuing to grow rapidly and plans to expand its global footprint beyond the 8 current locations that it operates out of.
Doing well in business also serves as the conduit for doing good in the community. Through Vidya's leadership and love of technology, GlowTouch sponsors programs that empower girls and young women to pursue STEM careers, utilizes impact sourcing to create economic opportunities for underserved populations, and engages in philanthropic efforts centered on improving the quality of education and access to health care in multiple locations around the world.
Vidya was recently inducted into the CCWomen Hall of Fame for her work in the Contact Center industry and was named one of Louisville's Most Admired CEOs and an Enterprising Woman Leader by Louisville Business First.
You need a network of strong women at your table – and we'd love for YOU to be at ours.
We host four 100 Wise Women networking events per year. Click here to see our full lineup!