Together with presenting sponsor Delta Dental of Kentucky, the Leadership Louisville Center and Today's Woman magazine host 100 Wise Women to bring successful women leaders – Wise Women – together with emerging women leaders to share perspectives on themes presented by distinguished keynote speakers.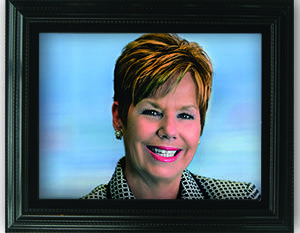 The next 100 Wise Women event on September 19 will feature Karen Williams, president and CEO of the Louisville Convention & Visitors Bureau (LCVB).  Williams is responsible for leading efforts to attract and retain tourism business, pumping $1 billion annually into the local economy.  She's at the helm of the LCVB at a pivotal time, with four downtown hotels, a new convention center and multiple urban bourbon attractions under construction. Attendees will hear her eventful path to leadership, with lessons on resilience and the impact of choices.  Following her keynote remarks, "wise women" hosts will facilitate conversation at each table, allowing women in attendance to engage in meaningful conversation and build their network of women leaders.
The Tuesday, September 19 event will be held from 8-10 a.m. at The Olmsted, 3701 Frankfort Ave.; the cost is $35. These events sell out quickly,
"Delta Dental of Kentucky is delighted to return for another year at the helm of the 100 Wise women series," said Tammy York Day, chief operations officer of Delta Dental of Kentucky.  "We are pleased to support the Leadership Louisville Center and this important initiative that empowers professional women in our community."
About 100 Wise Women
Designed to increase the base of Louisville's qualified, connected women leaders, over 1,150 women attended the events in 2016, representing about 350 companies from industries including major employers, small businesses, professional service firms, universities, government agencies and nonprofit organizations of all kinds. Every event has sold to capacity since the series started in 2007. Proceeds from 100 Wise Women go to the Joan Riehm Women's Leadership Fund, created to allow women to participate in Leadership Louisville Center programs.  Since the scholarship fund was created in 2007, 127 women have received scholarships totaling more than $122,000.
100 Wise Women provides a unique and ideal opportunity for developing a network of mentors, colleagues and friends – networks that are essential to helping women lead in their careers and in the community. The conversations related to career success and professional and personal goals between distinguished women leaders and emerging career women allow the women to foster comfortable mentoring relationships. The majority of 100 Wise Women attendees are at the level of director or above and many others are emerging leaders or in early management positions.
100 Wise Women is held in partnership with the Leadership Louisville Center and Today's Woman magazine.  The Presenting sponsor is Delta Dental of Kentucky.  The event is also supported by Gold sponsor Ford Motor Company; Silver sponsor EY; and Bronze sponsors Allegra Marketing Services, Anthem Blue Cross Blue Shield, ARGI Financial Group, Citizens Union Bank, Humana Inc., and MCM CPAs & Advisors. Additional support is provided by Julie Pogue Properties and University of Louisville Athletics.