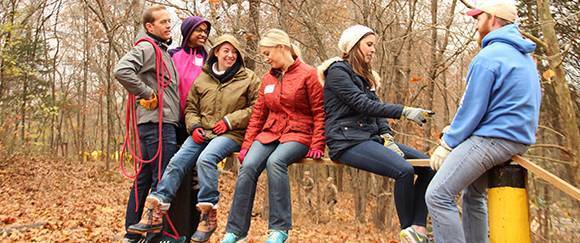 At their program day at Fort Knox this month, the Ignite Louisville teams learned which nonprofit they'll spend the next six months working with as they compete in the Yum! IGNITES Louisville Challenge. The Challenge is the service learning component of the award-winning Ignite Louisville program for up-and-coming leaders.
The Ignite Louisville program is presented by Norton Healthcare.
The Yum! IGNITES Louisville Challenge is presented by Yum! Brands.
The nonprofits selected and their Ignite Louisville teams
(in alphabetical order by agency name)
Bates Community Development Corp., working with the Derby City Seven team
Left to right: Elly Faulkner, Munson Business Interiors; Mae Marks, HealthEnterprisesNetwork; Kevin Spencer, Humana Inc.; Eric Olson, The Oliver Group, Inc.; George Kington, River City Bank; Trevor Park, Yum! Brands, Inc.; Dale Douthat, Habitat for Humanity of Metro Louisville.
Learn more about Bates Community Development Corp.
---
Hildegard House, working with Team Silent Thunder

Left to right: Ebony Harris, Louisville Metro Government; Laura Jacobs, Humana Inc.; Jantzen O'Neal, PricewaterhouseCoopers; Abby Link, Uspiritus; Aaron Jahn, GE Appliances, a Haier company; Sarah Kays, Vivid Impact; Danielle Palmer, Bandy Carroll Hellige
Learn more about Hildegard House
---
Kentucky Waterways Alliance, working with Team Solid Seven

Left to right: Natalie Brown-Radtke, Catholic Charities; Kelly Gold, Alliance Cost Containment, LLC; Stephanie Ubelhart, Norton Healthcare; Katherine North, RunSwitch PR; Isaac Fain, Craig Henry PLC; Luke Etheredge, Kentucky Farm Bureau; Martin Hjalm, Brown-Forman
Learn more about Kentucky Waterways Alliance
---
Louisville Urban League, working with Team LiveLoveLou

Left to right: Emily McKinney, Frost Brown Todd LLC; Tracy Karem, Louisville Public Media; Meghan Greeley, Humana Inc.; Tori Macke, Mercer; Brandon Estenfelder, Abel Construction Company; Lisa Baunach, University of Louisville; Shane Raymond, Hilliard Lyons
Learn more about Louisville Urban League
---
WHAS Crusade for Children, working with Team Superlatives

Left to right: Dennis Stilger, Concord, LP; Danielle Withers, Humana, Inc.; Chris Rambicure, Kaplan & Partners LLC; Kristen Shive, Mirazon; Courtney Glenny, Fund for the Arts; Eboni Edwards, LG&E and KU Services
Learn more about WHAS Crusade for Children
---
YouthBuild, working with Team Top Gun
Left to right: Chelsey Duncan, Brown-Forman Corporation; Alecia Fuller, Centerstone Kentucky, Inc.; Wit Wang, Bluegrass International Fund; Perla Dunn, Enterprise Holdings, Inc.; Marty Merkel, JRA Architects; Nicole Gallahue, EDR Systems, LLC; Raymond Goose, Texas Roadhouse
Learn more about the YouthBuild
About the Yum! IGNITES Louisville Challenge
Six nonprofits will benefit from teams in the Ignite Louisville Class of 2018 (October '17 – April '18), through the 2018 Yum! IGNITES Louisville Challenge. The Challenge is the service learning component of Ignite Louisville, where teams undertake a project for a local nonprofit. Teams gain experience in community leadership, board involvement and teamwork.  Participating nonprofits benefit from the expertise and energy of the Ignite Louisville teams, who each invest hundreds of hours with their nonprofit agency as they compete for donations made possible by the Yum! Brands Foundation.
Each year, nonprofit agencies submit proposals hoping to work with an Ignite Louisville team through the challenge, sponsored by Yum! Brands, Inc. At the end of the program, a winning team will be selected to receive funds for their partner organization. See the results of the most recent Challenge.