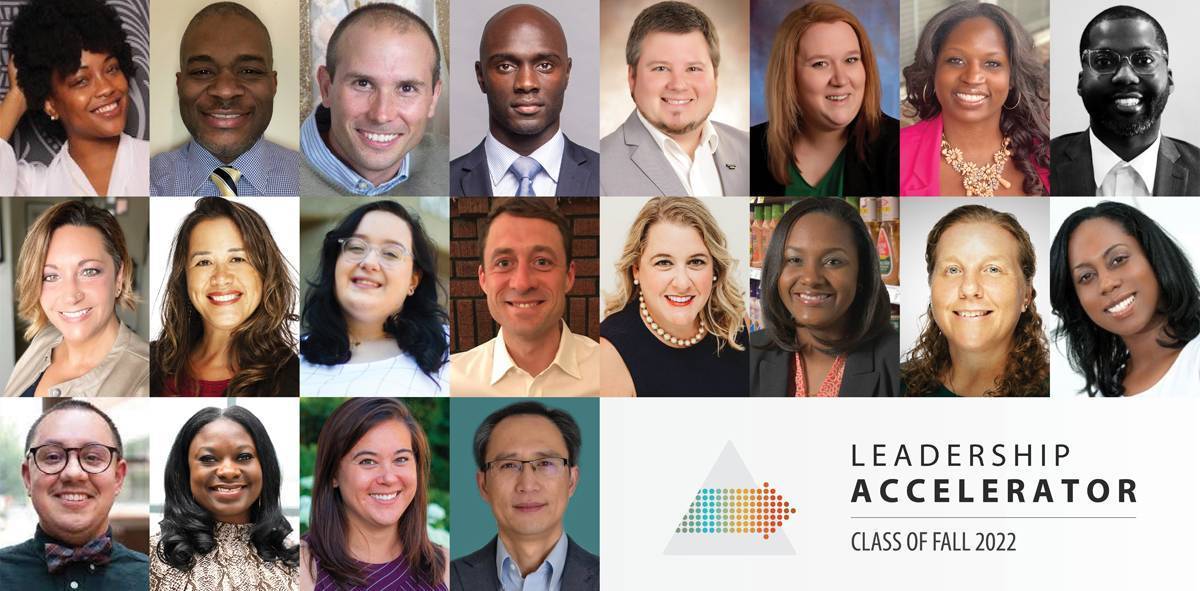 LEADERSHIP LOUISVILLE CENTER ANNOUNCES NEW PROGRAM & CLASS –
Leadership Accelerator for Employee Resource Group leaders is first of its kind in the U.S.
The Leadership Louisville Center has launched a new program that is the first of its kind in the country, called Leadership Accelerator. Developed in partnership with its IncLOUsion Council, an advisory council of ERG leaders established in 2019 by the Leadership Louisville Center, the new program will gather leaders of employee resource groups (also called BRGs, affinity groups, etc.) to accelerate the growth of a company's diverse talent, grow skill sets in individuals, and deepen connections between affinity group leaders.
"The twenty participants representing thirteen organizations will spend four months building their individual leadership skills, connecting with others across companies and social identities, and strengthening the impact they make within their organizations' affinity groups and beyond," said Cynthia Knapek, president and CEO of Leadership Louisville Center. "Participants represent employee resource groups, which engage and support Black, Latinx, women, LGBTQ+, parents, young professionals, and more employee groups. By elevating these leaders and connecting groups across organizations, we have the opportunity to accelerate the impact of diverse talent within companies and our community."
The Fall 2022 class runs from August – November 2022. The second cohort will begin in January and is open to anyone involved in their organization's employee resource group programming. Companies or individuals interested can visit www.leadershiplouisville.org/leadership-accelerator, or contact Jennifer Stevens at jstevens@leadershiplouisville.org.
The members of the Leadership Accelerator Class of Fall 2022 are:
Imani Bland, Sourcing Lead II, LG&E and KU Energy
Sean Brown, EVS Manager, Kindred Hospitals
Jason Cebe, Records Manager, Frost Brown Todd LLC
Omar Cham, HR Manager US Commercial, HR North America & Global Supply Chain, Beam Suntory
Alex Laurentin Costa, Digital Acquisition Manager, Republic Bank & Trust Company
Bethany Daily, Human Resources Manager, Kroger Co.
Schaka Davis, Director of Business Intelligence, Humana Inc.
Joseph Franklin, Account Manager, TEKsystems
Kimberly Gibbs, District Director of Clinical Operations, ScionHealth
Stephanie Murphy Givans, Commercial Relationship Manager, PNC Bank
Sarah Kelley, Student Services Program Coordinator, University of Louisville
Benjamin Lesousky, Copywriter/Editor, Frost Brown Todd LLC
Elizabeth Liebschutz, Ph.D., Manager of Global Initiatives and Partnerships, University of Louisville
Stacy-Ann McDuffus, Assistant Store Leader, Kroger Co.
Melissa Mitchell, Assistant Vice President, Fiduciary Closing Team Supervisor, PNC Bank
Lauren Richmond, Brand Manager, Brown-Forman Corporation
Caleb Ulrich, Inclusion Specialist, Norton Healthcare
Dana Wilson, Inclusion and Diversity Leader, Humana Inc.
Jaymi Yantis, Project Manager – Portfolio Innovation, Brown-Forman Corporation
Jianhua Zhao, Ph.D., Associate Prof., University of Louisville
Leadership Accelerator is made possible in part by founding sponsors Brown-Forman Corporation, the Kroger Co., and PNC Bank. Frost Brown Todd serves as a sustaining sponsor.
More about IncLOUsion, ERG Advisory Council
Organized by the Leadership Louisville Center, IncLOUsion is an employee resource group (ERG) advisory council with representatives from various organizations based in Louisville. The council's purpose is to "equip and champion diverse talent to have a voice and be successful leaders in our workplace and communities." The goals of the council are to:
Empower talented individuals who have been underrepresented to gain recognition and promotion into their organization's leadership pipeline.
Transform the face of leadership in our community.
Ensure Louisville is recognized and known as the city where diverse talent thrives and succeeds.
For further information, read the Business First Louisville Guest Comment: "Employee Resource Groups can drive inclusion efforts" by Lyndsay Railey and Brian Buford.
Companies represented on IncLOUsion are: Beam Suntory, Brown-Forman Corporation, Humana, Kroger Co., LG&E and KU Energy, Mercer, Norton Healthcare, PNC Bank, Republic Bank, Talaris Therapeutics, UofL, UPS, and YUM! Brands, Inc.
ABOUT THE LEADERSHIP LOUISVILLE CENTER
The Leadership Louisville Center is the region's most valuable resource for leadership development and civic engagement. With a purpose to inspire and equip leaders to be better and do better, it has graduated over 10,000 through its civic programs since 1979. The Center is recognized as a national best practice and is known for its dynamic programming and strong community connections. Programming includes five community leadership programs (Leadership Louisville, Focus Louisville, Ignite Louisville, Bingham Fellows and Encore Louisville), leadership skills training courses presented through the Leadership Green Room, and events designed to motivate positive change. Learn more at www.leadershiplouisville.org.
# # #