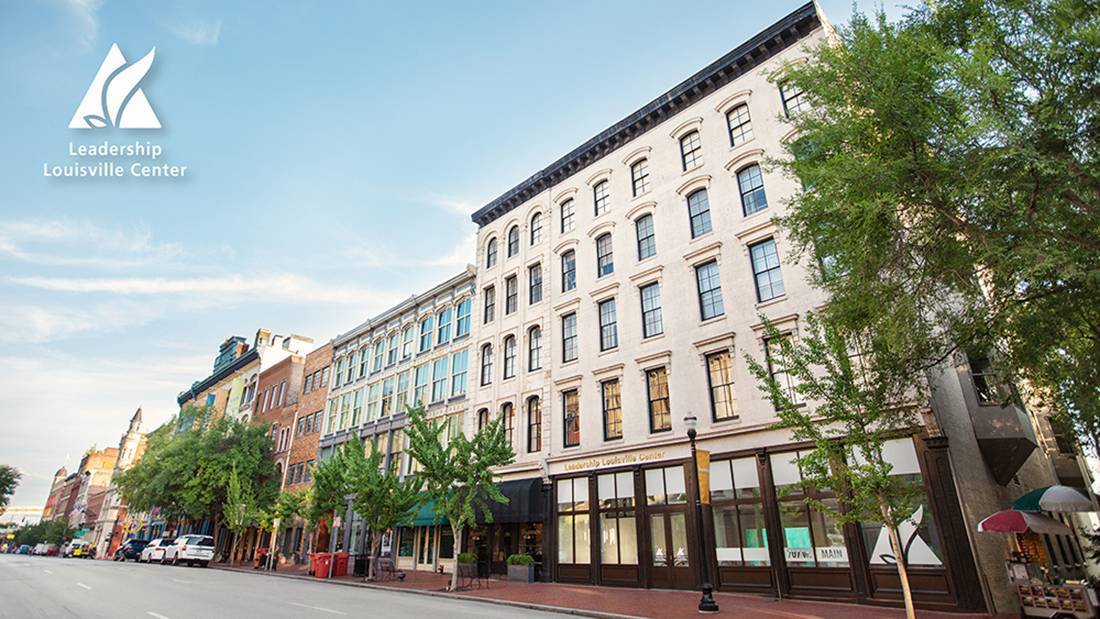 Leadership Louisville Center Offering Virtual Learning Opportunities – Includes Free Microlearning Sessions, new Virtual Training Courses, Thought Leadership events, and new Podcast featuring local leaders
The Leadership Louisville Center continues to provide access to virtual leadership learning in response to the pandemic. Offerings include free Leadership Green Room Microlearning sessions open to all and new virtual leadership training courses in the Leadership Green Room designed to build essential skills needed for today's workforce.
To continue fostering connections to strengthen the social fabric of our community, the Center's Thought Leadership Series presented by Baird is now virtual and free for members and guests, allowing community members to stay informed and connected with leaders and important issues. Launched last month, the Leadership Louisville Podcast features candid conversations with local leaders and is hosted by former radio personality and director of community leadership for the Center, Aaron Miller.
Leadership Green Room Microlearning: (Reserve your spot at this link)
Wednesday, June 17 |  10-11am – To Lead is Human: Understanding Your Imperfections as a Leader During a Crisis, with Dr. OJ Oleka, President of the Association of Independent Kentucky Colleges and Universities (AIKCU)
Wednesday, July 1 | 3:30-5:00 p.m. – When Love is Not Enough: How Implicit Bias Affects Our Daily Interactions with Others, with Marian R. Vasser, M.Ed., Diversity and Equity Practitioner
Wednesday, July 8  |  12-1pm – Live in Your P.O.W.E.R. – 5 Keys to Inner Peace & Increased Productivity, with Sheri Riley, Empowerment Speaker, High-Performance Life Strategist, Award-winning author of "Exponential Living," and founding partner of the global John Maxwell Tea
NEW Virtual Leadership Training Courses in Leadership Green Room, presented by Republic Bank Foundation:
Thought Leadership Series events: (Reserve your spot at this link)
Thursday, June 11 | 4:30-5:30 p.m. – Preserving Louisville's Foodie Culture with Ryan Rogers, Owner of Feast BBQ, Royals Chicken & Bar Vetti and Anne Shadle, Co-Owner, Mayan Cafe, Mayan Street Food & Mayan Cafe Catering
Thursday, June 25 | 8:30-9:30 a.m. – What the Future Holds for JCPS featuring Dr. Marty Pollio, Superintendent, Jefferson County Public Schools
Episode 1 – Featuring Mary Ellen Wiederwohl, Chief of Louisville Forward
Episode 2 – Featuring Maggie Harlow, Owner of Signarama Downtown
Episode 3 – Featuring Stacey Wade, President of NIMBUS
Episode 4 – Featuring Mike Berry, Kentucky's Secretary of Tourism, Arts, and Heritage
Episode 5 – Featuring Sarah Davasher-Wisdom, President and CEO of GLI
Episode 6 – Featuring Dr. Monalisa Tailor, President of the Greater Louisville Medical Society
Coming next week are episodes featuring Nikki Lanier, Senior VP and Regional Executive of the Louisville Branch of the Federal Reserve Bank of St. Louis, and Sadiqa Reynolds, President and CEO of the Louisville Urban League
More about the Leadership Louisville Podcast: Leadership and learning go hand in hand; join us as our community's most interesting leaders, along with host Aaron Miller, enjoy a candid conversation about leadership lessons, pivoting, leading through change, and failing forward. Find out how these headline-makers plan to "be better and do better" (the purpose of the Leadership Louisville Center) and, most importantly, find out their vision for the future of this community. Each week you'll hear an authentic exchange where listeners get to know our community leaders as real people and, hopefully, have fun along the way.
ABOUT THE LEADERSHIP LOUISVILLE CENTER
The Leadership Louisville Center is the region's most valuable resource for leadership development and civic engagement. With a purpose to inspire and equip leaders to be better and do better, it has graduated over 10,000 through its civic programs since 1979. The Center is recognized as a national best practice and is known for its dynamic programming and strong community connections. Programming includes five social impact leadership programs (Leadership Louisville, Focus Louisville, Ignite Louisville, Bingham Fellows and Encore Louisville), leadership skills training courses presented through the Leadership Green Room, and events designed to connect leaders and motivate positive change. Learn more at www.leadershiplouisville.org.