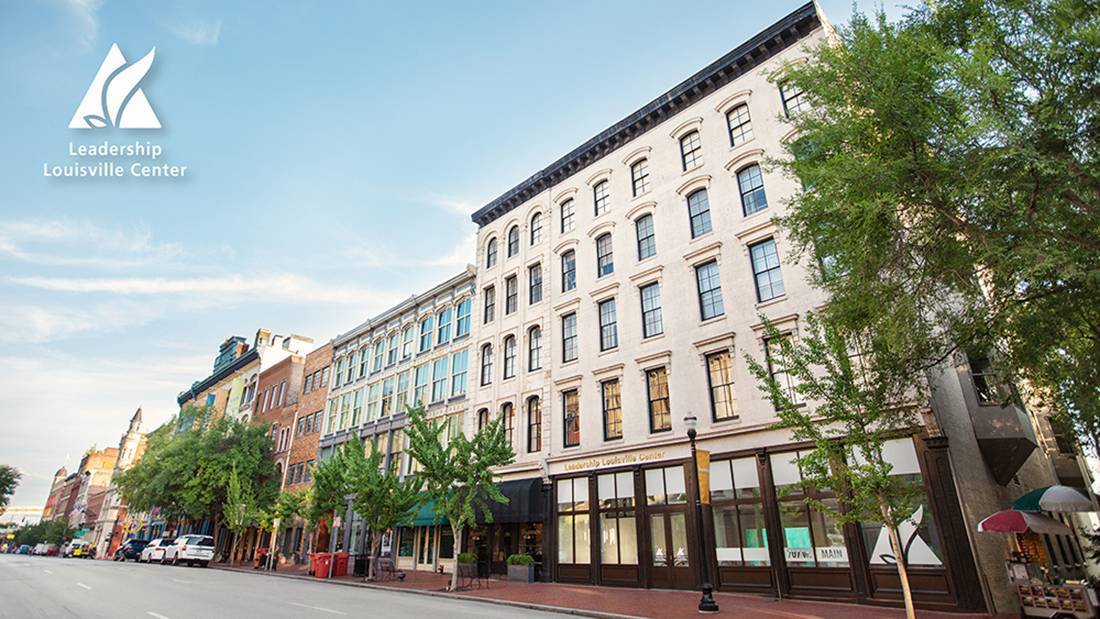 ADVANCING LEADERS & SOCIAL FABRIC OF OUR COMMUNITY THROUGH FREE PROGRAMMING – Leadership Louisville Center Offering Free Microlearning, Virtual Thought Leadership events, and new Podcast
The Leadership Louisville Center is advancing new initiatives under its new strategic plan much faster than anticipated due to the COVID-19 pandemic. The new normal of virtual access to programming is now making it possible for the Center to meet two of the plan's strategic imperatives in new and creative ways. The strategies include, 1. Equip more people to lead with confidence and courage, and 2. Foster connections that strengthen the social fabric of the community.
The Center is increasing access to leadership learning through its new, free Leadership Green Room Microlearning offerings. Now virtual, and free for members and guests, the Center's Thought Leadership Series allows community members to stay informed and connected with leaders and important issues. Launched this week, the Leadership Louisville Podcast features candid conversations with local leaders and is hosted by former radio personality and director of community leadership for the Center, Aaron Miller.
Leadership Green Room Microlearning: (Reserve your spot at this link)
Tuesday, May 5 | 3-4 p.m. – A Conversation with Marshall Goldsmith, Executive Coach & New York Times #1 Best-Selling Author of Triggers, Mojo, and What Got You Here Won't Get You There
Tuesday, May 19 | 2-3 p.m. – Your Roadmap to Trust, with Justin Patton, Leadership Presence Expert and award-winning author
Friday, May 29 | 9-10 a.m. – Leading with Grace During a Pandemic, with Fiona Campbell, Organizational Psychologist and Executive Coach
Thought Leadership Series events: (Reserve your spot at this link)
Thursday, May 14 | 8:30-9:30 a.m. – A Virtual Walk through Louisville's History with Dr. Tom Owen, Historian and Archivist with the University of Louisville
Thursday, May 21 | 8:30-9:30 a.m. – Talking Business in Kentucky featuring Ashli Watts, President & CEO, Kentucky Chamber of Commerce
Leadership Louisville Podcast, hosted by Aaron Miller
More about the Leadership Louisville Podcast: Leadership and learning go hand in hand; join us as our community's most interesting leaders, along with host Aaron Miller, enjoy a candid conversation about leadership lessons, pivoting, leading through change, and failing forward. Find out how these headline-makers plan to "be better and do better" (the purpose of the Leadership Louisville Center) and, most importantly, find out their vision for the future of this community. Each week you'll hear an authentic exchange where listeners get to know our community leaders as real people and, hopefully, have fun along the way.
ABOUT THE LEADERSHIP LOUISVILLE CENTER
The Leadership Louisville Center is the region's most valuable resource for leadership development and civic engagement. With a purpose to inspire and equip leaders to be better and do better, it has graduated over 10,000 through its civic programs since 1979. The Center is recognized as a national best practice and is known for its dynamic programming and strong community connections. Programming includes five social impact leadership programs (Leadership Louisville, Focus Louisville, Ignite Louisville, Bingham Fellows and Encore Louisville), leadership skills training courses presented through the Leadership Green Room, and events designed to connect leaders and motivate positive change. Learn more at www.leadershiplouisville.org.