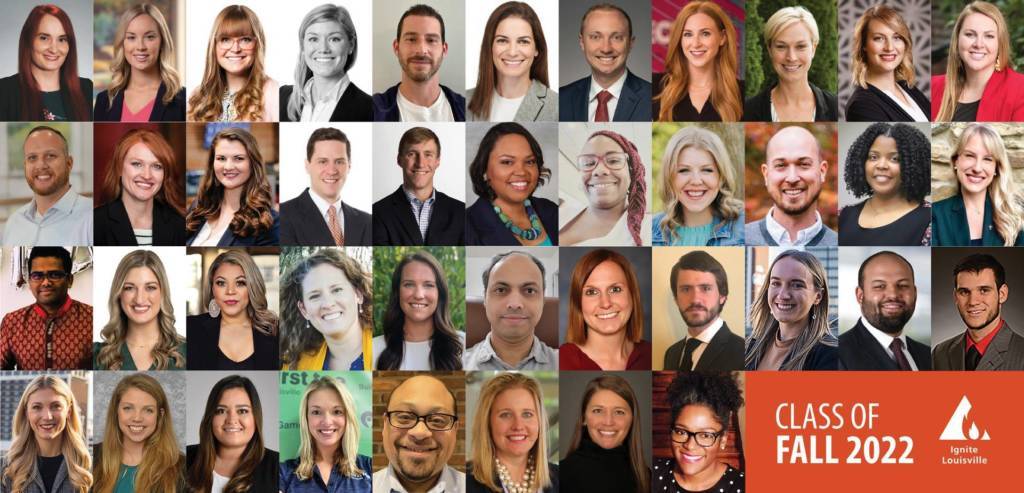 Forty-one emerging leaders have been selected for the Leadership Louisville Center's Ignite Louisville Class of Fall 2022 that will run from April – October 2022. This is the 27th class of the award-winning program, presented by Norton Healthcare, which has graduated over 1,160 up-and-coming leaders, preparing next-generation talent for expanded roles in their organizations and in the community.
The Ignite Louisville experience grows high potential professionals by developing the key components of leadership, with core curriculum developed by the Leadership Louisville Center and partners including Norton Healthcare, Brown-Forman Corporation, and the U.S. Army. The class puts these lessons to work through the Ignite Louisville Challenge, which is an opportunity to be part of one of the Center's Community Acceleration Teams and work with a local nonprofit to develop and implement solutions for their needs. The teams compete to do the most good for their nonprofit, gaining hands-on experience performing on a diverse team and serving the community. Since the first class graduated in 2005, Ignite Louisville participants have worked on 160 projects for area nonprofits to plan, execute and sustain new strategies for success.
"It is critical for companies to invest in their talent today, to better engage and support their emerging leaders, as well as prepare them to take on the tough challenges ahead," said Cynthia Knapek, president of Leadership Louisville Center. "Ignite Louisville is our premier talent development program and we're excited to announce the leaders selected for our newest class as well as celebrate the 36 companies who are modeling investment in their talent and our community, including our long-time partner and presenting sponsor Norton Healthcare."
Members of the Ignite Louisville Class of Fall 2022 (April – October 2022) are (click for photo roster):
Sarah Abshear, Abshear PLLC
Kayla Campbell, DBL Law | Dressman Benzinger LaVelle PSC
Haley Cawthon, Louisville Business First
Elizabeth Chandler, J.B. Speed Art Museum
Zachary Cohen, St. Francis School
Isabel Corominas, Brown-Forman Corporation
Aaron DuVall, BKD CPAs & Advisors, LLP
Shelby Fill, &well
Sophia Fischer, Northwestern Mutual
Stephanie Garvey, Hosparus Health
Heather Gregory, GE Appliances, a Haier company
Eric Hall, Farm Credit Mid-America | Rural 1st
Rochelle Heis, JRA Architects
Mandy Jackson, High10 Digital
Carl Lammers, Frost Brown Todd LLC
Henry Lynch, Vsimple
Kirstie Matzek, Baptist Health
Epiphany McGruder, Louisville Metro Government
Rachel McMahan, Cedar Lake Foundation, Inc.
Jonathan Meacham, LG&E and KU Energy
Jennifer Miles, Transit Authority of River City | TARC
Lena Muldoon, Louisville Metro Government
Saravanan Murugan, Humana Inc.
Lauren Cherry Newcomb, Heaven Hill Brands
Nikki Patterson, P.E.P Rally
Lisa Purdy, Maryhurst, Inc.
Hannah English Rahill, Stegner Investment Associates, Inc.
Prasad Rane, Humana Inc.
Isaac Schuetz, BLUE Energy Group
Olivia Sievert, Greater Louisville Inc. | GLI
Tyler Smith, Messer Construction Co.
Jake Smith, Wyatt, Tarrant & Combs, LLP
Shelby Somervell, Greater Louisville Inc. | GLI
Emily Teaford, Humana Inc.
Megan Tennison, Norton Healthcare
Leonard Thomas, Jefferson Community and Technical College | JCTC
Kelsey Thomas, First Tee – Louisville
Megan Ueltschy Scheps, Independence Bank
Stephanie Weidenborner, Humana Inc.
Courtney Weisshaupt, The Healing Place
LaToya Whitlock, Decode Project
About the Leadership Louisville Center:
The Leadership Louisville Center is the region's most valuable resource for leadership development and civic engagement. With a purpose to inspire and equip leaders to be better and do better, it has graduated over 10,000 through its civic programs since 1979. The Center is recognized as a national best practice and is known for its dynamic programming and strong community connections. Programming includes five social impact leadership programs (Leadership Louisville, Focus Louisville, Ignite Louisville, Bingham Fellows and Encore Louisville), leadership skills training courses presented through the Leadership Green Room, and events designed to connect leaders and motivate positive change. Learn more at www.leadershiplouisville.org.
# # #
For more information, contact:
Holly Prather
Vice President
Cell: (502) 609-9227