Who It's For
Individual contributors through upper-level managers and anyone responsible for providing feedback and coaching to others.
Why this course
Whenever you're not getting the results you're looking for, it's likely a crucial conversation is keeping you stuck. Whether it's a problem with poor quality, slow time-to-market, declining customer satisfaction, or a strained relationship – whatever the issue – if you can't talk honestly with nearly anybody about almost anything, you can expect poor results.
Crucial Conversations is a two-day course that teaches skills for creating alignment and agreement by fostering open dialogue around high-stakes, emotional, or risky topics – at all levels of your organization. By learning how to speak and be heard (and encouraging others to do the same), you'll surface the best ideas, make the highest-quality decisions, and then act on your decisions with unity and commitment.
Download course overview (pdf)
July 11-12, 2019 | 2 Days ($900)
Leadership Louisville Center members receive $100 off – contact us for discount code.
Become a Green Room package holder and receive discounts of up to 20%.

Learning Outcomes
Identify the right problem to hold the right conversation
Speak persuasively, not abrasively
Build acceptance rather than resistance
Resolve individual and group disagreements
Go from talking to getting results
Competencies: ensure accountability, drive results, manage conflict, exhibit interpersonal savvy, develop talent, value differences, build effective teams, communicate effectively, persuade/influence, manage with courage, demonstrate self-awareness, instill trust, drive engagement
About the facilitators
In 2012, Cynthia Knapek was named President of the Leadership Louisville Center. The Center is a leader in civic engagement and leadership development whose mission is to inspire and equip leaders to BE BETTER and DO BETTER. Cynthia is particularly proud that the work the Center has done to foster inclusivity and embrace diversity was recognized with the 2016 Champion of Diversity Award from the Urban League.
She also serves as the Chair of the national board for the Association of Leadership Programs. ALP 's mission is to recognize excellence, foster innovation, and build networks for community leadership programs across the country.
Before joining Leadership Louisville, Cynthia's work included engagements with government, Fortune 500 and other social sector organizations.  Cynthia is active in numerous community organizations including Rotary and serves on several boards including Greater Louisville Inc. (Chamber of Commerce).
She has a Master's degree from the University of Louisville as well as several certifications in leadership training and organizational development.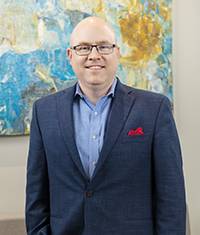 Aaron Miller is the director of programs for the Leadership Louisville Center.  He runs the program side of the organization, which includes the Leadership Louisville, Bingham Fellows, Ignite Louisville, Focus Louisville, and Encore Louisville programs.  The Encore Louisville program is the newest addition, which was co-created by Miller and a team of Leadership Louisville Center graduates in 2014.
Aaron has been with the Leadership Louisville Center since 2012, and spent the previous 17 years in broadcasting, working as a radio morning show host and promotions/marketing director for a multi-station cluster. Miller was elected to two terms as a city council member for the city of Lyndon (a small city within Jefferson County) in 2002 and 2004, and he has also worked as a blogger for Gannett/The Courier-Journal.
In 2015, Business First magazine named him one of "20 People to Know in Nonprofits." He has received other awards including Business First's Forty Under 40 in 2010, the Young Professionals Association of Louisville's President's Award in 2009, and the Make-A-Wish Foundation's Strength Award in 2007 and Hope Award in 2004.
Continuing Education Units (CEU)
CPAs
The Leadership Green Room courses can be submitted for Continuing Professional Education (CPE) for individuals licensed to practice as certified public accountants.
At the conclusion of each course, the Leadership Louisville Center will provide the following documentation for CPE credit purposes:  Date, record of individual attendance, course title and description, workshop/event agenda, facilitator bios, course hours, and educator signature.  This meets the documentation required by the Kentucky Board of Accountancy for CPE credits, although the state board of accountancy has the final authority on the acceptance of individual courses for CPE credit.
It is the responsibility of the participant to describe how the course contributes directly to the professional competence of the individual when submitting the course for credits.   https://cpa.ky.gov/practicingcpas/Pages/Continuing-Professional-Education.aspx
HR professionals
Approval is at the discretion of specific licensing boards or agencies. Leadership Louisville Center is a Human Resources Certification Institute (HRCI) and Society of Human Resources Management (SHRM) approved provider.
This course has been approved by HRCI for 13.25 PDCs. The use of this seal confirms that the activities have met HR Certification Institute's® (HRCI®) criteria for recertification credit pre-approval. It is also approved by SHRM for 13.25 hours.