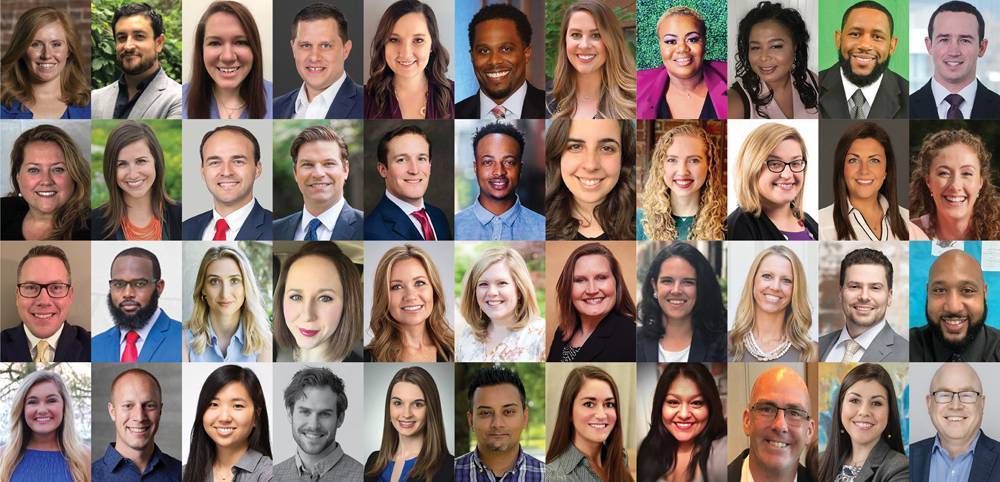 Louisville, Kentucky (October 29, 2021) – Forty-two emerging leaders have been selected for the Leadership Louisville Center's Ignite Louisville Class of Spring 2022 that will run from October 2021 – April 2022. This is the 26th class of the award-winning program, presented by Norton Healthcare, which has graduated over 1,100 up-and-coming leaders and offers two classes each year, preparing next-generation talent for expanded roles in their organizations and in the community.
The Ignite Louisville experience grows high potential professionals by developing the key components of leadership, with core curriculum developed by the Leadership Louisville Center and partners including Norton Healthcare, Brown-Forman Corporation, and the U.S. Army. The class puts these lessons to work through the Ignite Louisville Challenge, which is an opportunity to be part of one of the Center's Community Acceleration Teams and work with a local nonprofit to develop and implement solutions for their needs. The teams compete to do the most good for their nonprofit, gaining hands-on experience performing on a diverse team and serving the community. Since the first class graduated in 2005, Ignite Louisville participants have worked on 154 projects for area nonprofits to plan, execute and sustain new strategies for success.
Members of the Ignite Louisville Class of Spring 2022 (October 2021 – April 2022) are (click for photo roster):
Brittney Abell, Procore; Bryan Aviles, DDW The Color House | DDWilliamson; Jayne Bauer, Baptist Health; Matt Bischoff, Schneider Electric; Kelsey Breeding, Anthem Blue Cross and Blue Shield; Brandan Burfict, LG&E and KU Energy; Courtney Canty, Paragon Rehabilitation; Nannie Croney, Dope Designs by Nannie; Natasha Cummings, Home of the Innocents; William Cunningham, Louisville MSD; Derek Drayer, Red e App; Missy Fountain, Seven Counties Services Inc.; Ali Greenwell, Humana Inc.; Kevin Grout, RunSwitch Public Relations; Brandon Guyton, The Underwriters Group; John Hunzicker, Underhill Associates; Aaron Jordan, Black Complex Louisville; Maria Kidd, Neustar, Inc.; Mollie LaFavers, Fund for the Arts; Keenan Long, The Healing Place; Ashley Masterson, Brown-Forman Corporation; Clint Mattingly, Calhoun Construction Services Inc; Charles McBroom, Humana Inc.; Kate Melican, Brown-Forman Corporation; Melissa Miller, Seven Counties Services Inc.; Jaclyn Moore, Norton Healthcare; Juliann Morris, Jefferson County Public Schools | JCPS; Gina Morrison, Norton Healthcare; Amelia Murphy, Yum! Brands, Inc.; Melissa Payton, Baptist Health; Ian Pugh, Stockton Mortgage Services; Kumar Rashad, Jefferson County Public Schools | JCPS; Kendall Riddle, Campbellsville University; Nikolette Rost, Jefferson Community and Technical College | JCTC; Eric Schweinhart, K. Norman Berry Associates Architects PLLC | KNBA; Woo Smith, Terracon Consultants, Inc.; Gabriel Stewart, Stewart and Associates; Kimberly Taylor, BKD CPAs & Advisors, LLP; Raj Trivedi, Vogt Power International; Caitlin Tudor, Semonin Realtors; Stephanie Vasquez, Presbyterian Church (U.S.A.) | PCUSA; and Angus Williams, The Earhart Club.
About the Leadership Louisville Center:
The Leadership Louisville Center is the region's most valuable resource for leadership development and civic engagement. With a purpose to inspire and equip leaders to be better and do better, it has graduated over 10,000 through its civic programs since 1979. The Center is recognized as a national best practice and is known for its dynamic programming and strong community connections. Programming includes five social impact leadership programs (Leadership Louisville, Focus Louisville, Ignite Louisville, Bingham Fellows and Encore Louisville), leadership skills training courses presented through the Leadership Green Room, and events designed to connect leaders and motivate positive change. Learn more at www.leadershiplouisville.org.
# # #