For Immediate Release
60 leaders selected for the nationally-recognized community leadership program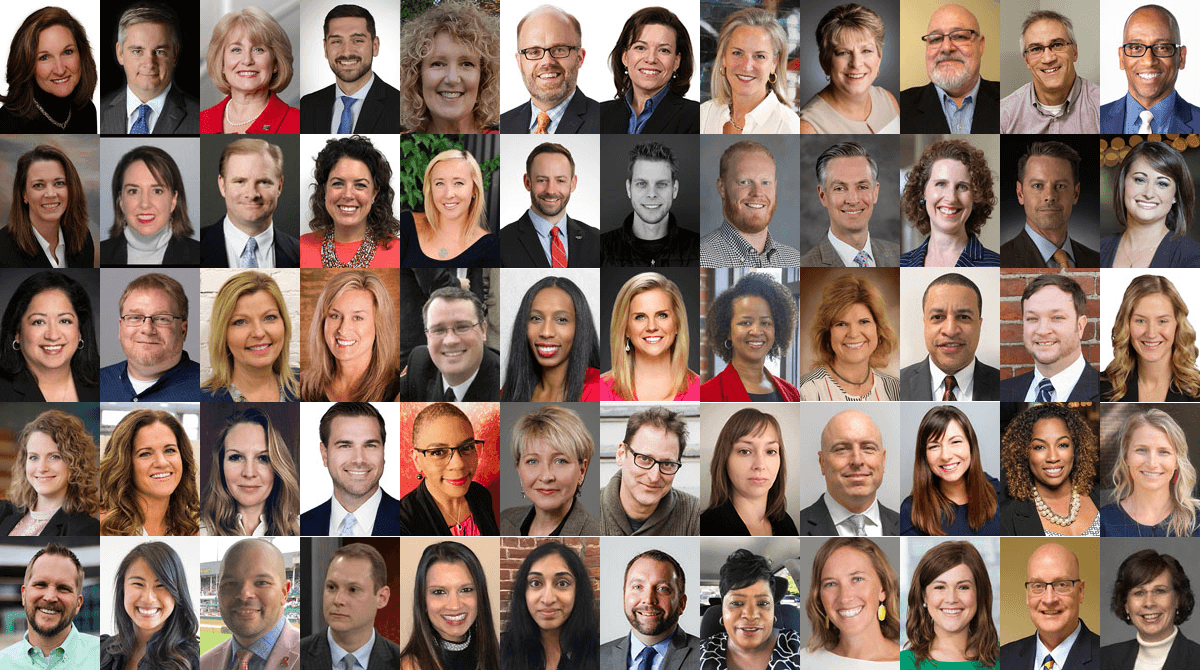 Louisville, Kentucky (July 17, 2019) – The Leadership Louisville Center has selected the Leadership Louisville Class of 2020 — the 41st class of the Center's signature program for established community leaders.  Since 1979, Leadership Louisville has ensured that the community's most influential and esteemed leaders are knowledgeable about issues, well-networked and passionate about the success of the region.  These talented leaders will spend ten months immersed in an active learning experience, diving into our community's history, assets and challenges, emerging ready to create positive change alongside a network of fellow influencers and decision-makers. Armed with new knowledge, connections and perspectives, Leadership Louisville graduates are prepared to take their places as effective community leaders. See a list of 40 years of Leadership Louisville graduates.  Visit www.leadershiplouisville.org/leadership-louisville/ for more program details.
The Leadership Louisville program will begin in August 2019 and run through May 2020.  The sixty members of the Leadership Louisville Class of 2020 are:
Lisa Bajorinas, LEAP; Jonathan Baker, Wyatt, Tarrant & Combs; Tracey Ballard, Fifth Third Bank; Amer Beharic, Norton Healthcare; Angela Billings, Visually Impaired Preschool Services (VIPS); Christopher Coffman, Frost Brown Todd LLC; Martha Davis, GE Appliances, a Haier company; Annie Edwards, DMGT/Genscape; Vickie Elder, Texas Roadhouse; Ed Fallon, Park Community Credit Union; David Finke, Ph.D, Centerstone/Uspiritus; Robert Barry Fleming, Actors Theatre of Louisville; Meg Gatti, Northwestern Mutual; Ann Georgehead, PNC Bank; Rick Green, The Courier Journal & CourierJournal.com; Shea Hallenberg, Lantech; Mo McKnight Howe, Revelry Boutique Gallery/ Stay + Wander Louisville/Howe Louisville; Jason Howze, Republic Bank; Nathan Ivey, Seed to Oaks; Matthew Janes, Dant Clayton Corporation; Ryan Jordan, Churchill Downs; Tricia Julian, Baptist Health; Brad Keeton, Stoll Keenon Ogden PLLC; Carly Launius, Brown-Forman Corporation; Gladys Lopez, Norton Healthcare; Chris Manzo, GBBN Architects; Janie Martin, Fund for the Arts; Rebecca Martin, U.S. Bank Private Wealth Management; Cortez McDaniel, Anthem, Inc.; Griffin Meredith, Commonwealth Insurance Partners; Heather Metts, LG&E and KU Energy; Maj. Brad Michel, Anchorage Middletown Fire and EMS; Lynn Moore, HJI Supply Chain Solutions; Christy Moreno, WHAS11; Carmen Moreno-Rivera, Office for Performance Improvement & Innovation; Kourtney Nett, MCM CPAs & Advisors LLP; Jennifer Phipps, BrightSpring Health Services; Elizabeth Pilbean, Farm Credit Mid-America; Abby Piper, Jefferson County Public Schools; Andrew Pyles, Eclipse Bank; Teresa Reed, Ph.D, University of Louisville
Lori Richards, Lucina Health; Gregg Rochman, Shine Contracting; Sarah Rogers, Humana Inc.; Trevor Rohlf, ASRC-A Division of Michelin; Talley Russell, NASCEND; Victoria Russell, Papa John's International; Christine Saladino, Trilogy Health Services; Robert Schmidlapp, Kentucky Center for the Arts; Jean Scott, PNC Bank; Jason Smith, Fultz Maddox Dickens PLC; Nick Storm, United States Attorney's Office Western District of Kentucky; Shalini Sutaria, Humana Inc.; Mona Tailor, M.D., Greater Louisville Medical Society; Shea Van Hoy, Louisville Business First; Kathy Washington, Black Community Development Corporation; Lindsay Wehr, Kosair Charities Committee, Inc.; Rebecca Weis, Stites & Harbison, PLLC; Craig White, Horseshoe Southern Indiana; and Nancy York, Ph.D, Bellarmine University.
ABOUT THE LEADERSHIP LOUISVILLE CENTER
The Leadership Louisville Center is the region's most valuable resource for leadership development and civic engagement. With a purpose to inspire and equip leaders to be better and do better, it has graduated over 10,000 through its civic programs since 1979. The Center is recognized as a national best practice and is known for its dynamic programming and strong community connections. Programming includes five social impact leadership programs (Leadership Louisville, Focus Louisville, Ignite Louisville, Bingham Fellows and Encore Louisville), leadership skills training courses presented through the Leadership Green Room, and events designed to connect leaders and motivate positive change. Learn more at www.leadershiplouisville.org.
For more information, contact:
Holly Prather
Vice President
Main: (502) 561-0458  Cell: (502) 609-9227