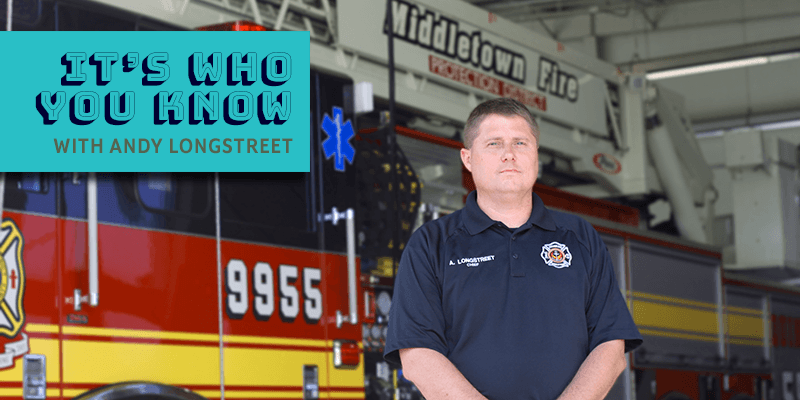 This is the first in a series of profiles designed to help community leaders get to know each other,
and learn from each other. 
Q. Lots of children dream of being a fire fighter. Is that what you always wanted to be?
A. Not at all.  My first love and dream job was to be a pilot in the U.S. Navy.  I attended Shawnee Aviation Magnet Career Academy and earned my Private Pilot's License in High School.  In the meantime, I joined the Worthington Volunteer Fire Department in February of 1994 and fell in love with the profession.  I was hired full-time by Middletown in 1997 and the rest is history.
Q. Before working at Middletown Fire District, what was the most unusual or interesting job you've ever had?
A. Almost all firefighters have second jobs on their off-days.  For a while, in my mid-20's I drove limousines for a local company.  Bachelor and bachelorette parties were certainly the most interesting.  In addition to being a driver, you also ended up being a counselor, mediator, and babysitter.
Q. Tell us about a leader who influenced your career (for better or worse).
A. I would say most of my influence comes from reading about the big figures in 19th and 20th-century American history.  Eisenhower, Lincoln, Roosevelt, Coolidge, Reagan, Truman. One of the most profound things I've learned from their example is to be genuine, to tell it like it is.
Q. What is the toughest challenge you face leading the Middletown Fire Protection District?
A. We recently merged with the Anchorage Fire Protection District and the Anchorage Ambulance District.  By far the toughest challenge is creating a culture where all of our employees and volunteers feel valued, supported, and engaged.
Q. Why do you invest in professional development for yourself and your team?
A.  It really comes back to the philosophy I hear Ms. Knapek champion about being good community stewards.  To do that we must have an awareness of what's going on in the larger community and outside of our particular industry of public safety.  Better leaders mean a more engaged workforce.  A more engaged workforce means better outcomes, not only on the fire ground but also in terms of responsible use of taxpayer resources.
Q. If you could have any other job for a day, what would it be?
A.  I'd be a pilot.  I love flying and miss it terribly.  I think I would prefer doing something like the life flights carrying critical patients to specialized hospitals rather than the routine of the same flight five times a week for an airline.
Q. What's your advice for a young person who wants to be a firefighter?
A.  Be prepared to be all-in. This is not just a career choice, it's a life and lifestyle choice.  This is the antithesis of the everyone-gets-a-trophy mentality.  Competency is required, not optional.  The training, the preparation, and ultimately the work done at a fire or medical event is driven by the needs of the scene or the patient and not by the desires or wishes of the responder.
Editor's note: Chief Longstreet walks the talk when it comes to developing leaders on his team. If you've attended a Leadership Green Room course, you've likely met one of his staff. To date, more than a dozen members of the Middletown Fire Protection District have participated in either Focus Louisville or in Leadership Green Room courses.