Presented by Norton Healthcare, Ignite Louisville is a six-month program that grows young professionals by developing the critical components of leadership. The Ignite Louisville Challenge is an opportunity for teams from the program to undertake a project for a local nonprofit, gaining experience in community leadership, board involvement, and teamwork. These teams put their work for local nonprofits on display in hopes of winning the Ignite Louisville Challenge and earning additional funds for their partner agencies.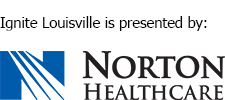 The 26th Ignite Louisville class graduated on April 13, following a day of presentations to a panel of esteemed judges. The winning team worked with The Fuller Center for Housing – and organization that provides adequate shelter for all people in need through building and rehabilitation. They will receive the $1,500 prize made possible by the Leadership Louisville Center. While one team was chosen as the winner, all six nonprofit received significant support. The six teams collectively contributed over 1,420 hours of service and provided over $58,900 in value to this class' nonprofit partners.
The project outcomes for this graduating class varied, ranging from marketing plans, to filing for a 501(c)(3) status, to revamping an entire home. Click below or scroll down to learn about each team's outcomes:
The Fuller Center for Housing
Cultured Mornings
New Directions
Paws with Purpose
Sponsor 4 Success
Whitney/Strong
Nonprofits interested in having their own team – click here! 
---
Spring 2022 Ignite Louisville Projects
---
Winning team:
The Fuller Center for Housing

Team members (left to right): Clint Mattingly, Calhoun Construction Services Inc.; Gina Morrison, Norton Healthcare; Courtney Canty, Paragon Rehabilitation; Kumar Rashad, Jefferson County Public Schools; Missy Fountain, Seven Counties Services Inc.; Charles McBroom, Humana Inc.; Caitlin Tudor, Semonin Realtors.
The Fuller Center for Housing is an international, faith-based non-profit that seeks to provide adequate shelter for all people in need through building and rehabilitation. The Louisville affiliate was started in 2008 and has since touched over 100 families in their quest to help low-income families gain permanent, affordable housing in West Louisville communities.
This Ignite Louisville team is proud to have partnered with The Fuller Center for Housing of Louisville on the mission to rehabilitate properties in the Parkland neighborhood for local families. The team was able to support the nonprofit by formalizing their operational excellence plans, creating a marketing plan (including 52 weeks' worth of social media content), creating a fundraising plan, and renovating a home for a program family to take ownership. The team committed over 275 hours of service towards this effort. The group's total contribution amounted to more than $10,000 in volunteer hours, donations, and sustainability planning.
---
Cultured Mornings

Team members (left to right): William Cunningham, Louisville MSD; Kelsey Breeding, Anthem Blue Cross and Blue Shield; Nannie Croney, Dope Designs by Nannie; Kendall Riddle, Campbellsville University; Mollie LaFavers, Fund for the Arts; Derek Drayer, Red e App;  Ian Pugh, Stockton Mortgage Services.
Austin Harris and Marcus Stubbs founded Cultured Mornings in 2020, with a shared goal to meet the needs of youth in underserved communities. Cultured Mornings' goal is to empower youth to reach their full potential and prevent food insecurity. The organization's programs focus on teaching kitchen skills, kitchen safety, nutrition, and interpersonal development.
In six months, this Ignite Louisville team was able to help Cultured Mornings articulate and incorporate the nonprofit's mission, vison, and strategic plan, which will champion youth and foster their aspirations to pursue culinary careers. The team was able to assist in filing for 501c3 status, identifying a Board of Directors, opening a business banking account, opening a P.O. Box, establishing Bylaws, and re-branding the organization by creating a new logo, re-designing Cultured Mornings' website, and creating multiple marketing videos that can be used to attract donors and recruit program participants. Over 172 hours were dedicated to this project along with $2,225 of professional hours donated.
---
New Directions

Team members (left to right): Angus Williams, The Earhart Club; Stephanie Vasquez, Presbyterian Church (U.S.A.); Kate Melican, Brown-Forman Corporation; Bryan Aviles, DDW The Color House; Matt Bischoff, Schneider Electric; Eric Schweinhart, K. Norman Berry Associates Architects PLLC.
Since 1971, New Directions has been helping families overcome obstacles to affordable, safe, sustainable housing in Louisville and Southern Indiana. Through their housing, home-repair, and real estate development programs, they help build and strengthen communities, improve lives, and ensure a bright future for those in need.
Their Ignite Louisville team designed and launched a new mentorship program for/with New Directions' I Rise program. The I Rise program focuses on removing the barriers to self-sufficiency for low-income Louisville residents. The mentorship program, grounded in the simple slogan "People Helping People," addressed a critical need to diversify the in-house resources and extend the community relationships beyond West Louisville.
Through the program design, workflows were created with residents, mentors, and organization stakeholders. Through these workflows, new tools were created for New Directions to sustainably engage with I Rise residents, uncover short-term goals, and create a structure for long-term outcomes. The mentor system can effectively funnel mentors and community partners to engage with the program. The program is further set up for sustainable use, thanks to the new resident self-sufficiency digital database and digital/print input systems.
The program launched on March 26th at the I Rise Celebration event and already has mentors and residents engaged. Over 226 hours were dedicated to this project, and $6,464 of in-kind donated services were secured.
---
Paws with Purpose

Team members (left to right): John Hunzicker, Underhill Associates; Melissa Miller, Seven Counties Services, Inc.; Maria Kidd, Neustar, Inc.; Ali Greenwell; Humana, Inc.; Juliann Morris, Jefferson County Public Schools; Ashley Masterson, Brown-Forman Corporation; Gabriel Stewart, Stewart and Associates.
Founded in 2003, Paws with Purpose is a 501(c) non-profit organization that provides highly-skilled Assistance Dogs as partners to children and adults with physical disabilities or other special needs. These dogs provide comfort and companionship, help to break down social barriers, and perform many tasks that help their partners lead more independent lives.
This Ignite Louisville team worked with Paws with Purpose to refine and enhance their brand identity to more effectively tell their powerful story. The team contributed over 220 volunteer hours, drawing on expertise in the marketing, project management, and volunteer engagement fields to provide over $4,000 in professional value to Paws with Purpose. This included refreshing physical collateral (such as brochures and donor packet materials), connecting the nonprofit with a more sustainable and engaging way to release newsletter and social media content, and providing professional photography. They worked with a local CEO to provide training on how to refine and enhance their brand recognition, shifting their overall messaging to focus on the "why" behind their mission. They also boosted community visibility, making it easier for potential volunteers and donors to engage with and support Paws with Purpose.
---
Sponsor 4 Success (S4S)

Team members (left to right): Jaclyn Moore, Norton Healthcare; Amelia Murphy, Yum! Brands, Inc.; Melissa Payton, Baptist Health; Aaron Jordan, Black Complex Louisville;  Brittney Abell, Procore; Brandon Burfict, LG&E and KU Energy; Keenan Long, The Healing Place (not pictured).
The mission of Sponsor 4 Success (S4S) is to improve the living and economic conditions in poor and under-served communities. S4S achieves its purpose through a sponsorship platform. This affects a variety of under-served individuals, including: young adults and children of financially challenged parents (helping to defer the cost of educational, athletic and vocational programs), disadvantaged senior citizens' cost of minor home repairs, and school extracurricular programs, churches, nonprofit organizations, and more.
This Ignite Louisville team began working with the Sponsor 4 Success (S4S) Board with the intention of improving their website, increasing their funding, and revamping their marketing. The growth that S4S is planning for – like developing a grocery store and improving homes to rent – exceeded what the team initially anticipated. With this growth enlightenment, they had to adjust the initial ask and build the Board Structure to make it sustainable for expansion. The team brought in a Leadership Louisville Center Encore team to help in this process, and we were able to make head way on rebuilding the Board Structure.
Through the team's work and collaboration, and over 284 volunteer hours, they have provided S4S with lasting relationships and the ability to grow the great work they are doing in our community in other areas.
---
Whitney/Strong

Team members (left to right): Natasha Cummings, Home of the Innocents; Kevin Grout, RunSwitch Public Relations; Woo Smith, Terracon Consultants, Inc.; Brandon Guyton, The Underwriters Group; Nikolette Rost, Jefferson Community and Technical College; Kimberly Taylor, BKD CPAs & Advisors, LLP; Raj Trivedi, Vogt Power International
Whitney/Strong pursues majority-supported and evidence-based solutions to reduce the number of lives impacted by gun violence through responsible gun ownership. With every bill they champion, they do it in memory of those who have died by gun violence. They also work with community leaders on non-legislative solutions – including suicide prevention, firearm safety instruction, and more.
To advance Whitney/Strong's mission to save lives by ending gun violence, this Ignite Louisville team set out to overhaul the existing volunteer intake procedure and create a formalized experience. They began by researching peer volunteer programs operating in a similar policy area and other Louisville-based nonprofits. The team then worked with Whitney/Strong to greenhouse new strategies for recruitment, intake, and engagement. Finally, they developed a roadmap for implementation and revised current website content to achieve the organization's goals.
During the project period, Whitney/Strong began a transition to a new online data management system. The team got the chance to understand the new system's capabilities and limitations alongside Whitney/Strong. The obstacles identified within the platform caused the team and the nonprofit to pivot to a new, multi-phase outcome. The team delivered the content for a new process and updated volunteer experience. Now, Whitney/Strong will work with the vendor to execute Ignite's recommendations.
---
Interested in more information about the Ignite Louisville program? Fill out the form below!