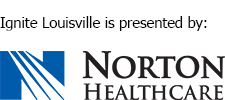 The 24th class of Leadership Louisville Center's Ignite Louisville program presented their work on April 22nd to a panel of esteemed judges and their class. The six Community Acceleration Teams put their work for local nonprofits on display in hopes of winning the Ignite Louisville Challenge and earning additional funds for the agency they worked to assist. The team working with Lincoln Heritage Council, of Boy Scouts of America was selected as the winner of the challenge and will receive the $1,500 prize made possible by the Leadership Louisville Center. While one team was selected as the winner, all six nonprofit agencies received significant support, with the six teams contributing over 2,375 hours of service and providing over $100,00 in value to the nonprofit agencies.
The Ignite Louisville program is presented by Norton Healthcare.
Winning Team – Lincoln Heritage Council (LHC) of Boy Scouts of America

Left to right: Kelly Nichols, Derby City Gaming; Chase Hall, Baptist Health; Samantha Goodwin, The Healing Place; Kara Farris, Delta Dental of Kentucky; Jason Jones, Humana Inc.; Josh Moulton, Messer Construction Co.
The vision of the Lincoln Heritage Council (LHC) of Boy Scouts of America is to deliver innovative and life-changing programs that will prepare youth to become responsible citizens and leaders. The Ignite Louisville team partnered with the LHC to advance their vision by developing and implementing a Scout After School Program. They also set plans in place for enhancing the LHC's annual Wilderness Blast Camp, traditionally used to introduce the entering 6th grade class to scouting, into a multi-day, overnight camp experience incorporating S.T.E.A.M. learning.
When this year's Wilderness Blast Camp was postponed, the team jumped into action to ensure students didn't miss out on the scouting experience by developing, producing and hand-delivering over 200 Scout Adventure Boxes to the 6th grade class at Olmsted Academy North.
Through corporate and personal donations, the team raised over $3,000 for the Friends of Scouting program. These funds will directly benefit the LHC program at Olmsted Academy North, allowing students to participate in activities they otherwise may not have the opportunity to experience.
---
Additional Ignite Louisville Challenge teams and outcomes:
(In alphabetical order by agency name) Note: For the full class photo roster (unmasked) click here.
Big Brothers Big Sisters of Kentuckiana (BBBSKY)

Left to right: Dionne Griffiths, Fund for the Arts; Derek Bell, Humana Inc.; Greg Ekman, Thorntons LLC; Miles Taylor, Brown-Forman Corporation; Megan McDougal, Lift A Life Foundation Inc; Channing Underhill Flaherty, Enterprise Fleet Management (not pictured)
Big Brothers Big Sisters of Kentuckiana's (BBBSKY) mission is to create and support one-to-one mentoring relationships that ignite the power and promise of youth. The majority of the youth are from underserved communities in Greater Louisville. The Ignite Louisville team partnered with Big Brothers Big Sisters of Kentuckiana to focus on developing their alumni association (The Defender Society), creating programming for the alumni association, and fundraising to alleviate challenges caused by the COVID-19 pandemic and the existing urgent need for adult volunteers. They created a detailed alumni association strategic plan, an alumni volunteer contact list, and six structured alumni association programming initiatives. They also created a customized and cost-effective alumni association website. Through collaboration with two media partners, they created sustainable digital and video marketing materials for the alumni association and the fundraiser event. They also led the creation of the first-ever Rise Up for Big Brothers Big Sisters of Kentuckiana virtual fundraiser event, which included impact stories from current Bigs and Littles and staff. The event raised $5,004, which equals three, year-long, one-to-one mentor relationships for youth. The team dedicated 410 total hours of service to enhance Big Brothers Big Sisters of Kentuckiana's mission. The group's total contributions amounted to $20,649 in volunteer hours, donations, and community partnerships.
---
Doctors for Healthy Communities (DHC)

Left to right: Amanda Parson, Anthem Inc.: John Weber, Stites & Harbison: Alex Martindale, Kentucky Bourbon Barrel; Brian Goss, LG&E and KU Energy LLC; Anyah Hoang-Ansert, D.P.A., Volunteers of America; Matt Muller, Pitt & Frank; Kimberly Turner, Humana (not pictured)
Doctors for Healthy Communities (DHC) works to ensure that all children in Jefferson County have an opportunity to grow and thrive through their efforts geared toward improving children's health and well-being. The Ignite Louisville team partnered with DHC to broaden their outreach and brand awareness by increasing social media presence, implementation of a mass texting service, and optimizing DHC's website. In addition, through in-kind donations, several cuts of high-quality video were created for use on the website and other media and marketing outlets. Additionally, they focused on fundraising, generating over $5,000 through a virtual silent auction, raising over a quarter of the annual budget in just one week. The team also set DHC up with the Kroger Community Rewards program and future grant applications. In total, the team donated over 400 hours and generated over $25,000 in-kind donations. This additional funding will go towards conducting school physicals, distributing school supplies, and other efforts to address food insecurity in Louisville.
Down Syndrome of Louisville (DSL)

Left to right: Michelle Clay, Humana Inc.; Ben Taylor, Louisville Geek; Josh Kornberg, Caesars Foundation of Floyd County; Joseph Franklin, TEKsystems; Abigail Gardner, Sullivan University; Alexander Carpenter, Humana; Nike Aniyikaiye, Bozville Home Services, LLC;
From as early as receiving the diagnosis, Down Syndrome of Louisville (DSL) functions as an expansive support system for families and individuals with Down syndrome. Julie Torzewski, the Executive Director of DSL, emphasized that she wanted the Ignite Louisville Challenge project to focus on a campaign that went beyond fundraising, and instead highlighted the importance of advocacy and accessibility for our friends with Down syndrome. The team created a robust solution by developing and implementing the Kindness Warrior program. This sustainable program utilizes a checklist of information that focuses on raising awareness and promoting inclusion and advocacy. As the organization grows, this program can be used to reach individuals and businesses across the Louisville and Southern Indiana regions, with the hopes of expanding to fellow Down syndrome organizations nationwide. Are you ready to become a Kindness Warrior too? Visit beakindnesswarrior.com to join the movement.
---
Second Chances Wildlife Center
Left to right: Christopher Jones, Ed.D., Jefferson County Public Schools; David Eskridge, Humana Military; Johnna Worley, Dare to Care Food Bank; Brandy Arsenault, Hilliard Lyons Trust Co.; Liz Pratt, LG&E and KU Energy; C.J. Carter, Minorities for Medical Marijuana; Joesar Watkins, Brown-Forman Corporation 
Second Chances Wildlife Center was founded in 2009 on its mission to foster compassion, conservation, and environmental stewardship through education and wildlife rehabilitation. Founder and Director Brigette Brouillard and her staff of volunteers provide housing, care, and medical needs to more than 300 orphaned, fostered, and rehabilitated animals each year.
The Ignite Louisville team of unique, experienced professionals developed a strategy – in collaboration with Brouillard and an Encore Louisville mentor – to address immediate needs that would support its 20-year vision, long-term success, and future sustainability.
Complementing the Center's strong social and online presence, the project optimized and expanded its existing virtual platforms to further streamline users' experience and support donor trends. The team performed a social media analysis; launched a virtual Valentine's Day campaign; supported an unveiling event; produced a one-minute branding video; refreshed and optimized the website; and executed the Second Chances branding playbook. Their outcomes will optimize and expand virtual platforms for the voiceless.
---
Teach Kentucky
Left to right: Benjamin Bruce, Armag Corporation; Tracy Shaughnessy, Norton Healthcare; Carson Economy, Seven Counties Services; Young-Eun Park, Dinsmore & Shohl LLP; Lane Hettich, AssuredPartners; Diana Duran, Prospanica Louisville; Bereket Kindo, Humana Inc.
Based in Louisville, Teach Kentucky launches the education careers of motivated and diverse college graduates to teach within Kentucky's public schools. They work to retain these teachers in Louisville, not only for the students, but also to positively contribute to the economic and social landscape of the city. The Ignite Louisville team's goal was to help improve retention by 10% (annual savings of $193,500). Based upon data the team collected from surveying Teach Kentucky alumni, they created a two-year pilot program to foster a sense of belonging and improve mental health among teachers. Included in their deliverables is a resource guide of partnerships secured from the community which includes thousands of dollars in discounts. Additionally, the team created a research paper addressing teacher retention and calling on the academic community to further the research. Ultimately, their work has laid a foundation for a sustainable model which can be replicated in other industries and regions.
Want to be part of Ignite Louisville?
Learn more about the Ignite Louisville program and the Ignite Louisville Challenge.
Learn how to apply
Nonprofits, learn how you can benefit from Leadership Louisville Center programs.