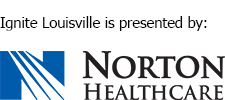 The 25th class of Leadership Louisville Center's Ignite Louisville program graduated on October 19 following a day of presentations to a panel of esteemed judges. The six Community Acceleration Teams put their work for local nonprofits on display in hopes of winning the Ignite Louisville Challenge and earning additional funds for their partner agencies.
The team working with nonprofit agency, Mattingly Edge, was selected as the challenge winner. Mattingly Edge cultivates partnerships that enable people with disabilities to thrive at work, at home, and in relationships. They will receive the $1,500 prize made possible by the Leadership Louisville Center. While one team was chosen as the winner, all six nonprofit agencies received significant support. The six teams contributed over 1,750 hours of service and provided over $84,000 in value to the nonprofit agencies.
The Ignite Louisville Challenge is an opportunity for teams from the Leadership Louisville Center's Ignite Louisville program to undertake a project for a local nonprofit, gaining experience in community leadership, board involvement, and teamwork.
Presented by Norton Healthcare, Ignite Louisville is a six-month program that grows young professionals by developing the critical components of leadership. Learn more about the Ignite Louisville program.

Winning team:
Mattingly Edge
Team members (left to right): Sharlis Montgomery, Hogan Lovells US LLP; Conner Parsons, Al J. Schneider Company; Nadareca Thibeaux, Norton Healthcare; Cecile Cissell, Telania | eLeaP; Jennifer Spear, Humana Inc.; and  Bradley Bringardner, Lenihan Sotheby's International Realty
Mattingly Edge cultivates partnerships that enable people with disabilities to thrive at work, at home, and in relationships. Their mission is based on the belief that people with disabilities have the right to the same privileges and responsibilities as other citizens. We know that communities are better when everyone is included.
The Ignite Louisville team partnered with Mattingly Edge to broaden the public's awareness by developing an employment marketing asset video posted on their site. They partnered with UofL's Communication Department, obtaining a social media intern to manage the social media accounts they recommended (Facebook, YouTube, Instagram, and TikTok). They also provided a proposal of services with Rein Marketing Agency to do a website redesign and enhance back-end analytics and tracking.
Building on the need to build awareness and sustainability, the team investigated the benefits of establishing a young professionals board that could assist with fundraising and awareness events and expand the Mattingly Edge reach. By project end, the team submitted an application, board governance and structure, and recommendations for recruitment and membership for the young professional board.
The team also assisted the Mattingly Edge HR team by developing a comprehensive resource directory that includes contacts from local universities, not for profits, school systems, and other organizations that could be leveraged to help recruit and communicate resource needs. Over 197 hours were dedicated to this project, and $15,023 of in-kind donated services were secured.
"Mattingly Edge loved having an Ignite Louisville team. They regularly met with us, listened to us, checked in with us, and collaborated with us to achieve our deliverables. It truly felt like a team effort. It turns out the thing we originally wanted help with wasn't the most important issue, and our team successfully pivoted toward the greatest need. Not only do we end this program with the deliverables our team promised, but also with six new, passionate ambassadors for our cause, whose presence will have lasting effects on our organization."
– Steven Carr, Director of Development, Mattingly Edge
Boys & Girls Haven (BGH)
Team members (left to right): Merry Reid Sheffer, Edge Employment; Amanda Fillebrown, Seeds of New Leaf; Beth Hobson, Hosparus Health; Taylor Payne, Baptist Health; Lauren Madden, Yum! Brands, Inc.;  Jacquelyn Rae, Vogt Power International Inc.; and Wick Byrne, BB&T Bank
A nonprofit foster care agency, Boys & Girls Haven (BGH) has provided a home and a future for some of Kentucky's most vulnerable children, young adults, and families for over 70 years. The Ignite Louisville team was matched with BGH to increase corporate donorship and enhance their marketing. The team produced a catalog of the organization's historical quotes and photos, a social media content bank, and a guide for increasing social media followers and engagement. They also created a planned giving program that, if followed, will generate between $3.5-7 million in its first 10 years. They supported BGH to update the donation platforms on their website and install analytics software that will help them track user engagement. In partnership with the Trust Foundation, they crafted an accepted grant proposal for their Independence Readiness Program to fund new computers, phones, and a remodel of the existing computer lab.
Canopy Certified LLC
Team members (left to right): Ron Burse, Dare to Care Food Bank; Kristie Helm, University of Louisville School of Medicine, Teresa Walker, MD, New Leaf Clinic; Greg Dutton, Frost Brown Todd;  Dept of Pediatrics; and Jana Wegener, Nugent Sand Company; not pictured: Fiyin Lasisi, Cummins Inc.
Canopy's mission to "grow Kentucky businesses to impact people, our planet positively, and our future" resonated strongly with the Ignite Louisville team, comprised of a small business owner, a nonprofit director, an environmental attorney, international employees working in the U.S. on visas, and educators.
The Canopy team focused heavily on educating stakeholders and certifying companies aligned with the Good Business movement for the last 3 years. The Ignite Louisville team helped shepherd Canopy through its third pillar through an online membership portal—connecting business owners, young professionals, college students, nonprofit organizations, governmental entities, and the general public.
The Ignite Louisville team conducted interviews with stakeholders to gain a better understanding of portal use and functionality. They also ran a marketing campaign to generate public interest in the portal upon its launch. Through over 450 hours of work, Canopy now has a document outlining the Ignite team's process and vision that can be handed over directly to a web developer.
Kids Cancer Alliance (KCA)
Team members (left to right): Ray Glover, TEKsystems; James Hayne, Stites & Harbison; Lauren Peter, CoBank; Amanda Kremer, MCM CPAs & Advisors; and Kristia Worthy, KFC
Kids Cancer Alliance (KCA) programs unite families and kids with cancer in a powerful alliance of friendship and support through summer camps, retreats, in-hospital programs, and financial assistance. Although KCA has offered these programs to families for almost 40 years, they are Kentucky's best-kept secret.
The Ignite Louisville team partnered with KCA to increase public awareness by revamping KCA's social media strategy. By providing a social media calendar with graphics and posts that also incorporate diversity, equity, and inclusion, their work will keep KCA at the top of people's feeds and minds. Additionally, the team expanded the source of KCA's donations by promoting the new Alliance Ally monthly donor program with a virtual kick-off event that provided enticing incentives and updated KCA's marketing materials to attract new donors. In growing the number of monthly donations received through the Alliance Ally program, KCA will have a stable, low-risk revenue stream for years to come.
Louisville Story Program
Team members: Paul Kichler, Sacred Heart Schools, Inc.; Tanya Lewis, Anthem Inc.; Lindsay Engle, Brown-Forman Corporation; Ashleé Clark, Louisville Public Media;  Christina Britz, Louisville Metro Government; Callie McRae, LG&E and KU Energy and Pablo Camacho, Norton Healthcare
The Louisville Story Program is a nonprofit organization that amplifies the stories of marginalized communities by publishing books that reflect Louisville's different cultures. Their Ignite Louisville team developed an organizational toolkit that provides step-by-step guidance on amplifying the Louisville Story Program in the community. The toolkit includes sections on social media, events, influencers, paid search, alternative book formats, community partners, and board and volunteer engagement. To demonstrate the toolkit's recommendations, the team hosted a booth at the WorldFest and engaged with influencers on social media. The toolkit will provide the Louisville Story Program with a sustainable plan that will make it easier for the organization to amplify itself.
West End School
Team members: Michelle Marks, Raymond James; Ashley Murray, Community Coordinated Child Care 4-C; Michelle Mills, GE Appliances, a Haier company; Jon Brannick, Papa John's International; Alonzo Ramont, Redline Performing Arts, Homeless Coalition of Southern Indiana; and Morel Jones, Kindred Healthcare
West End School provides a safe and structured environment for boys in grades Pre-Kindergarten through 8th with a mission to enable students to achieve their highest potential regardless of their circumstances. The Ignite Louisville team partnered with the West End School to enhance its recruitment strategy and engage school alumni.  To deliver on these tasks, the team was involved in direct recruitment efforts through neighborhood canvassing and a booth at the Russell neighborhood Block Party, which reached an estimated 150 community members. The team created the West End School Community Council, an advisory group of community members and alumni who will provide younger generation engagement with the school and contribute to recruitment efforts. The team assembled a West End School Fall Fest plan and accompanying materials for future recruitment and community awareness event. These efforts delivered numerous marketing and recruitment materials for the school, including a press release, recruitment flyers, social media posts, a radio ad, and a list of target organizations for future recruitment.  The team's 117 hours of service work, in-kind donations, and committed sponsorships are valued at an estimated $6,329.
Nonprofits, learn how your organization can partner with a Community Acceleration Team
For detailed information, see "How Leadership Louisville Center helps nonprofits"