Presented by Norton Healthcare, Ignite Louisville is a six-month program that grows young professionals by developing the critical components of leadership. The Ignite Louisville Challenge is an opportunity for teams from the program to undertake a project for a local nonprofit, gaining experience in community leadership, board involvement, and teamwork. These teams put their work for local nonprofits on display in hopes of winning the Ignite Louisville Challenge and earning additional funds for their partner agencies.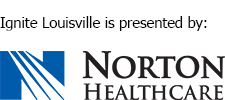 The 27th Ignite Louisville class graduated on October 12, following a day of presentations to a panel of esteemed judges. The winning team worked with The Earhart Club – an organization that inspires young girls to understand their values and connect to their voice. They will receive the $1,500 prize made possible by the Leadership Louisville Center. While one team was chosen as the winner, all six nonprofits received significant support. The six teams collectively contributed over 2,000 hours of service and over $110,000 in value to this class' nonprofit partners.
The project outcomes for this graduating class varied, ranging from marketing plans, to delivering groceries to community members, to guiding the process for implementing a DE&I statement. Click below or scroll down to learn about each team's outcomes:
The Earhart Club
Bringing Justice Home
Exploited Children's Help Organization
Friends of Metro Animal Services
Louisville Nature Center
Peterson-Dumesnil House Foundation
Nonprofits interested in having their own team – click here!
---
Fall 2022 Ignite Louisville Projects
---
Winning team:
The Earhart Club

Team members (left to right): Prasad Rane, Humana Inc.; Isaac Schuetz, BLUE Energy Group; Isabel Corominas, Brown-Forman Corporation.; Shelby Fill, &well; Rochelle Heis, JRA Architects; Sarah Abshear, Abshear PLLC; Shelby Somervell, Greater Louisville Inc. | GLI.
This Ignite Challenge team worked with The Earhart Club, positioning it to bring its after-school program for girls to the next level and expand to new schools. Over the course of six months, they finalized a full 8-week curriculum, created a training guide for volunteers, redesigned the girls' program materials, conducted a legal review of the Club's documents and procedures, and built its first ever operations manual. Their improvements to branding, marketing materials, and the website will help establish a unique, recognizable brand that is consistent across all platforms.
With these comprehensive materials, the program can easily be brought to schools throughout JCPS and beyond with speed and consistency. More importantly than addressing immediate program needs, the work provides the Club with a strong foundation for growth into new communities–so that girls across the state, country, and beyond can establish their values, bond with their peers, and find their voices.
---
Bringing Justice Home

Team members (left to right): Henry Lynch, Vsimple; Heather Gregory, GE Appliances, a Haier company; Kelsey Thomas, First Tee – Louisville; Kayla Campbell, DBL Law; Stephanie Weidenborner, Humana Inc.; Jonathan Meacham, LG&E and KU Energy.
Over a period of seven months, this Ignite Challenge team worked closely with Bringing Justice Home ("BJH") to better understand their mission and the important work that they do. The team found it very beneficial to become actively engaged in the organization to fully appreciate the mission of BJH and be able to see first-hand the positive impact they have on the community. By engaging with board members, going through the onboarding process, volunteering to bring groceries to neighbors and getting to know some of the neighbors themselves, the team gained a significant amount of insight into how the organization works and specific ways they can meet needs in our community.
This first-hand knowledge of how BJH operates combined with our professional experience in the areas of process improvement, organizational growth, non-profit program development and strategic marketing led to the development of several recommendations to help further the mission of BJH. These recommendations include adapting the volunteer onboarding process, identifying community network and engagement opportunities, and outlining strategic marketing initiatives. The team also created a promotional video to help BJH tell its story.
---
Exploited Children's Help Organization

Team members (left to right): Megan Ueltschy Scheps, Independence Bank; Lisa Purdy, Maryhurst, Inc.; Emily Teaford, Humana Inc.; Aaron Duvall, BKD CPAs & Advisors, LLP; Elizabeth Chandler, J.B. Speed Art Museum; Epiphany McGruder, The Housing Partnership Inc.; Nikki Patterson, P.E.P. Rally.
Exploited Children's Help Organization's (ECHO) mission is to prevent and reduce the incidence and impact of child abuse by providing education, advocacy, and support services to the children and families of Metro Louisville.
This Ignite team was paired with ECHO to increase organizational capacity to educate adults through the Darkness to Light (D2L) Stewards of Children program. D2L provides adults with the tools to prevent, recognize, and react responsibly to child sexual abuse. The team supported Sonja Gray, Executive Director, in becoming a certified D2L Instructor, reducing ongoing costs for the organization. The team also created a lasting impact for ECHO by establishing a volunteer database as well as a volunteer recruitment, retention and recognition plan with events and materials laid out for the next 12 months.
---
Friends of Metro Animal Services

Team members (left to right): Megan Tennison, Norton Healthcare; Saravanan Murugan, Humana Inc.; Haley Cawthon, Louisville Business First; Rachel McMahan, Cedar Lake Foundation, Inc.; Sophia Fischer, Northwestern Mutual; Jake Smith, Wyatt, Tarrant & Combs, LLP; Tyler Smith, Messer Construction Co.
Friends of Metro Animal Services (FOMAS) is a nonprofit that supports Louisville Metro Animal Services, a state-of-the-art animal shelter serving our city's lost and abandoned pets. This Ignite Challenge team set out on a mission to increase community awareness for the organization.
They had four multi-faceted deliverables:
The "Friends of Friends" ambassador program, in which anyone who wants to support and advocate for FOMAS can learn about the mission and services provided. Once trained, they can share that knowledge of LMAS's work and FOMAS's efforts throughout the community.
The "Fur-Ever Family" group, in which past adopters and foster families can connect for support and community events.
Social media strategy, graphics and templates created used to increase FOMAS's engagement and following on social platforms.
Business relationships, crafting a list of pet-friendly business, and a letter to introduce FOMAS to local businesses. We believe these connections can be used year-over-year to drive funding and engagement.
Using the strengths of each team member, key takeaways from IGNITE program days and a shared passion for helping animals in need, we hope our contributions will leave a lasting and meaningful impact on FOMAS.
---
Louisville Nature Center

Team members (left to right): Kirstie Matzek, Baptist Health; Lena Muldoon, You Decide, Kentucky!; Lauren Newcomb, Heaven Hill Brands; Eric Hall, Farm Credit Mid-America | Rural 1st; Courtney Weisshaupt, The Healing Place; Zak Cohen, St. Francis School; Jennifer Miles, Transit Authority of River City | TARC
This Ignite Challenge team partnered with the Louisville Nature Center to further their mission of building a thriving community resource that inspires stewardship of our urban forest through environmental education.
Through research, fresh marketing efforts, board training and organization, fundraising coaching, and new donor relationships, the team was able to set the runway for future growth and development for the Louisville Nature Center. As a destination for discovery only minutes from Downtown Louisville, the Louisville Nature Center is an urban forest ripe with opportunities for all. Part of the Beargrass Creek Nature Preserve and home to Louisville's only nature-based preschool program, the 80-acre forest is critical to preserving Louisville's environmental future.
---
Peterson-Dumesnil House Foundation

Team members (left to right): Stephanie Garvey, Hosparus Health; Olivia Sievert, Greater Louisville Inc.; LaToya Whitlock, Decode Project; Hannah Rahill, Stegner Investment Associates, Inc.; Mandy Jackson, High10 Digital.; Carl Lammers, Frost Brown Todd LLC (not pictured: Chip Thomas, JCTC).
A historic home and local landmark in Crescent Hill, the Peterson-Dumesnil House Foundation turned to this Ignite team to research their holistic history. The board of directors wanted to provide more transparency to the community on their racial workforce history and uncover previous ties to slavery between the house, the family who built it, and the land itself.
The Ignite team spent six months diving into historical records, meeting with historians, collaborating with other historic homes who have done similar research, and collecting oral history from descendants. Through over a dozen sources, the team collected initial findings to draft new collateral, including a pamphlet, media strategy, and website content, and guided the process for implementing a DE&I statement.
As noted by other historic homes, full research takes years and even decades. The team created infrastructure for collecting new information and partnered with the University of Louisville to hire a part-time researcher.
---
Interested in more information about the Ignite Louisville program? Fill out the form below!
"*" indicates required fields