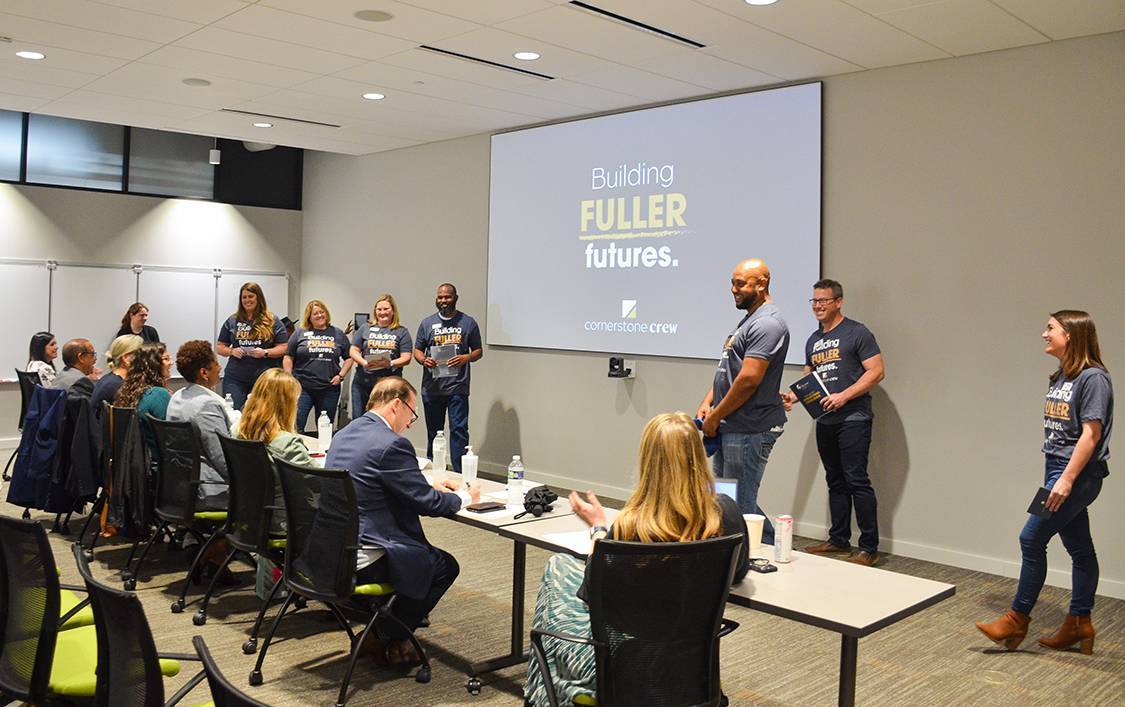 Anyone who knows me would agree that I am an avid learner. I constantly look for opportunities and new experiences to challenge myself to grow, personally and professionally. When much of the community was put on hold during the COVID pandemic of 2020, I became restless and decided to complete my Master's degree. During my studies, I was introduced to the Leadership Louisville podcast. While listening to the journey of so many incredible leaders, I became inspired to do more in our local community.
I began to search for opportunities within my current organization and the surrounding community. My manager soon introduced me to the Ignite Louisville program and suggested I apply. I reviewed the program, and began to get very excited about a new learning environment with a focus on leadership. As the end of my Master's program approached, I thought to myself: "I cannot let this opportunity pass." I immediately filled out the application and awaited a response.
Ignite Your Courage
One nugget of wisdom from the podcast really stood out. It was in the episode featuring Cynthia Knapek, President of the Leadership Louisville Center (you should take a listen, it's Season 2: Episode 7).
---
I felt inspired when she said, "You get in life what you have the courage to ask for." Then I thought to myself, "I don't want to wait until the next Ignite cohort. I want this opportunity, NOW."
---
When I received the invitation, I accepted and was so excited to join the Ignite Louisville Class of Spring 2022.
Find Your Team
As our opening retreat approached, I felt nervous and excited realizing the quality of leaders that I would be joining with. Many work in business, marketing, human resources, and sales. There was only one nurse, though… me. During those two days, I connected with others and I learned about different organizations within Louisville. We had a lot of fun playing games and discovering more about ourselves and each other. As the weekend progressed, my Ignite Challenge team, the Cornerstone Crew, formed.
Expand Your Perspective
In the midst of the program days I felt encouraged when I heard the stories of different leaders. I never left a program day without learning something new about myself that I could apply. The most impactful program day for me was the 'Diversity, Equity, and Inclusion' day. Dr. Raymond Green's leadership journey continues to resonate with me still. My most memorable experience was my team's work with The Fuller Center for Housing of Louisville, a nonprofit whose mission is to provide adequate shelter to those in need. Learning how to function as an executive director and watching the mission come to fruition through the rehabilitation of a home was priceless. Now I look at all communities through a different lens.
The education and experience provided by the Leadership Louisville team and local leaders is an invaluable tool for equipping leaders with the knowledge necessary to make a positive impact in both the community and their own organization. I believe the Ignite Louisville program is the perfect combination: educating up-and-coming leaders on ways to improve their leadership skills and fostering partnerships with non-profit community organizations to better the community of Louisville.
Take the opportunity today. Apply for the Ignite program!
By Gina Morrison, Norton Healthcare, Ignite Louisville Class of Spring 2022
---
Want to learn more about the Ignite Louisville program?
If you'd like to join the ranks of Louisville's next-generation leaders, visit our webpage here or fill out the form below and we'll have someone reach out to you with more information!
"*" indicates required fields