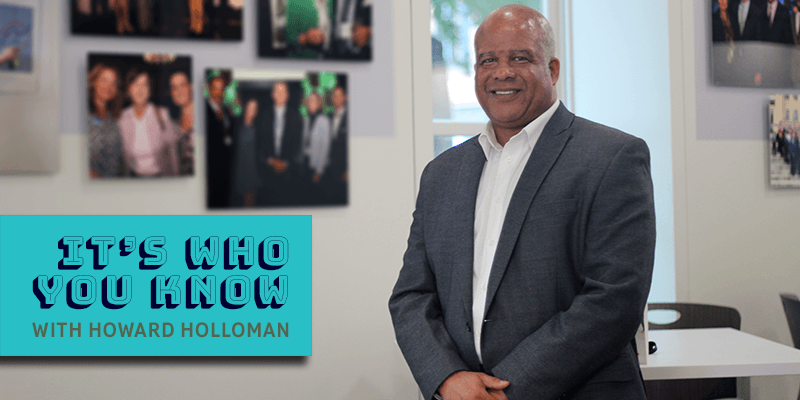 Howard Holloman (BF '14, '99, LL '98) is Senior Manager, Customer Fulfillment, GE Appliances, a Haier Company. 
Curious why a community leader would commit not once but twice to the Bingham Fellow program? Here's what three-time graduate and two-time Bingham Fellow Howard Holloman told us.
Q. Tell us about one of your two Bingham Fellows class projects
A. The Bingham Fellows 2014 topic was "Investing in West Louisville's Path to Prosperity.  I valued the opportunity to be actively involved in the successful formation and implementation of the three projects that originated from our class:  Early Education 40210 – an initiative to increase early childhood education; We Hire Together – connecting West Louisville residents with community connectors about hiring opportunities and employment resources; OneWest Corporation – a focused effort on commercial development growth in West Louisville.
Q. What was the most important thing you learned from the Bingham Fellow experience?
A. With any community project, it is imperative to overcommunicate to all stakeholders, pursue collaboration prospects wherever possible, and maintain endorsements from key contacts throughout the project.  Do not take the small details for granted, look for lessons learned, and take time to fully research your information.
Q. What part of that project made the biggest impact on our city? Is it still continuing? Are you still involved?
A. The OneWest project will easily have the biggest impact on the city, and I am honored to have been selected to serve as the OneWest Treasurer.
The OneWest Corporation was founded as a non-profit, community development organization focused on commercial development growth in west Louisville utilizing private, philanthropic, and public capital.  OneWest was incorporated in 2014, and is governed by a dynamic and diverse Board of Directors comprised of our community's most influential leaders, including west Louisville residents.  We also hired Evon Smith, a very experienced President and CEO, to lead this collaborative effort focused on the built environment in west Louisville.
Q. What made you want to apply for Bingham Fellows the second time?
A. Since I was raised in west Louisville and had a track record of community service, I was approached by a couple of community leaders to apply for the 2014 Bingham Fellows class.  The personal knowledge and growth that I have acquired through my Leadership Louisville and Bingham Fellows program experience has been tremendous and was the foundation for my increased community commitment.  Although I have been actively volunteering in our community for some time, the Leadership Louisville experience provided me the opportunity to get involved at a higher level to implement positive transformation in our community. After being selected to the 2014 Bingham Fellows class, I did not hesitate to take advantage of the opportunity to give back to my family, friends, and associates in west Louisville.
Q. Are you still connected to any of your Bingham Fellows classmates? How valuable are the relationships you built as a Bingham Fellow?
A. I am still in contact with many of my Bingham Fellow classmates.  Without a doubt, my Bingham Fellows relationships are very powerful in my quest for taking my leadership to a higher level.  My classmates are very supportive and encouraging.  As a matter of fact, some of our original OneWest project team members continue to meet every Thursday morning serving in an advisory capacity to OneWest.
Q. Any advice for leaders just selected for this year's Bingham Fellows class? The topic is: "It Takes a Village: Mobilizing community for student achievement"
A. Do not underestimate the impact and contribution that your personal time, experience, insight, and connection can make to mobilize our community for student achievement.  Regardless of your social, economic, political, or education status, everyone can make a difference in our community.  We are better when all community stakeholders participate in solving our community's issues.