For Immediate Release
Two agencies are named as winners for the Spring 2016 class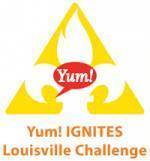 Louisville, Kentucky (April 21, 2016) – The 15th class of the Leadership Louisville Center's Ignite Louisville program graduated on April 20 following a day of presentations to a panel of esteemed judges. The six teams put their work for local nonprofits on display in hopes of winning the Yum! IGNITES Louisville Challenge and earning additional funds for the agency they worked to assist.  For the first time in the history of the Challenge, a tie was called for first place, and the Yum! Brands Foundation doubled their first-place financial gift to award two agencies the prize: Kentucky Refugee Ministries and YMCA Safe Place.  Each winning nonprofit will receive a $3,250 contribution, and the four remaining teams will each receive a $700 gift from the Foundation.
Presented by Norton Healthcare, Ignite Louisville is a seven-month program that grows young professionals by developing the key components of leadership. The Yum! IGNITES Louisville Challenge is an opportunity for teams from the Leadership Louisville Center's Ignite Louisville program to undertake a project for a local nonprofit, gaining experience in community leadership, board involvement and teamwork.  Since its inception in 2004, Ignite Louisville participants have worked with 93 area nonprofits to plan, execute and sustain new strategies for success. Participating nonprofits benefit from the expertise and energy of the teams, which each invest hundreds of hours with their nonprofit agency as they compete for donations made possible by the YUM! Brands Foundation.
Click to see team photos and results achieved by each team for their nonprofit partners.
Yum! IGNITES Louisville Challenge winning teams and agencies:
Kentucky Refugee Ministries, working with team "Prometheus"
Mitchell Burmeister, Louisville Metro Gov't/Emergency Services; Chona Camomot, Yum! Brands, Inc.;
Alicia Johnson, Brown-Forman Corporation; James H. Penny, Jr., UPS; Nick Phelps, JP Morgan Chase & Co.; Ben Smock, Metro United Way; and Sarah Tate, Clay Daniel Walton Adams PLC.
Team Prometheus devised a strategic plan to help Kentucky Refugee Ministries (KRM) further its mission of providing housing, educational, and legal services to refugees resettling in our community. With the help of a Yum! Brands Foundation Volunteer for Hope and over 100 volunteers, the team cleaned out and reorganized the 15,000 square foot warehouse holding donated items for resettling individuals. It also created an efficient plan for the donation process. Team Prometheus developed a database which tracks donations, sends automatic confirmation to donors, and generates weekly activity schedules for the drivers tasked with picking up donations and delivering furniture for new homes. It also created a stronger online presence for KRM and secured pro bono marketing materials, including a deeply discounted video. Additionally, the team assisted KRM in establishing an endowment with Community Foundation of Louisville, instituted quarterly benefit nights with El Camino restaurant, and secured new, lower-cost transportation. In sum, Team Prometheus secured over $50,000 for KRM in monetary and in-kind donations, and invested over 500 hours to date with much more to come.
YMCA Safe Place , working with team "Illuminaries"
Allison Brown, Wyatt, Tarrant & Combs LLP; Kristin Burgoyne, Americana Community Center; Kyle Burns, LG&E and KU Energy; Amanda Current, Norton Healthcare; Ashley Jones, Delta Dental of Kentucky, Inc.;
Chris Nation, Quantum Communications; Paul Sirek, Luckett & Farley Architects, Engineers and Construction Managers, Inc.; and Mona Tailor, M.D., University of Louisville.
Team Illuminaries revitalized Safe Place's place in the community by building awareness of its mission to provide safety, shelter, and support for teens and young adults in crisis. They reconnected Safe Place with youth by hosting an interactive community event, called Amazing Place, which drew 300 participants, and developed an ambassador program so youth can serve as Safe Place champions among their peers.  They strengthened Safe Place's connections with Jefferson County Public Schools and the Louisville Metro Police Department – the organizations that provide the majority of referrals – by streamlining points of contact, developing a communications plan for LMPD officers, and creating a community advisory council. They engaged donors raising $26,000, and empowered Safe Place to track internal progress by streamlining data monitoring and retention practices.
As part of a comprehensive marketing plan, the team developed simple and consistent messaging, and revitalized Safe Place's social media presence, including the creation of a social-media friendly video. To keep all these deliverables sustainable, the team facilitated Safe Place's application for an Americorps VISTA position, which will allow Safe Place to hire a new position for 3 years.
Additional nonprofits for the Yum! IGNITES Louisville Challenge and teams are: 
55,000 Degrees, working with team "Norm"
Cate Darmstadt, GE; Patrick Farnan, Fifth Third Bank; Allison Cowan Holtz, Humana Inc.; Christy Johnson, Papa John's International; Diane Lambrechts, KFC Corporation; Will Myers, CASA of the River Region; and Brian Warren, Charter Communications.
Team Norm worked with 55,000 Degrees, which exists to increase educational attainment by 55,000 post-secondary degrees by 2020. They asked the team  to help reinvigorate their outreach program, "Count Me In", where individuals or organizations sign up and pledge to either obtain a degree or support those that are working towards that goal. First, Team Norm simplified the messaging around taking the pledge and the pledge process itself, which included a redesign of the homepage of their website.  Next, they created toolkits that are resource materials to aid in presenting to organizations when discussing the pledging process. They also created content 55,000 Degrees can use in social media campaigns that will increase web traffic to their pledge page. In the end, the team is hopeful that the organization will be able to improve the impact of their outreach program toward their worthy goal.
Dreams with Wings, working with team "Ignite the Might"
Sarah Barker, Junior League Louisville; Brooke Burnette, Nativity Academy; Nick Clark, Norton Healthcare; Jenny Howard, Bandy Carroll Hellige; James Lake, Brown-Forman Corporation; Capt. Javier Quispe, U.S. Army Human Resources Command; Christopher Schaefer, Stoll Keenon Ogden PLLC; and Kate Shore, Humana Inc.
The Ignite the Might team worked with Dreams with Wings, a local non-profit organization that focuses on empowering adults and children with intellectual and development disabilities. The team saw many needs at Dreams, including marketing support, strategic planning development, and donor and volunteer outreach.  Through over 650 donated hours, the team tackled these issues by developing marketing materials, promoting multiple fundraising events through significant media coverage, developing a new fundraiser at local restaurants, creating new techniques for tracking and generating volunteers and donors, seeking grants for a new development officer, and developing plans for committees to alleviate the burdens currently on Dreams's executive staff.  Ignite the Might is confident that these events and materials will help Dreams with Wings grow their organization and sustain their amazing mission.
Greenhill Therapy, working with team "Champ4Lou"
Joshua Bluitt, West Louisville Performing Arts Academy; Christine Butchko, Winston Industries, LLC; Kaylee Carnahan, RunSwitch PR; Sean Ennis, MCM CPAs & Advisors; Melissa King, KFC Corporation; Douglas Teff, Humana Inc.; and Jillian Young, Metro United Way.
Awareness and sustainability guided Champ4Lou's plan for Green Hill Therapy in the categories of marketing, volunteer development, and fundraising. They refreshed marketing templates with a consistent and clean look. Champ4Lou utilized tools available to GHT to ensure future editing of marketing documents would not depend on a third party. They created a new marketing video, and a volunteer orientation video is in process which teaches horse handling and basic patient interaction. The team has also launched a volunteer outreach and appreciation program, as well as a sustainable fundraising and awareness program – the Green Hill Graze & Rai$e.  They successfully executed two events at local restaurants raising several thousand dollars, and the host restaurants have committed to additional events. GHT has a step- by-step plan for future restaurant fundraisers, along with editable support materials.  The team has invested 800 hours and has committed to participating in future endeavors.
Open Door Youth Services, working with team "Trans4mance"
Sarah Antle, CPA, DMLO CPAs; Tianna Barnes-Palmer, Innovative Solutions/Simply Belle; Chris Graff, CPA, KentuckyOne Health; Kaci Grant, Louisville Metro Government; Natalie Heller, Humana Inc.; Clay Hunt, CBRE, Inc.; Samuel Plymale, Forcht Bank; and Elisabeth Walker, Catholic Charities of Louisville.
Open Door Youth Services engaged Ignite Louisville to increase community awareness, increase donors and volunteers, and improve social media recognition. To address these needs, the team created a new marketing brochure focused on the needs of the non-profit arm of Open Door Youth Services. They branded "Friends of Open Door" with a new logo, promotional videos and a point of entry kick-off event which raised $2,355. Time and materials to promote the event were paid for with in kind donations. Team Trans4mance is working to improve signage for increased community awareness. Along with developing the event structure for future fundraisers, the team assisted Open Door in the creation of a donor database. They also improved the website with easy access to enewsletter signup and donation buttons.
Because art therapy is a main tool used at Open Door, Team Trans4mance helped the residential members set up an Etsy store and business plan to sell their artwork. The Etsy Program is designed to link ongoing therapeutic activities of the residential youth to the independent living requirements. Proceeds will benefit Open Door services and programming for participants to create sustainability. Team Trans4mance will continue to serve Open Door as an Auxiliary Committee.
About Ignite Louisville:
Presented by Norton Healthcare, Ignite Louisville is a seven-month program that grows rising community leaders by developing the key components of leadership. In addition to the core curriculum, the class participates in the Yum! IGNITES Louisville Challenge and takes on a project proposed by a local nonprofit to gain hands-on experience performing on a team and serving the community.  The 2016 class learned cutting-edge leadership concepts from program partners including Norton Healthcare, Yum! Brands, Inc., Brown-Forman Corporation, Horseshoe Southern Indiana, Northwestern Mutual, and the U.S. Army.  Ignite Louisville was founded by the Leadership Louisville Center in 2003 in partnership with the Young Professionals Association of Louisville (YPAL) and the Louisville Urban League Young Professionals (LULYP).
About the Yum! IGNITES Louisville Challenge
The Yum! IGNITES Louisville Challenge is the service learning component of the Leadership Louisville Center's Ignite Louisville program. Each year, about 12 nonprofits are selected from a pool of over 50 nonprofit agencies to work with an Ignite Louisville team. At the end of the program, a winning team (or teams) receives funds for their partner organization.
Since its inception in 2004, Ignite Louisville participants have worked with 93 area nonprofits to plan, execute and sustain new strategies for success.  The Ignite Louisville teams invest an average of over 500 hours in each of their partner organizations. In a recent survey, partner organizations stated that Ignite Louisville teams remarkably improved the productivity of operations, increased the organization's outreach in the community and improved the strategic focus of the organization. The average value of each team's work is over $35,000 in the most recent class and many Ignite Louisville graduates have joined the boards of directors of their adopted nonprofit, helping to accelerate a generational change in leadership. In 2013, Ignite Louisville's challenge received a national award for "Excellence in Innovation" from the Association of Leadership Programs. In 2009, it was awarded the Center for Nonprofit Excellence's Pyramid Award for the Art of Collaboration.
About the Leadership Louisville Center:
Created in 1979, the Leadership Louisville Center is the region's most valuable resource for leadership development and civic engagement.  Its mission is to grow and connect a diverse network of leaders who serve as catalysts for a world-class community through dynamic programming and strong community connections.  Over 6,000 community leaders have graduated from the Center's programs that include Leadership Louisville, Focus Louisville, Ignite Louisville, Bingham Fellows, and Encore Louisville.  The Leadership Green Room was launched in 2015 and serves at the training and talent development arm of the Center, expanding the resources available to the region's business community and employee base.  In 2011, the Leadership Louisville Center was recognized as one of the top seven community leadership programs in the U.S. in a benchmark study by the Center for Creative Leadership, the "gold standard" global provider of executive leadership education and research.  Learn more at www.leadershiplouisville.org.
For more information, contact:
Holly Prather, Vice President
Direct:  (502) 753-6503  Main: (502) 561-0458
hprather@leadershiplouisville.org