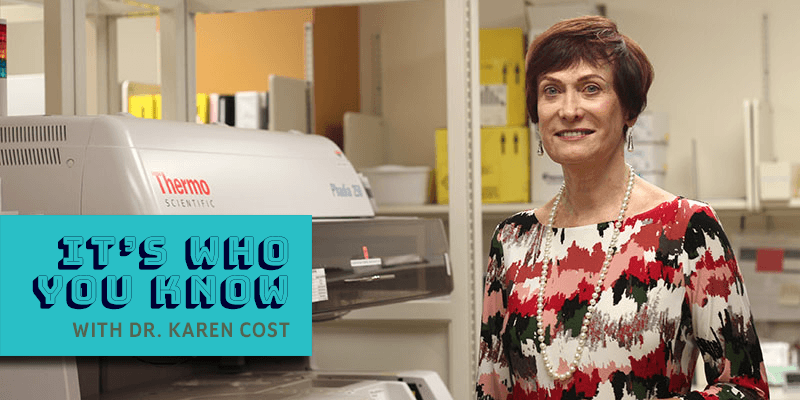 Dr. Karen Cost (BF '16, '02, '98; LL '84) is Chief of Immunology, Norton Healthcare. Dr. Cost is a three-time Bingham Fellow.
Q. Tell us about one of your Bingham Fellows class projects: (the topic, and the aspect of the project you were most involved in.)
A.  I was most involved in the 2016 Bingham Fellows class, whose topic was "Empowering our Citizens to Lead Healthier Lives".  Since my entire professional life has been in healthcare, and a majority of my community involvement relates to health and well-being, I was excited to be a part of this class. Learn more about the outcomes of the 2016 Bingham Fellows class.
Q. What was the most important thing you learned from the Bingham Fellow experience? 
A. From my Bingham Fellows experience I learned that by bringing together a diverse group of people with different backgrounds but with common goals, for an extended period of time, their energy and creativity will produce amazing ideas and initiatives to address the topic of the class.
Q. What part of that project made the biggest impact on our city? Is it still continuing? Are you still involved in any way?
A. My particular group with our 2016 Bingham Fellows class was called Louisville Active. Our goal is to create a healthier Louisville through a culture of active lifestyles.  We have become a formal committee of the Louisville Sports Commission, and have been meeting monthly since the conclusion of our class.  We have been involved in several projects, including the very successful Corporate Games, and intend to implement an awareness campaign about the health benefits of physical activity and become involved in other community initiatives related to activity and health.
Q. Are you still connected to any of your Bingham Fellows classmates? How valuable are the relationships you built as a Bingham Fellow?
A. The relationships from my Bingham Fellows class of 2016 are still very strong, especially with our Louisville Active Group, as we continue to work on our stated project.
Q. Any advice for leaders selected to this year's Bingham Fellows class with the topic: "It Takes a Village: Mobilizing community for student success"?
A. My advice:  If you are passionate about the topic, and willing to devote the time to the class, the experience will be enlightening, fulfilling, FUN, and have the potential to make significant changes in our community.