Request for nonprofit proposals now open for Community Acceleration Teams
The Leadership Louisville Center has facilitated teams to make positive transformation on the community and nonprofit organizations for decades. These include teams from the Ignite Louisville Challenge, Encore Louisville teams, Bingham Fellows projects, and alumni initiatives. The Center is now calling these Community Acceleration Teams, and is now inviting nonprofits, educational institutions, and government agencies to submit proposals to work with teams from the Ignite Louisville and Encore Louisville programs this fall. Proposals are due Thursday, August 29.
For additional information, visit www.leadershiplouisville.org/how-we-help-nonprofits or contact Jo Lloyd-Triplett at jlloydtriplett@leadershiplouisville.org or (502) 753-6502.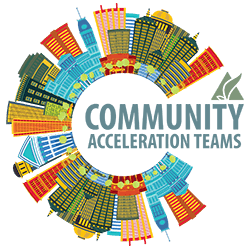 Community Acceleration Teams are groups of business and community leaders who work together to make nonprofits thrive. Depending on the program, this can be pro-bono strategic consulting on organizational issues or project design and implementation of the organization's area of need. Participating nonprofits come away with improved operations, increased exposure, and more strategic focus, all while connecting with potential board members and strategic volunteers.
The Ignite Louisville Challenge is the community leadership component of the Ignite Louisville program, a six-month program that provides emerging leaders with the skills, confidence, problem-solving abilities and connections essential to professional success. In addition to the core curriculum, the class is put into teams of 6-8 to partner with a nonprofit agency. They combine the principles learned in the program with their own expertise in order to implement solutions for their partner agencies, competing to win a donation for the agency. The class members gain experience in community leadership, board involvement, and teamwork. Participating nonprofits benefit from the expertise and energy of the teams, who each invest hundreds of hours with their nonprofit agency that has an average value of $30,000. See results from the most recent Ignite Louisville class.
Encore Louisville is a program for seasoned community leaders who want to continue to give back to the community as they retire, approach retirement or transition from professional careers. The program's goal is to connect groups of graduates in an advisory capacity with worthy nonprofits that need help managing critical strategic, structural, operational, or organizational issues. Encore Louisville participants bring their decades of experience and leadership to a series of meetings, helping nonprofits develop action plans over a 2-3 month timeframe, spending 15-20 consultant hours with their nonprofit partner. In this way, the program keeps the community's star talent engaged in civic leadership and involved with their professional peers despite career transitions. Nonprofit organizations gain assistance from the highest-level community trustees.  See results from recent classes. 
About the Leadership Louisville Center:
The Leadership Louisville Center is the region's most valuable resource for leadership development and civic engagement. With a purpose to inspire and equip leaders to be better and do better, it has graduated over 10,000 through its civic programs since 1979. The Center is recognized as a national best practice and is known for its dynamic programming and strong community connections. Programming includes five social impact leadership programs (Leadership Louisville, Focus Louisville, Ignite Louisville, Bingham Fellows and Encore Louisville), leadership skills training courses presented through the Leadership Green Room, and events designed to connect leaders and motivate positive change. Learn more at www.leadershiplouisville.org.
# # #
For more information, contact:
Holly Prather, Vice President
Cell: (502) 609-9227  Office: (502) 753-6503
hprather@leadershiplouisville.org