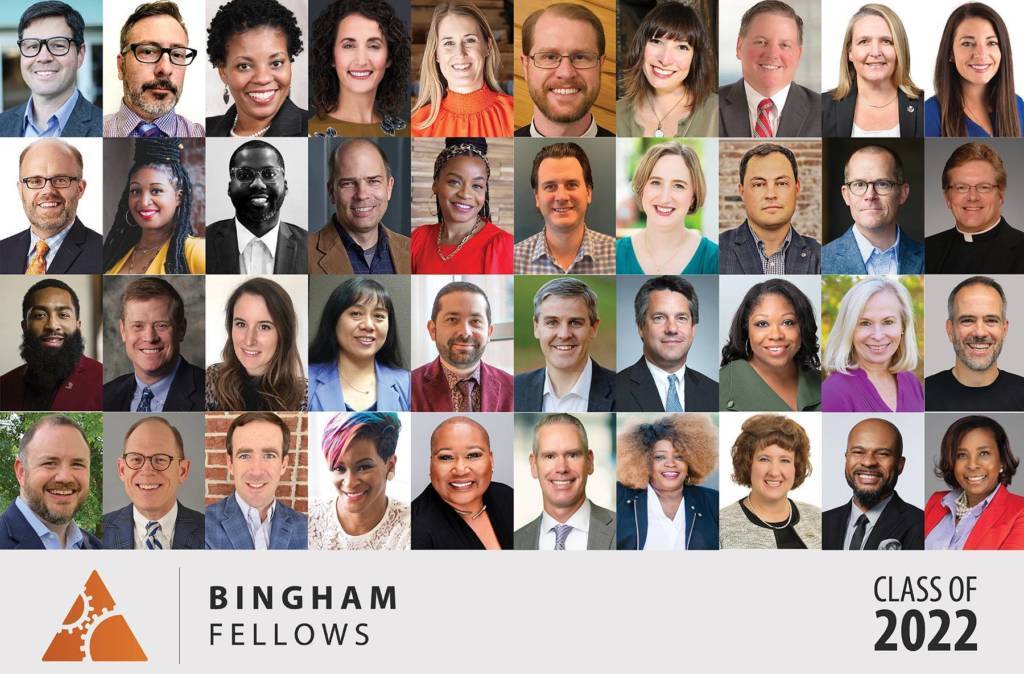 Moving Downtown Forward: Adapt and Reinvent
Outcomes of the Bingham Fellows Class of 2022
Every year, the Leadership Louisville Center seeks to address the most pertinent issue facing our city through our Bingham Fellows program. The class of 2022 was posed with the opportunity to leverage the dramatic changes the city has faced to adapt and reinvent downtown. How do we use what the past three years have taught us, the gaps it has uncovered, and the changes it has caused to redefine what downtown can be and do for Louisville? How can we create a more vibrant, resilient, and equitable urban core?
The answers to these questions lead to three initiatives. These projects seek to spur downtown's resurgence – not to the same downtown that we were pre-pandemic, but to a reimagined downtown that best serves today's needs and desires in a more welcoming and inclusive way. They are accomplishing the following:
• Turning spaces into places through strategic activation of underutilized sidewalks, plazas, and outdoor spaces (jump to CitySpots)
• A guide for making our neighborhoods art and cultural destinations (jump to LouMoment Maker)
• Jumpstarting economic value creation for small Black-owned merchants (jump to MELANnaire Marketplace)
---
2022 Bingham Fellows Projects
---
CitySpots
Studies prove abundant benefits to physical, mental and environmental health – along with job fulfillment and creativity – when people connect in person, and in quality outdoor spaces. Yet the recent impact of pandemic and unrest have changed downtown's use patterns and exposed voids on sidewalks, plazas and outdoor areas.
Enter CitySpots, a network of welcoming spaces and urban surprise where people meet, eat, play, or relax – rekindling vibrancy across downtown. Potential CitySpots sites along Main and Fifth streets are inventoried and catalogued, along with a roadmap for public-private partnerships to create them, under the umbrella of the Louisville Downtown Partnership. The initial "spot" will open in spring of 2023 on Fifth Street near Metro Hall.
Whether grabbing lunch under a colorful umbrella, catching up on emails in an Adirondack chair, or swaying away an afternoon in a tire swing, CitySpots will help downtown rediscover the art of hanging out.
Class members working on this initiative:
Brian Butler, Stites & Harbison PLLC
Carrie Butler, Transit Authority of River City | TARC
Nikki Carver, JP Morgan Chase & Co.
Hank Hillebrand, Poe Companies
Louis Johnson, Gresham Smith & Partners
Matt Kamer, BCH Agency
Fr. Frederick Klotter, Holy Spirit Church
Steven Kniffley Jr., Spalding University
Riggs Lewis, Norton Healthcare
Jeffrey O'Brien, Louisville Forward
Douglas Owen III, JLL
Brooke Pardue, Parks Alliance of Louisville
Chip Snyder, PNC Bank
Robbie Tindall, Humana Inc.
---
LouMoment Maker
LouMoment Maker allows Louisville residents, community, and small business owners; and art, entertainment, and cultural organizations to activate the public realm for community-focused purposes and commerce.
LouMoment Maker seeks to diffuse cultural richness throughout our Downtown, the heart of our city, the part of our community that is everyone's community, by creating equitable opportunities that foster meaningful connections.  Bringing artists and government together to elevate cultural surprises in the empty spaces and the eyesores of our Downtown that keep the spirit of Louisville alive, amplify voices and build a sense of shared pride in our city.
LouMoment Maker builds upon existing event guidelines from multiple agencies, consolidating into a single document written through the lens of the artist's needs.
Learn More about LouMoment Maker
Class members working on this initiative:
Christian Adelberg, Kentucky Performing Arts
Kristian Anderson, Louisville Visual Art Association
Yvonne Austin-Cornish, Louisville MSD
Callie Baumann, CVS
Megan Breier, Beam Suntory
Joe Franklin, Venture Connectors
Christopher Fuller, K. Norman Berry Associates Architects PLLC | KNBA
Jill Horn, Brown-Forman Corporation
MK Lindsey, Crawford Hoying
David Lopez, Teach for All
Ameerah Palacios, HDR Engineering
Larry Portaro, GE Appliances, a Haier company
Garth Williams, Derby City Gaming
Nicole Yates, Passport Health Plan

---
MELANnaire Marketplace
Louisville has a long, rich history of Black-owned business. The Walnut Street business district (now Muhammad Ali Boulevard) once was a vibrant and thriving business, social and cultural gathering place for Black Louisvillians. The area was a vital economic engine for the Black community during racial segregation from the 1920s to 1950s, until it was demolished during the period of urban renewal.
Structural and systemic racism has created barriers for Black-owned businesses ever since. Current statistics reveal that 23.4% of the Louisville Metro population is Black, yet only 2.4% of its businesses are Black-owned. The lack of Black-owned businesses in downtown has prevented the area from being viewed as representing the diverse needs and desires of the entire community.
The MELANnaire Marketplace, a Black- and woman-owned business, will support the growth and prosperity of Black merchants with a mission to jumpstart economic value creation for small Black-owned merchants who: 1) lack access to capital/funding to open their own brick-and-mortar shops, 2) need access to funds to support business operations and overhead costs, and 3) need mentorship and training in business ownership. The goal for the MELANnaire Marketplace is to create a long-term strategy for financial profit and stability – while providing quality downtown retail opportunities that are welcoming to all.
Learn More about MELANnaire Marketplace
Class members working on this initiative:
Julie Benton, &well
Fr. Matthew Bradley, Christ Church Cathedral
Chris Coffman, Frost Brown Todd LLC
Prenashee Collins, TBAIN&Co.
LaVeda M. Gipson, PharmD, Aetna Better Health of Kentucky
Emily Liu, Louisville Metro Government
Ben Simmons, Schmidt Associates
Nachand Trabue, Bates Community Development Corporation
Sherri L. Wallace, Ph.D., University of Louisville
Chris Ward, DMLO CPAs
Kathy Washington, Simmons College of Kentucky
Johanna Wheatley, Republic Bank
---
Bingham Fellows Steering Committee

Cleo Battle (BF '20, LL '15), President & CEO, Louisville Tourism
Andre Guess(LL '98), President & CEO, Fund for the Arts
Rebecca Fleischaker (LL '22, IL '05, FL '00), Executive Director, Louisville Downtown Partnership
Randy Frantz (BF '20, LL '19), Assistant Executive Director, TARC
Bill Schreck (LL '20, FL '90), Retired, Interim Director Louisville Downtown Partnership
Rep. Pam Stevenson, (BF '14, LL '13, FL'12) KY State Representative, District 43
Bill Weyland (BF '20), Chief Strategic Officer, Weyland Ventures
---
Interested in learning more?
This team, along with the rest of the Bingham Fellows Class of 2022 will be presenting on their projects as a session at the LeadingBetter Summit held March 9, 2023 at the Kentucky Center for the Performing Arts from 4 – 5:00 p.m. Register for this full day of learning or just for this session!
Register for the Full LeadingBetter Summit    Register for the Bingham Fellows Presentation Only