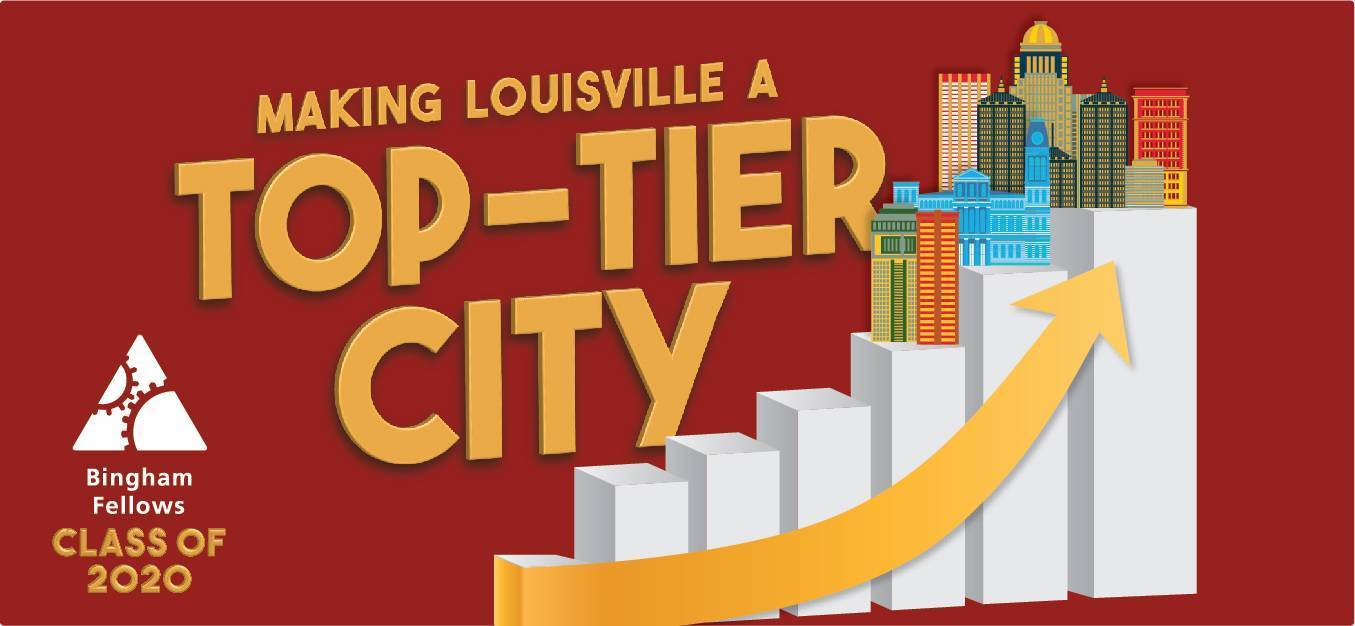 Each year, local leaders selected for the Leadership Louisville Center's Bingham Fellows program are tasked with an issue of importance in the community and asked to tap into their imagination and talent for gathering critical resources to create social change. The topic for the 2020 Bingham Fellows will be: Making Louisville a Top-Tier City.
Individuals who want to experience an unmatched practicum in change management and group dynamics while using their broad knowledge base and range of experience to move the needle on this important community issue should apply. The upcoming program year begins in January and ends in December 2020. For more information, contact Aimee Jewell at (502) 561-0458 or ajewell@leadershiplouisville.org.
Want to learn more about Bingham Fellows, the 2020 topic and how to apply?
The Center is hosting two opportunities to learn more about the program, the 2020 topic, and the application process:
·       Bingham Fellows 2020 Overview – Wednesday, September 25, 2019, 8:30-9:30 a.m. at the Leadership Louisville Center, 707 W. Main Street.
·       Meet and Greet Happy Hour with Bingham Fellows staff and alumni – Wednesday, October 2, 2019, 5:30-7:30 p.m. at Old 502 Winery, 120 S 10th Street.
Both are free to attend, RSVP at: https://www.leadershiplouisville.org/bingham-fellows/bingham-fellows-2020-topic/
More about the 2020 Topic:
Louisville is recognized on many top cities lists and is described by national experts as "that next breakthrough city." But what will it take to actually break through?
It's time to look at what must be different for us to get to that top tier. Is it more Fortune 500 headquarters and professional sports teams? More amenities, different cityscapes? Who needs to be engaged in defining those aspirations and achieving them? What will it cost and where will we get the revenue? What policies and practices need to change? How could strengthening relationships across the Commonwealth secure Louisville's future? Decisions and plans of action are needed to set the stage for us reaching that next level.
We can't expect our elected officials, nonprofits, and philanthropists to carry all of the work and the responsibility. A new model of dispersed leadership is needed, where people from throughout the community are involved and are engaged in new, different, and more systemic ways.
The Bingham Fellows Class of 2020 will gather influential leaders to study what it means to be a top-tier city and the steps we must undertake to get there. The class will take a meaningful look at the data, study issues of revenue and spending, explore what's happening with philanthropy in our community, and review what other cities have learned about growth. They will build connections to bring more people and groups into the conversation and take on the challenge of moving us into action.
About the Bingham Fellows program:
The Bingham Fellows program is the advanced leadership program of the Leadership Louisville Center. Created in 1988 through a $500,000 endowment from the Mary and Barry Bingham Sr. Fund, the Fellows are social entrepreneurs who have the imagination and talent needed to gather critical resources and create social change. Side by side with peers,
participants work to develop dynamic and innovative solutions to our community's most pressing challenges. The 2020 cohort will be the 28th class, and the Bingham Fellows have had an impressive track record of providing community issues with visibility and momentum.
The Fellows don't ponder what might be. They roll up their sleeves, shine a spotlight on an issue, and put new ideas to work. Their recent impact includes projects such as the West Louisville community development organization OneWest, regular Café Louie conversations with elected officials at Louisville Free Public Library locations, a sustainable model for neighborhood 'Little Free Libraries,' and City Champs, a talent attraction and retention program now managed by Greater Louisville Inc. The impact of the Fellows goes back to the 1990s with the creation of The Housing Partnership, construction of the Presbyterian Community Center, growth of local farmers' markets, and numerous other positive outcomes.
The Bingham Fellows Class of 2019 is currently exploring ways that the community and businesses can positively impact student achievement and will announce their projects around the topic, "It Takes a Village – Mobilizing Community for Student Success," in January 2020.
ABOUT THE LEADERSHIP LOUISVILLE CENTER
The Leadership Louisville Center is the region's most valuable resource for leadership development and civic engagement. With a purpose to inspire and equip leaders to be better and do better, it has graduated over 10,000 through its civic programs since 1979. The Center is recognized as a national best practice and is known for its dynamic programming and strong community connections. Programming includes five social impact leadership programs (Leadership Louisville, Focus Louisville, Ignite Louisville, Bingham Fellows and Encore Louisville), leadership skills training courses presented through the Leadership Green Room, and events designed to connect leaders and motivate positive change. Learn more at www.leadershiplouisville.org.
# # #
For more information, contact:
Holly Prather
Vice President
Office: (502) 753-6503 | Cell: (502) 609-9227