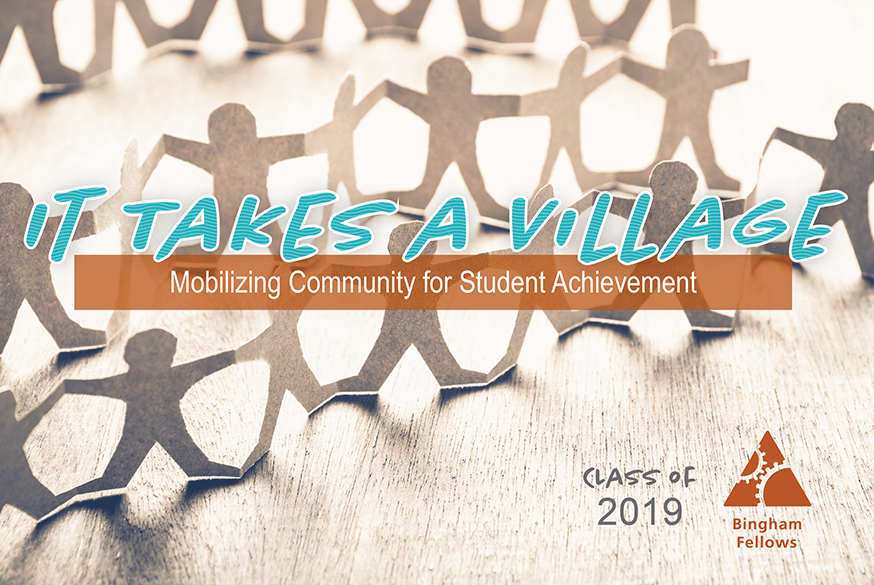 Louisville, Kentucky (September 4, 2018) – Each year, local leaders selected for the Leadership Louisville Center's Bingham Fellows program are tasked with an issue of importance in the community and asked to tap into their imagination and talent for gathering critical resources to create social change. The topic for the 2019 Bingham Fellows will be: It Takes a Village – Mobilizing community for student achievement.
Applications for the Bingham Fellows Class of 2019 are being accepted through October 22 at www.leadershiplouisville.org.  Individuals who want to experience an unmatched practicum in change management and group dynamics while using their broad knowledge base and range of experience to move the needle on this important community issue should apply.  The upcoming program year begins in January and ends in December 2019.  For more information, contact Jennifer Stevens at (502) 561-0458 or jstevens@leadershiplouisville.org.
Want to learn more about Bingham Fellows, the 2019 topic and how to apply?
Join us for an information session Thursday, October 4, 2018 from 8:30-9:30 a.m. at the Leadership Louisville Center. It is free to attend, but you must RSVP at: https://www.leadershiplouisville.org/bingham-fellows/bingham-fellows-class-of-2019-information-session/
More about the 2019 Topic:
For so long our community has been aware of the challenges faced by our kids, from arriving at kindergarten ready to learn to staying engaged as they advance towards graduation and the workforce. Now is a critical time to rally together to impact student success. Factors small and large affect achievement – from equity and achievement gaps, and graduating students ready for careers, to the daily struggle with attendance. How could businesses and concerned citizens be part of the solutions for issues like these?
The 2019 Bingham Fellows will explore ways that the community and businesses can positively impact student achievement and seek solutions to current barriers to success.
About the Bingham Fellows program:
The Bingham Fellows program is the advanced leadership program of the Leadership Louisville Center.  For over 20 years, Bingham Fellows has provided experienced leaders with the opportunity to put into practice the skills that credential them as a leader of leaders.  Side by side with peers, participants work to develop dynamic and innovative solutions to our community's most pressing challenges.  Bingham Fellows was created in 1988 through a $500,000 endowment from the Mary and Barry Bingham Sr. Fund. The participants are social entrepreneurs who have both a vision and the ability to assemble the resources required to implement that vision and address obvious social needs.
Now entering its 26th class, the Bingham Fellows have had an impressive track record of providing emerging issues with visibility and momentum.  In recent years, they've developed the West Louisville community development organization OneWest, contributed to the development of a long-term vision for our community, enhanced environmental responsibility through initiatives at the grassroots and policy levels, worked to attract and retain talent with an internship program now managed by Greater Louisville Inc. and helped form the Kentucky Indiana Exchange, a regional leadership coalition.  The impact of the Fellows goes back to the 1990s with the creation of The Housing Partnership, construction of the Presbyterian Community Center, growth of local farmers' markets and numerous other positive outcomes.  The Bingham Fellows Class of 2018 will announce their projects around the topic, "A Safe and Thriving City: Strengthening our community's ability to prevent violence," in January 2019. 
ABOUT THE LEADERSHIP LOUISVILLE CENTER
Created in 1979, the Leadership Louisville Center is the region's most valuable resource for leadership development and civic engagement.  Its mission is to grow and connect a diverse network of leaders who serve as catalysts for a world-class community through dynamic programming and strong community connections.  Over 7,000 community leaders have graduated from the Center's civic programs (Leadership Louisville, Focus Louisville, Ignite Louisville, Bingham Fellows, and Encore Louisville), and the Leadership Green Room serves as the training and talent development arm of the Center.  In 2011, the Leadership Louisville Center was recognized as one of the top seven community leadership programs in the U.S. in a benchmark study by the Center for Creative Leadership, the "gold standard" global provider of executive leadership education and research.  Learn more at www.leadershiplouisville.org.
# # #