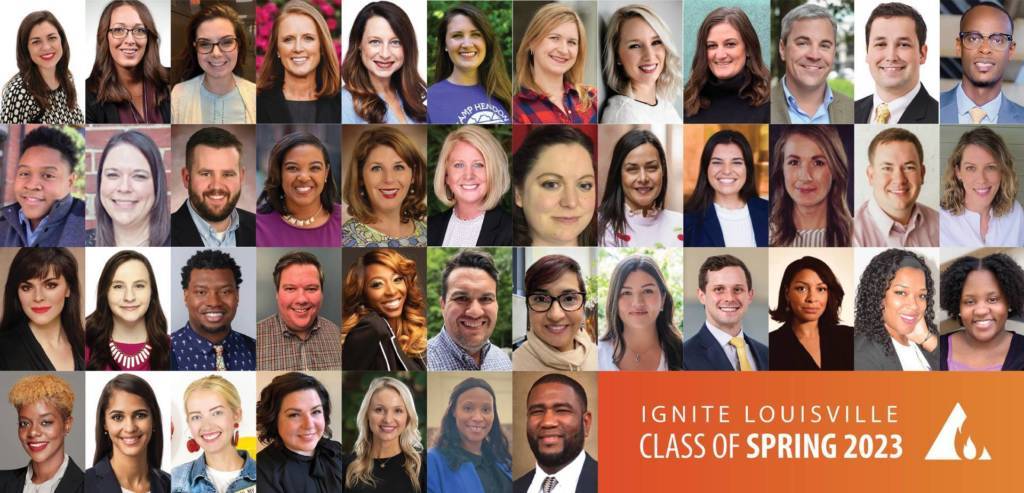 Leadership Louisville Center announces 43 emerging leaders selected for 28th Ignite Louisville Class
Forty-three emerging leaders have been selected for the Leadership Louisville Center's Ignite Louisville Class of Spring 2023 that will run from October 2022 – April 2023. This is the 28th class of the award-winning program, presented by Norton Healthcare, which has graduated over 1,200 up-and-coming leaders, preparing next-generation talent for expanded roles in their organizations and in the community.
The Ignite Louisville experience grows high potential professionals by developing the key components of leadership, with core curriculum developed by the Leadership Louisville Center and partners including Norton Healthcare, Brown-Forman Corporation, and the U.S. Army. The class puts these lessons to work through the Ignite Louisville Challenge, which is an opportunity to be part of one of the Center's Community Acceleration Teams and work with a local nonprofit to develop and implement solutions for their needs. The teams compete to do the most good for their nonprofit, gaining hands-on experience performing on a diverse team and serving the community. Since the first class graduated in 2005, Ignite Louisville participants have worked on 166 projects for area nonprofits to plan, execute and sustain new strategies for success.
"It is critical for companies to invest in their talent today, to better engage and support their emerging leaders, as well as prepare them to take on the tough challenges ahead," said Cynthia Knapek, president and CEO of Leadership Louisville Center. "Ignite Louisville is our premier talent development program and we're excited to announce the leaders selected for our newest class as well as celebrate the over 30 companies who are modeling investment in their talent and our community, including our long-time partner and presenting sponsor Norton Healthcare."
Members of the Ignite Louisville Class of Spring 2023 (Oct. 2022 – Apr. 2023) are (click for photo roster):
Shelby Babcock, Chief of Staff, ARGI Financial Group
Michelle Bartoszek, Transportation Manager, Waste Management
Ashley Byrum, Grant Developer, Jefferson County Public Schools | JCPS
Jessica Childress, Associate Director, Process Improvement, Humana Inc.
Whitney Conely, Experience Strategy & Transformation Lead, Humana Inc.
Megan Cooper, Executive Director, Camp Hendon – Kentucky Diabetes Camp for Children
Mera Corlett, Community Engagement Coordinator, Seven Counties Services Inc.
Danielle Dilger, Risk Management Lead, Humana Inc.
Courtney Evans, Director of Advancement, Jewish Family & Career Services | JFCS
Michael Fetter, Director of Marketing, Louisville Tourism | LCVB
Nathaniel Troy Fowler, Managing Associate, Frost Brown Todd LLC
Mandela Gapala, Employment Services Manager, Kentucky Refugee Ministries
Ashleigh Hazley, Senior Manager of Programming and Community Engagement, Muhammad Ali Center
Abby Jacobs, entralized Scheduling Director, Confluent Health
Nick Jewell, Group Leader – EDO Emerging Technology Engineering, LG&E and KU Energy
Gabrielle Jones, Vice President of Content, Louisville Public Media
Amanda Keller, Senior Physician Recruiter, Norton Healthcare
Heather Kelley, AVP Retail Sales Manager, Eclipse Bank
Cassie Lyles, Teacher, Jefferson County Public Schools | JCPS
Kelsey Magnine, Sr. Director, Strategic Partnerships & Client Success, Confluent Health
Lauren Martin, Director of Housekeeping, Omni Louisville Hotel
Ashtan Moriarty, Regional Finance Director, Confluent Health
Ryan Mudd, Senior Manager, EY | Ernst & Young
Meghan Murphy, Digital Marketing Analyst, Jack Henry & Associates
Carman Napier, Director of Development, Day Spring
Hannah Oiler, Assistant Vice President, PNC Bank
Andrew Patterson, Financial Center Manager, Fifth Third Bank
David Payne, Assistant General Counsel, Confluent Health
Lanisha Porter, Director of Ministries, St. Stephen Baptist Church
Justin Richards, Communications Manager, Appraisal Institute
Sara Ruiz Esparza Morales, Global Quality Assurance & Continuous Improvement Manager, Brown-Forman Corporation
Caroline Clementine Shoenberger, Area Sales Manager, The Al J. Schneider Company | AJS Hotels
Mclean Shutt, Sales Support Specialist, Mercer LLC
Abra Sickles, Director, Physician Development, Norton Healthcare
Eva Snadon, CEO/President, POWER2 Consulting
LaShonna Thompson, Clinic Manager, New Hope Services, Inc.
Dominique Wales, Area Business Manager, Sanofi-Aventis Pharmaceuticals
Janine Webb, Corporate Counsel, Yum! Brands, Inc.
Sarah Weedman, District Resource Teacher: Deeper Learner, Jefferson County Public Schools | JCPS
Lauren Wernert, Director of Benefits, Confluent Health
Jordan Wiehebrink, Director of Enrollment Strategy and Innovation, Bellarmine University
Ashlie Woods, D&I Program Coordinator, Transit Authority of River City | TARC
William Wright, Innovation Program Manager, Louisville MSD
ABOUT THE LEADERSHIP LOUISVILLE CENTER
The Leadership Louisville Center is the region's most valuable resource for leadership development and civic engagement. With a purpose to inspire and equip leaders to be better and do better, it has graduated over 15,000 through its programs since 1979. The Center is recognized as a national best practice and is known for its dynamic programming and strong community connections. Programming includes five social impact leadership programs (Leadership Louisville, Focus Louisville, Ignite Louisville, Bingham Fellows and Encore Louisville), cohort programs for women and employee resource group leaders, leadership skills training courses presented through partner brand LeadingBetter™, and events designed to connect leaders and motivate positive change. Learn more at www.leadershiplouisville.org.
# # #