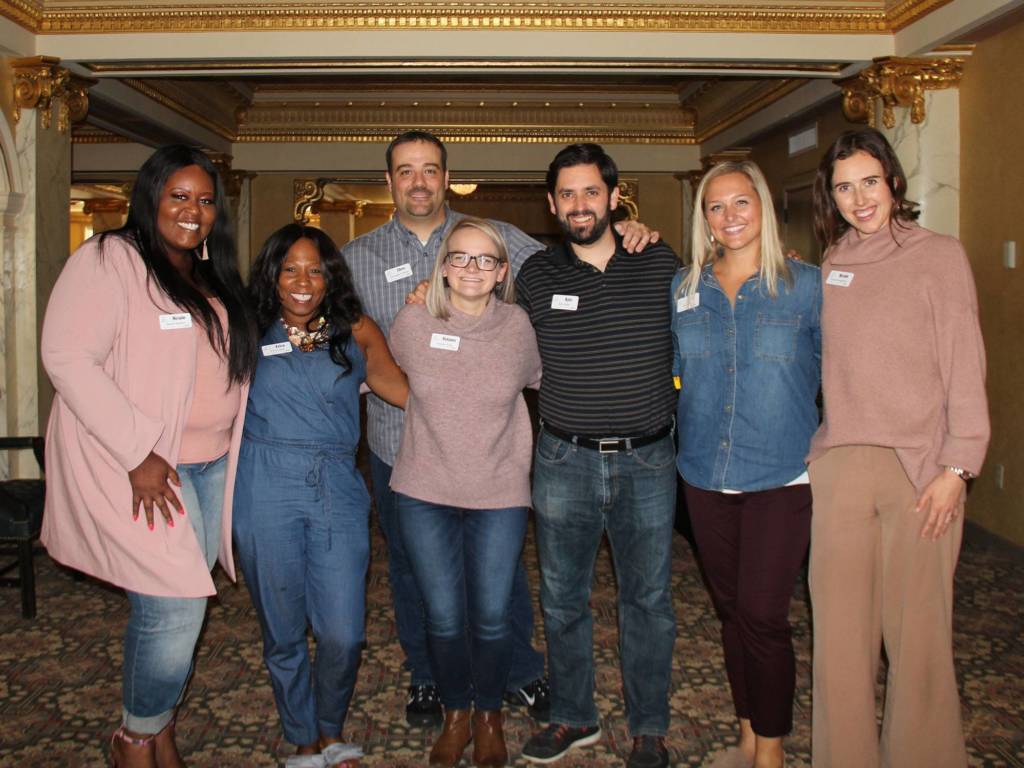 Forty-six emerging leaders have been selected for the Leadership Louisville Center's Ignite Louisville Class of Spring 2020 that will run from October 2019 – April 2020. This is the 23rd class of the award-winning program, presented by Norton Healthcare, which has graduated over 1,000 up-and-coming leaders and offers two classes each year, preparing next-generation talent for expanded roles in their organizations and in the community.
The six-month Ignite Louisville experience grows mid-level professionals by developing the key components of leadership, with core curriculum developed by the Leadership Louisville Center and partners including Norton Healthcare, Brown-Forman Corporation, the U.S. Army, oGoLead®, and Kindred Healthcare. The class puts these lessons to work through the Ignite Louisville Challenge, which is an opportunity to be part of one of the Center's Community Acceleration Teams and work with a local nonprofit to develop and implement solutions for their needs. The teams compete to do the most good for their nonprofit, gaining hands-on experience performing on a diverse team and serving the community. Since the first class graduated in 2005, Ignite Louisville participants have worked on over 125 projects for area nonprofits to plan, execute and sustain new strategies for success.
Members of the Ignite Louisville Class of Spring 2020 (October 2019 – April 2020) are (click for photo roster):
Jamie Ammons, Anthem Inc.; Carcyle Barrett, University of Louisville; Michele Beauvois, Texas Roadhouse; Kevin Bilbrey, EY; Erica Camp, University of Louisville; Jarrod Carnahan, Appriss, Inc.; Cara Crawford, ARGI Financial Group; Justin Fowles, Frost Brown Todd, LLC; Betsy Frentz, Wiley Education Services; Katie Halsey, K. Norman Berry Associates; Nicole Hayden, 50.50 Mentoring Collaborative Inc; Todd Hill, Baptist Health; Lindsey Howard, Stoll Keenon Ogden PLLC; Nicole Humphrey, Fund for the Arts; Rebecca Insko, Swope Design Group; Brandy Jenkins, Eclipse Bank; Jerica Kelso, Yum! Brands; Christina Kern, UofL Physicians/UofL Hospital/UofL Brown Cancer Center; Autumn Kidd, Jewish Hospital; Jeff Kurt, Miranda Construction; Stacey Langan, EdjAnalytics; Boz Lindgren, Luckett & Farley; Devon McFadden, Kentucky Department for Public Health; Erica Meguiar, Choice! Energy Services; Kyle Miller, Bingham Greenebaum Doll LLP; Sara Nelson, Humana Military; Denise-Scott O'Donnell, Kentucky College of Art + Design; Toree Parrish, University of Louisville; Lyndsay Railey, Papa John's International; Chrissy Roe, Louisville Water Company; Oliver Roe, Calhoun Construction Services; Matthew Schuhmann, Speed Art Museum; Amy Schwoeppe, Texas Roadhouse; Maddie Shepard, Jefferson County Public Schools; Rebecca Simmons, Crowne Plaza Louisville – AJS Hotels; Kulwant Singh, Liberty Financial-A Division of ETFCU; Keisha Stevenson, Farm Credit Mid-America; Jonathan Taylor, Humana Inc.; Brandon Thomas, The Underwriters Group; Chris Titshaw, Papa John's International; Emily Vitale, OneWest; Rohan Vohra, Humana Inc.; Wesleigh Wangel, LG&E and KU Energy LLC; Joshua Watkins, Louisville Metro Government; Xinyi Yan, Brown-Forman Corporation; and Mariel Young, Humana Inc.
About the Leadership Louisville Center:
The Leadership Louisville Center is the region's most valuable resource for leadership development and civic engagement. With a purpose to inspire and equip leaders to be better and do better, it has graduated over 10,000 through its civic programs since 1979. The Center is recognized as a national best practice and is known for its dynamic programming and strong community connections. Programming includes five social impact leadership programs (Leadership Louisville, Focus Louisville, Ignite Louisville, Bingham Fellows and Encore Louisville), leadership skills training courses presented through the Leadership Green Room, and events designed to connect leaders and motivate positive change. Learn more at www.leadershiplouisville.org.
# # #