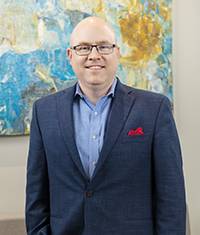 Aaron Miller is Vice President of the Leadership Louisville Center, overseeing all programming offered by the organization including seven community leadership programs, events ranging from small to large, and all skills-training offerings operating under the LeadingBetter brand.
Miller has been with the organization since 2011. He has been responsible for delivering programs that are seen as national best practices, maintaining excellent participant experiences and strengthening the social fabric of our community. The Encore Louisville program, where seasoned professionals volunteer with nonprofit organizations pro-bono to provide strategic insights to help meet organizational challenges, was co-created by Miller and a team of Leadership Louisville Center graduates in 2014.
Prior to joining the Center, Miller spent the previous 17 years in broadcasting, working as a radio morning show host and promotions/marketing director. His longest stint was 12 years on-air in morning drive on 102.3 FM. Miller was elected to two terms as a city council member for the city of Lyndon in 2002 and 2004, and he currently sits on the boards of the Lincoln Heritage Council of the Boy Scouts of America, the Catholic Foundation of Louisville, and is a member of the Louisville Free Public Library Advisory Commission.
In 2015, Business First magazine named him one of "20 People to Know in Nonprofits." He has received other awards including Business First's Forty Under 40 in 2010, the Young Professionals Association of Louisville's President's Award in 2009, and the Make-A-Wish Foundation's Strength Award in 2007 and Hope Award in 2004.
Miller resides in Louisville with his wife Susan and two children, Maggie and Charlie