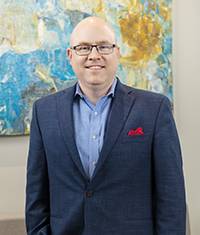 Aaron Miller is the Director of Community Leadership for the Leadership Louisville Center.  He runs the program side of the organization, which includes the Leadership Louisville, Bingham Fellows, Ignite Louisville, Focus Louisville, and Encore Louisville programs.  The Encore Louisville program is the newest addition, which was co-created by Miller and a team of Leadership Louisville Center graduates in 2014.
Aaron has been with the Leadership Louisville Center since 2011, and spent the previous 17 years in broadcasting, working as a radio morning show host and promotions/marketing director for a multi-station cluster. Miller was elected to two terms as a city council member for the city of Lyndon (a small city within Jefferson County) in 2002 and 2004, and he has also worked as a blogger for Gannett/The Courier-Journal.
In 2015, Business First magazine named him one of "20 People to Know in Nonprofits." He has received other awards including Business First's Forty Under 40 in 2010, the Young Professionals Association of Louisville's President's Award in 2009, and the Make-A-Wish Foundation's Strength Award in 2007 and Hope Award in 2004.