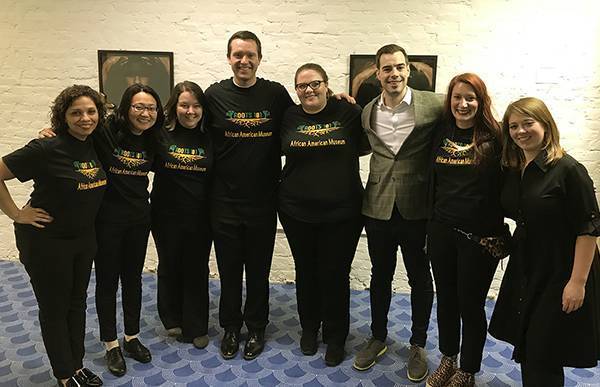 Winner named in Spring 2020 Ignite Louisville Challenge – 
Team working with African American museum in downtown Louisville named winner of the Challenge
The 23rd class of Leadership Louisville Center's Ignite Louisville program had the most unique program experience to date. Their projects were interrupted by COVID-19 and community quarantine and on June 9, they presented their work virtually to a panel of esteemed judges and their class. The six Community Acceleration Teams put their work for local nonprofits on display in hopes of winning the Ignite Louisville Challenge and earning additional funds for the agency they worked to assist.
The team working with Roots 101: African American Museum was selected as the winner of the challenge and will receive the $1,500 prize made possible by the Leadership Louisville Center. While one team was selected as the winner, all six nonprofit agencies received significant support, with the six teams contributing over 2,280 hours of service and providing over $210,000 in value to the nonprofit agencies.
Presented by Norton Healthcare, Ignite Louisville is a six-month program that grows young professionals by developing the key components of leadership. The program has graduated over 1,000 up-and-coming leaders and offers two classes each year, preparing next-generation talent for expanded roles in their organizations and in the community. The Ignite Louisville Challenge is an opportunity for teams from the Leadership Louisville Center's Ignite Louisville program to undertake a project for a local nonprofit, gaining experience in community leadership, board involvement and teamwork. Since the first class graduated in 2005, Ignite Louisville Community Acceleration Teams have worked on over 135 projects for area nonprofits to plan, execute and sustain new strategies for success. Participating nonprofits benefit from the expertise and energy of these Community Acceleration Teams, which each invest hundreds of hours with their nonprofit agency as they compete for donations. Click to see team photos and results achieved by each team for their nonprofit partners.
Ignite Louisville Challenge winning team and agency:
Roots 101: African American Museum
Todd Hill, Baptist Health; Rebecca Insko, Swope Design Group; Lyndsay Railey, Papa John's International; Matthew Schuhmann, Speed Art Museum; Maddie Shepard, Jefferson County Public Schools; Rebecca Simmons, Crowne Plaza Louisville – AJS Hotels; Emily Vitale, OneWest; and Xinyi Yan, Brown-Forman Corporation.
Roots 101: African American Museum, located Downtown Louisville on Museum Row, prides itself on offering a healing place that educates its visitors about the African American experience and culture through exhibits and events. The Ignite Louisville team partnered with Roots 101 to focus on fundraising, marketing, and infrastructure for its board, technology, and COVID-19 response. The team was able to raise over $30,000 for Roots 101 with a fundraising event including a silent auction, bourbon pull, and sponsorships. They facilitated a partnership with a marketing firm that has provided rebranding and a fundraising tool. Overall support for the board, sustainable technology solutions, and opportunities to connect Roots 101 with Louisville during the COVID-19 pandemic were also part of the deliverables for the team. The team committed 445 hours of service to assist with expanding the Roots 101 mission. The group's total contribution amounted to more than $100,000 in volunteer hours, donations, and new community sponsorships.
Lamont Collins, Founder of Roots 101: African American Museum had this to say: "The great Frederick 'Freedom Fighter' Douglass once said, 'It is easier to build strong children than to repair broken men.' I would like to say that there is no greater reward than working with young people that understand that we're a better America together than we are apart. I love you always, my Ignite Louisville team."
Additional Ignite Louisville teams and agencies:
The Big Table, Inc.
Justin Fowles, Frost Brown Todd, LLC; Betsy Frentz, Wiley Education Services; Jerica Kelso, Yum! Brands, Inc.; Jeff Kurt; Boz Lindgren, Luckett & Farley; Erica Meguiar, Choice! Energy Services; Keisha Stevenson, Farm Credit Mid-America; and
Mariel Young, Humana Inc.
The Big Table is a group that creates dynamic spaces for people to connect across difference, originally gathering large numbers of people at potlucks. When the Ignite Louisville team began work with the group, they were focused on potluck attendance and had recently lost their fiscal sponsor.  The team went to work, first in developing a comprehensive marketing plan and creation of new website, email marketing functionality, and social media pages. Next, the retained a law firm to officially incorporate The Big Table and seek nonprofit 501(c)(3) status, as well as establish a board of directors, provide financial and budgeting tools, and its first bank account. The team was then able to organize an event attracting 25 'ambassadors' to be future volunteers and fundraisers. Then COVID-19 required The Big Table and the team to think differently. They helped pivot to a safe and inexpensive alternative – virtual dinners hosted on Zoom – that have been a big success. The team helped form The Big Table, Inc. to what it is today, giving over 530 hours to the project and raising over $13,000 in in-kind donations.
Critically Loved (CL)
Carcyle Barrett, University of Louisville; Kevin Bilbrey, EY; Cara Crawford, ARGI Financial Group; Brandy Jenkins, Eclipse Bank; Chrissy Roe, Louisville Water Company; Amy Schwoeppe, Texas Roadhouse
Jonathan Taylor, Humana Inc.; and Wesleigh Wangel, LG&E and KU Energy LLC.
Critically Loved (CL) is a young organization which supports families of chronically and critically ill children. The Ignite Louisville team's initial discovery uncovered the lack of a solid foundation, which led the team to focus on two main initiatives: sustainability and growth. They implemented a Customer Relationship Management (CRM) database to track clients, volunteers, and donors. The team also established an Operational Guidelines manual to retain the organization's processes and procedures. They created a pitchbook to help solicit funding, secured a professional marketing plan to help recruit larger donors, provided guidance on grant applications, and leveraged resources to activate an unused $120,000-per-year Google Grant. To fund the database and marketing plan, the team raised over $3,000 through incremental fundraising. Because of the Ignite Louisville team, Critically Loved has a fully funded strategic marketing plan, $40,000 in anticipated grant funding, and a projected 67% increase in families served over 2019.
Families for Effective Autism Treatment (FEAT)
Jamie Ammons, Anthem Inc.; Jarrod Carnahan, Appriss, Inc.; Katie Halsey, K. Norman Berry Associates; Lindsey Howard, Stoll Keenon Ogden PLLC; Christina Kern, UofL Health; Kulwant Singh, Liberty Financial-A Division of ETFCU; and Rohan Vohra, Humana Inc.
Families for Effective Autism Treatment (FEAT) of Louisville is a non-profit organization that launched the Autism Friendly Business Initiative (AFBI), a multi-level training program designed to equip businesses with tools to serve a growing population of people with autism spectrum disorder (ASD). The Ignite Louisville team revised the existing training program to develop a new two-tier program that engages the businesses in annual events and allows the AFBI to become financially self-sufficient. To better brand the AFBI, the team updated the website and promotional materials, created a promotional video to be used in digital marketing, and facilitated the complete revision of the training video to allow for accommodations and diversity, while also gaining $10,000 in-kind value from the videographer. The AFBI business portfolio saw a 20% growth, including LouCity FC. A number of other partnerships were made possible by the team, including the Autism Village app, LIBA and Canopy – all of which will provide business enlistment support as the program continues. The team volunteered 320+ hours with a value of the project estimated at more than $23,900, and plans to stay involved to launch the first AFBI networking event at FEAT's annual gala.
Kentucky Science Center
Erica Camp, University of Louisville; Nicole Hayden, Friends of Nicole Mentoring Collaborative; Nicole Humphrey, Fund for the Arts, Inc.; Autumn Kidd, UofL Health; Kyle Miller, Dentons Bingham Greenebaum LLP; Sara Nelson, Humana Military; and Christopher Titshaw, Papa John's International.
Recognized as a leader in inquiry-based learning, the Kentucky Science Center (KSC) is advancing a statewide science literacy campaign to encourage people of all ages to explore science in everyday life. Historically viewed as a children's museum, the Ignite Louisville team partnered with KSC to develop and implement a sustainable adult programming and membership model to engage a new adult audience, disrupt community perception, and advance their mission of encouraging people of all ages to "Do Science" in ways that inspire a lifetime of learning. Their multi-month partnership resulted in market research compiled through community surveys and a focus groups; increase in awareness and engagement the annual fundraising event "Science with a TWIST"; formation of a new Young Professional Advisory Board in partnership with KSC's Board of Directors; and development of a new adult membership model and suite of adult programming events, slated for launch in 2021. The value of the team's work and in-kind donations is estimated at $12,150 with more than 354 volunteer hours invested. Five members of the team will be joining the new Young Professional Advisory Board to ensure the continued evolution and success of this new adult audience.
South Louisville Community Ministries – The Rosewater: More Than a Bookstore
Michele Beauvois, Texas Roadhouse; Stacey Langan, EdjAnalytics; Devon McFadden, Making Eating Easy, LLC; Denise O'Donnell, Kentucky College of Art + Design; Toree Parrish, University of Louisville; Oliver Roe, Calhoun Construction Services; Brandon Thomas, The Underwriters Group; and Joshua Watkins, Louisville Metro Government.
The Rosewater is a social enterprise bookstore that filled a vacant building on a prominent corner in the Beechmont community of South Louisville, leveraging workforce training programs to offer emergency assistance to families in crisis. South Louisville Community Ministries has a vision to create a better sense of community, enrichment and inclusion in every neighborhood, starting with Beechmont. The Ignite Louisville team helped to plan and execute The Rosewater's soft and grand openings on short notice with limited resources. The grand opening weekend was a success with an immensely effective public relations release earning over $40,000 in publicity value, substantial community participation, local government praise, and enough funding to cover more than a month's worth of operating expenses. Behind the scenes we connected SLCM with local libraries and schools. The team was dealt with a shorter timeline than they could have imagined launching this community dream, and the 560 hours dedicated to the project gave them a strong sense of accomplishment.
About the Leadership Louisville Center:
The Leadership Louisville Center is the region's most valuable resource for leadership development and civic engagement. With a purpose to inspire and equip leaders to be better and do better, it has graduated over 10,000 through its civic programs since 1979. The Center is recognized as a national best practice and is known for its dynamic programming and strong community connections. Programming includes five social impact leadership programs (Leadership Louisville, Focus Louisville, Ignite Louisville, Bingham Fellows and Encore Louisville), leadership skills training courses presented through the Leadership Green Room, and events designed to connect leaders and motivate positive change. Learn more at www.leadershiplouisville.org.
# # #