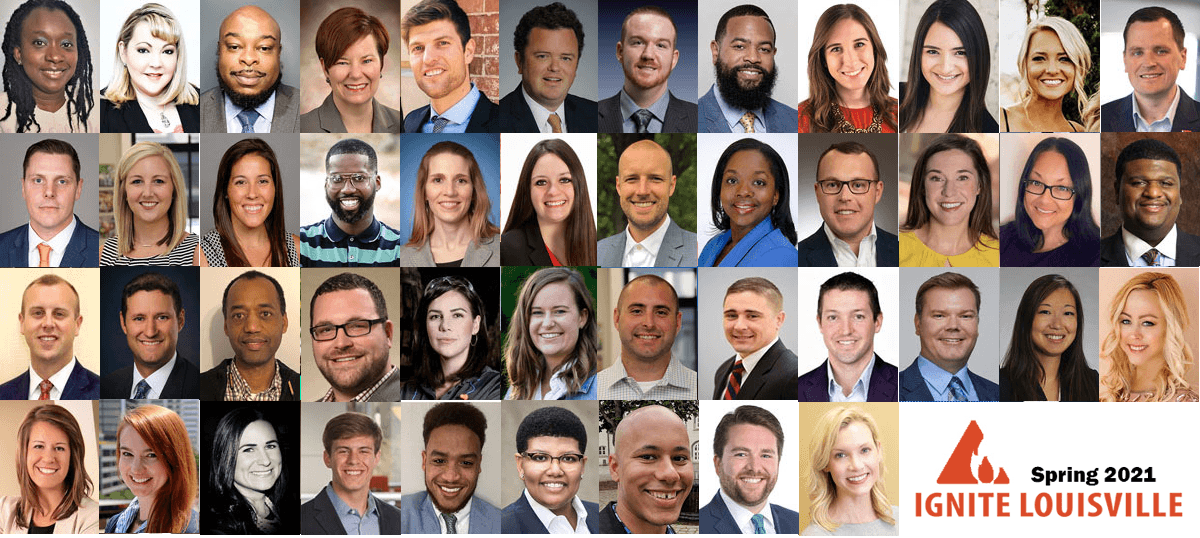 Forty-five emerging leaders have been selected for the Leadership Louisville Center's Ignite Louisville Class of Spring 2021 that will run from August 2020 – April 2021. This is the 24th class of the award-winning program, presented by Norton Healthcare, which has graduated over 1,000 up-and-coming leaders and offers two classes each year, preparing next-generation talent for expanded roles in their organizations and in the community.
The Ignite Louisville experience grows high potential professionals by developing the key components of leadership, with core curriculum developed by the Leadership Louisville Center and partners including Norton Healthcare, Brown-Forman Corporation, the U.S. Army, David Novak Leadership, and Kindred Healthcare. The class puts these lessons to work through the Ignite Louisville Challenge, which is an opportunity to be part of one of the Center's Community Acceleration Teams and work with a local nonprofit to develop and implement solutions for their needs. The teams compete to do the most good for their nonprofit, gaining hands-on experience performing on a diverse team and serving the community. Since the first class graduated in 2005, Ignite Louisville participants have worked on over 135 projects for area nonprofits to plan, execute and sustain new strategies for success.
"Despite all of the challenges of the moment, these individuals and the organizations they represent share our belief that leadership is more important than ever," said Jo Lloyd-Triplett, leadership development manager for the Leadership Louisville Center. "This Ignite Louisville class promises to be like no other and we're excited to see them grow their leadership skills while flexing their social impact muscles."
Members of the Ignite Louisville Class of Spring 2021 (August 2020 – April 2021) are (click for photo roster):
Nike Aniyikaiye, Bozville Home Services, LLC; Brandy Arsenault, Hilliard Lyons Trust, A Baird Company; Derek Bell, Humana Inc.; Brittany Brohm, Norton Healthcare; Benjamin Bruce, Armag Corporation; Wick Byrne, BB&T Bank; Alexander Carpenter, Humana Inc.; C.J. Carter, Minorities for Medical Marijuana (M4MM); Michelle Clay, Humana Inc.; Diana Duran, Prospanica Louisville; Carson Economy, Seven Counties Services; Greg Ekman, Thorntons LLC; David Eskridge, Humana Military; Kara Farris, Delta Dental of Kentucky; Channing Underhill Flaherty, Enterprise Fleet Management; Joseph Franklin, TEKsystems; Abigail Gardner, Sullivan University; Samantha Goodwin, The Healing Place; Brian Goss, LG&E and KU Energy LLC; Dionne Griffiths, Fund for the Arts; Chase Hall, Baptist Health; Lane Hettich, AssuredPartners; Anyah Hoang-Ansert, D.P.A., Volunteers of America Mid-States; Christopher Jones, Ed.D., Jefferson County Public Schools (JCPS); Jason Jones, Humana Inc.; Paul Kichler, Sacred Heart Schools, Inc.; Bereket Kindo, Humana Inc.; Josh Kornberg, Ivy Tech Community  College; Alex Martindale, Kentucky Bourbon Barrel; Megan McDougal, Novak Family Foundation; Josh Moulton, Messer Construction Co.; Matt Muller, Farm Credit Mid-America; Chris Nall, Papa John's International; Kelly Nichols, Derby City Gaming; Young-Eun Park, Dinsmore & Shohl LLP; Amanda Parson, Anthem Inc.; Liz Pratt, LG&E and KU Energy; Jessie Schook, Greater Louisville Inc.; Tracy Shaughnessy, Norton Healthcare; Ben Taylor, Louisville Geek; Miles Taylor, Brown-Forman Corporation; Kimberly Turner, Humana Inc.; Joesar Watkins, Brown-Forman Corporation; John Weber, Young Professionals Association of Louisville (YPAL); and Johnna Worley, Dare to Care Food Bank.
About the Leadership Louisville Center:
The Leadership Louisville Center is the region's most valuable resource for leadership development and civic engagement. With a purpose to inspire and equip leaders to be better and do better, it has graduated over 10,000 through its civic programs since 1979. The Center is recognized as a national best practice and is known for its dynamic programming and strong community connections. Programming includes five social impact leadership programs (Leadership Louisville, Focus Louisville, Ignite Louisville, Bingham Fellows and Encore Louisville), leadership skills training courses presented through the Leadership Green Room, and events designed to connect leaders and motivate positive change. Learn more at www.leadershiplouisville.org.
# # #