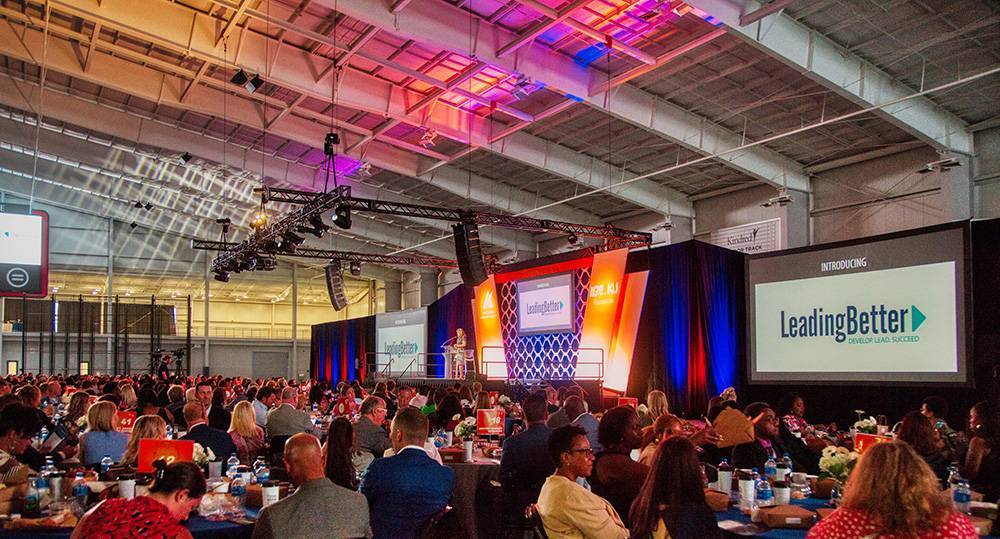 2022 Leadership Louisville Luncheon gathered largest crowd ever, 1,100 business and community leaders, to hear keynote speaker Allan Houston and two major announcements from the Leadership Louisville Center
The largest crowd ever, 1,100 business and community leaders attended the 2022 Leadership Louisville Luncheon, presented by LG&E and KU Energy, on Tuesday, August 30, 2022, hosted at the Norton Healthcare Sports & Learning Center, and featuring keynote speaker Allan Houston, NBA All-Star/Olympic Gold Medalist and current VP Player Leadership & Development for the New York Knicks. The Leadership Louisville Center announced two major growth initiatives at its annual event, one of the region's largest gatherings of business and civic leaders.
New partner brand launched at event:
LeadingBetterTM
For more than 40 years, the Leadership Louisville Center has specialized in developing leaders of the highest caliber as it fulfills its purpose: to inspire and equip leaders to be better and do better. This dual focus on growing the skills of the individual and inspiring them to better the community around them is called social impact leadership. Known for its world-class approach to leadership development, the Center is now leaning into a national growth opportunity, allowing enterprise to fuel social impact.
Since 2015, the Center has offered leadership training and development curriculum through courses and an annual Leadership Summit. With the addition of virtual programming and because the needs of the new world of work are changing, the Center's geographic footprint has grown significantly. The Center's thousands of training participants have come from over 30 states and several countries, with over 500 companies using the Center's talent development solutions. Free microlearning sessions launched in 2020 have attracted over 10,000 participants from all 50 states. The Leadership Summit has transitioned to a hybrid event (in-person and virtual), with one-third of attendees from outside of the Louisville region, representing over 20 states.
To embrace these opportunities, the Center is launching a new, partner brand, called LeadingBetterTM, to allow for continued growth beyond the boundaries of Louisville. LeadingBetterTM will be the new brand for all skills-based offerings and the Leadership Summit – all of the offerings designed to help individuals and organizations lead better. The Center's community leadership programs will continue to operate under the Leadership Louisville Center brand – so both will be used moving forward. While the LeadingBetterTM brand is being launched today, the transition will come in phases over the next year.
"As a nonprofit, purpose-driven organization, our focus is to enable better leaders, better results, and a better world. For the individuals and companies who want to both train up their talent AND at the same time make a social impact investment – LeadingBetterTM can do this for you," said Cynthia Knapek, president and CEO of Leadership Louisville Center. "This new brand will allow more of our local partners to extend training to other locations throughout the country, and other markets to come to us. The impact of a Louisville-based asset for better leadership has far-reaching positive implications for our organization, for the Louisville community, and for the nation. Please get in touch with us to help support your talent development needs and shine a spotlight on Louisville as the model for better leadership. Together, we are LeadingBetter."
Learn more at www.leadershiplouisville.org/what-is-leadingbetter


New cohort program for women leaders, named for Alice Houston announced:
Alice Houston Women's Leadership Program
The Leadership Louisville Center is developing a women's leadership program to accelerate and sustain the growth of women into positions of influence. Organizations with greater gender diversity in management are more likely to have sustained profitable growth. Yet, women still lag behind men when it comes to promotions into leadership positions.
Research also shows that mid-level managers are critical in driving change, innovation, and results. This half-year cohort experience is designed to help midlevel women leaders, managers and directors, master the dual role of leading others and managing up that can drive change and deliver results.
In addition to building management capability, this program tackles the unique issues and opportunities that come with being a woman in the workplace. Through reflection, coaching, and experiential learning, women in this program will build greater self-awareness, leadership presence, and resilience.
The program that will start its first class in early 2023 and is named for esteemed female executive and community trustee, Alice Houston, co-founder/owner and former CEO of HJI Supply Chain Solutions. Alice and the Houston family are supporting an endowment to launch and sustain the new program.
Women managers and directors, and others interested in the program, can sign up to learn more at upcoming information sessions. Applications for the first cohort beginning in Spring 2023 will open October 3, 2022. Learn more at www.leadershiplouisville.org/womensleadership.
Other news from the event:
At sponsor reception, Tawana Bain of TBAIN&Co. recognized fellow Bingham Fellows alumni and candidates for Louisville Mayor, Bill Dieruf, BF '20 and Craig Greenberg, BF '05.
Mayor Greg Fischer recognized for partnership on the event, named honorary Leadership Louisville alum.
Bingham Fellows 2023 topic: Applications are now open for the Leadership Louisville Center's Bingham Fellows program. The topic for the 2023 Bingham Fellows will be: TALENT: Pathways & Pipelines, focused on building a future-ready workforce. Learn more at www.leadershiplouisville.org/bingham-fellows.
New program for employee resource group leaders, Leadership Accelerator, first class just began: The Leadership Louisville Center has launched a new program called Leadership Accelerator and shared the list of its first cohort members. The new program will gather leaders of employee resource groups (also called BRGs, affinity groups, etc.) to accelerate the growth of a company's diverse talent, grow skill sets in individuals, and deepen connections between affinity group leaders. It was developed in partnership with its IncLOUsion Council, an advisory council of ERG leaders that is the first of its kind in the country. The Council was established in 2019 by the Leadership Louisville Center.
LG&E and KU Foundation generously supports the Leadership Louisville Luncheon as the event's presenting sponsor. Special thanks to our additional supporters –
Platinum sponsors: Fifth Third Bank and TBAIN&Co.
Gold sponsors: Beam Suntory; Brown-Forman Corporation and Louisville Public Media;
Silver sponsors: Anthem Blue Cross and Blue Shield; Doe-Anderson; Farm Credit Mid-America; Frost Brown Todd; HJI Supply Chain Solutions; Louisville Business First; and Tandem Public Relations.
Bronze sponsors: AJS Hotels, ARGI Financial Group; The Boone Group; Caesars Southern Indiana; CBRE; JPMorgan Chase; DDW, The Color House; Dentons Bingham Greenebaum; FORVIS; GE Appliances, a Haier company; Integrity Staffing Solutions; MCM CPAs & Advisors; Messer Construction; MPI Printing; Northwestern Mutual; Portland Investment Initiative; PWC; Texas Roadhouse; University of Louisville; University of Louisville College of Business; Volunteers of America Mid-States; and Waystar.
Event partner: Louisville Office of the Mayor
ABOUT KEYNOTE SPEAKER ALLAN HOUSTON
NBA All-Star/Olympic Gold Medalist, VP Player Leadership & Development for New York Knicks, and President of the Allan Houston Legacy Foundation
Son of Louisville (and firstborn of Wade and Alice). Ballard High School 1988 Kentucky state basketball champion. Three-point shooter extraordinaire. Allan Houston has been called a lot of things. But he calls himself a man of faith with strong family values. Allan lives his life determined to apply his success and the lessons learned throughout his career as a pro athlete to help others. Allan's impact extends beyond the court through the Allan Houston Legacy Foundation and The FISLL Project, which lifts up underserved youth, families and communities nationwide through its strategic partnerships, coaching clinics and fatherhood and family programming.
At the 2022 Leadership Louisville Luncheon, Allan is the featured keynote speaker delivering an inspiring message with stories of a life well played.
ABOUT EVENT VENUE
Norton Healthcare Sports & Learning Center
On what was once an uninhabitable brownfield now sits the Norton Healthcare Sports & Learning Center, filling a void in the local, regional, national, and international track and field community – spurring economic and community growth for black businesses and families, igniting a culture of change that passes asset and wealth building down to future generations. The Norton Healthcare Sports & Learning Center sits on the Louisville Urban League Sports & Learning Campus, a 24-acre, multi-sport complex located in Louisville's Russell neighborhood that opened in February 2021.
ABOUT THE LEADERSHIP LOUISVILLE LUNCHEON
Presented by the Leadership Louisville Center in partnership with the Office of the Mayor, the Leadership Louisville Luncheon has gathered influential leaders from across the region since 1988. Special guest speakers have included top mayors in the country to share insights on community development initiatives of interest to the Louisville community as well as notable leaders engaged in civic leadership. Past events have been attended by over 1,000 community leaders representing over 300 companies. The 2022 Leadership Louisville Luncheon remains a must-attend gathering for those dedicated to positive change.
ABOUT THE LEADERSHIP LOUISVILLE CENTER
The Leadership Louisville Center is the region's most valuable resource for leadership development and civic engagement. With a purpose to inspire and equip leaders to be better and do better, it has graduated over 15,000 through its programs and courses since 1979. The Center is recognized as a national best practice and is known for its dynamic programming and strong community connections. Programming includes five social impact leadership programs (Leadership Louisville, Focus Louisville, Ignite Louisville, Bingham Fellows and Encore Louisville), talent development solutions presented through the Leadership Green Room, and events designed to connect leaders and motivate positive change. Learn more at www.leadershiplouisville.org.
# # #