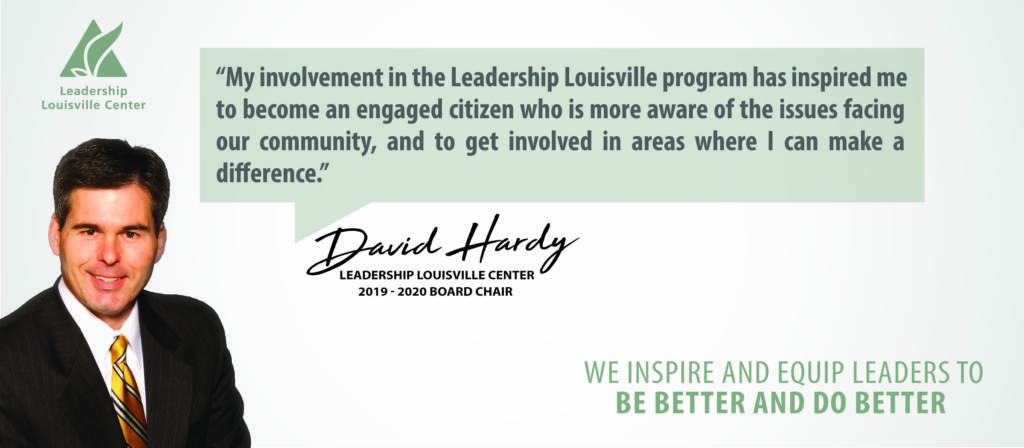 The Leadership Louisville Center is finishing out its 40th anniversary year with a new strategic plan and ambition to grow the Center as a national thought leader and best in class resource for social impact leadership. The new slate of board members will support and lead the organization as it seeks to fulfill this ambition by equipping more people to lead with confidence and courage, fostering connections that strengthen the social fabric of the community, and sustain the Center as a high-performance enterprise. The newly elected officers and members of its Board of Directors began their term July 1, 2019 with David Hardy, Managing Director of CBRE, serving as Board Chair.
Other elected officers servicing as executive committee are: Chris Whelan, LG&E and KU Energy LLC – Chair-elect; Condrad Daniels, HJI Supply Chain Solutions  – Vice Chair; Jennifer Hancock, Volunteers of America – Vice Chair; Steven Hester, M.D., Norton Healthcare – Vice Chair; Brian Reynolds, Archdiocese of Louisville – Vice Chair; Dan Rivers, Northwestern Mutual – Vice Chair; Jaleigh White, Hilliard Lyons, a Baird Company – Secretary/Treasurer; Ken Selvaggi, WAVE 3 News – Immediate Past Chair; and Geoffrey White, Frost Brown Todd LLC – Counsel.
Six community leaders joined the Board as Directors for a three-year term.  They are:
Beth Boehm, University of Louisville; Toni Clem, Scoppechio; Andy Cooper, UPS Airlines; and Victoria Russell, Papa John's International, Inc. Also new on the board is ex-officio director: Nathan Shanks as the new president of Young Professionals Association of Louisville (YPAL).
Members returning to the Board of Directors include: Christy Ames, Republic Bank; Debra Clary, Humana Inc.; Scott Colosi; Marjorie Farris, Stites & Harbison PLLC; Jim Irving, Bingham Greenebaum Doll LLP; Greg Pope, EY; Rebecca Phillips, MCM CPAs and Advisors; Chad Smith, Modern Edge Media; Rick Smith, Smith Consulting Solutions, Inc.; Stacey Wade, Nimbus; and Cynthia Williams, Brown-Forman Corporation.
Returning as ex-officio directors are: Kent Oyler, President and CEO of Greater Louisville Inc. and Diane Porter, representing Jefferson County Public Schools (JCPS).
ABOUT THE LEADERSHIP LOUISVILLE CENTER
The Leadership Louisville Center is the region's most valuable resource for leadership development and civic engagement. With a purpose to inspire and equip leaders to be better and do better, it has graduated over 10,000 through its civic programs since 1979. The Center is recognized as a national best practice and is known for its dynamic programming and strong community connections. Programming includes five social impact leadership programs (Leadership Louisville, Focus Louisville, Ignite Louisville, Bingham Fellows and Encore Louisville), leadership skills training courses presented through the Leadership Green Room, and events designed to connect leaders and motivate positive change. Learn more at www.leadershiplouisville.org.
# # #