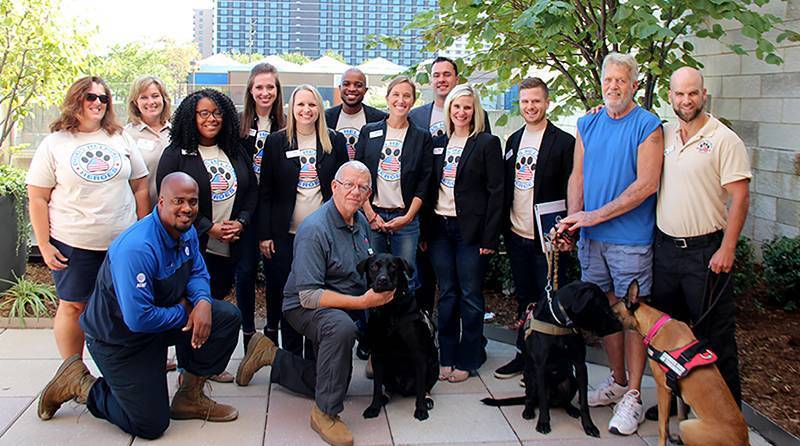 With Veterans Day coming up, join a 2017 Ignite Louisville team that is continuing to support veterans and first-responders through their work with Dogs Helping Heroes, their partner nonprofit in the Ignite Louisville Challenge. Dogs Helping Heroes' annual fundraiser, 'Be at Ease', happens on Nov. 7th at Mellwood Art Center. Tickets are available here. Below is this team's continuing story of impact.
In early 2017, a team of eight strangers joined on a journey that could potentially change a local nonprofit, but would definitely change each individual. Together, Lindsay Wehr, Lauren Colberg, Angie Stokes, Cassandra Webb, Alan Oca, Lara Thompson, Jeff Greer, and Keith Joy formed a self-named team Extra-Strength. Not only was this team a strong group of professionals, but each also had a pretty terrible headache when they met, hence the team name. By the numbers, this team was one of six groups, and 44 professionals, embarking as the 18th class of Leadership Louisville Center's Ignite Louisville program.
Seven months later in fall 2017, team Extra Strength was named the winner of the Yum! IGNITES Louisville Challenge for their work with local non-profit, Dogs Helping Heroes (DHH). DHH is a nonprofit that provides trained service dogs to wounded warriors and first responders. The team helped the young nonprofit build it's first-ever, three-year strategic plan and lay a foundation for continued success.
I know all of this because I was one of those team members. Once graduated, this journey could not be over. I had to act on all of the knowledge gained and emotions felt during this process. Four teammates – myself, Lauren, Angie, and Jeff – stayed on board as consultants to the DHH board, helping align each decision to their new strategic plan and grow purposely. Ultimately, three of us opted to join as full board members, Angie and Lauren serving key committee roles with volunteers and hero team outreach, and myself as board secretary. We have proudly served in these roles since. While some of our terms will end this year, we have watched a young nonprofit follow its strategic plan, endure growth and pain points, and form a solidified organization who has placed 37 service dogs with veterans, first responders, and gold star families.
For those that participate in Ignite Louisville, it is a bonded community of alumni working to drive positive social impact. The Leadership Louisville Center brings together strangers and graduates, no matter the program, professionals who will forever be connected. I encourage you to consider these programs as well as to learn more about Dogs Helping Heroes.
From Jay Baribeau (IL '14, FL '11), General Counsel, Schulte Hospitality Group, and board chair of Dogs Helping Heroes:
"Having an Ignite team work with Dogs Helping Heroes was a crucial step for our organization that helped position us for our continued growth. We are a young organization and our Ignite team helped us create a crucial framework to enable us to be smart and confident as we move forward and expand. Since the Ignite program ended, we have been incredibly lucky to have multiple members of our Ignite team join as board members, which has been another important step for us. Not only did we add members at a time when we needed to grow our board, but we added people who we knew were already dedicated to our cause and who were perfectly positioned to help us implement everything they helped us create! In sum, we can't say enough about how important it was for us to participate in this wonderful program."
You're invited to join us in helping veterans and first-responders through Dogs Helping Heroes
A staple of the DHH fall calendar is "Be At Ease," an annual fundraiser in support of rescue dogs, veterans, first responders, and their families. This year the event will be held November 7 at 6 p.m. at the Mellwood Arts Center. Please consider showing your support as we approach Veteran's Day for this organization helping to restore lost freedom to heroes in our community. Learn more about the event and organization at: www.dogshelpingheroes.org.
UPDATE: Here's photo from the 2019 Be At Ease event: