Click to download the Bingham Fellows Outcomes Report
For Immediate Release: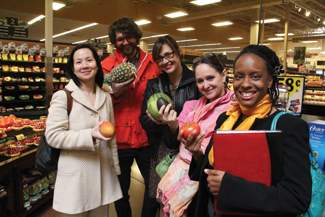 Louisville, KY (September 12, 2013) – After months of exploration and creative problem-solving, the 2013 Bingham Fellows are launching initiatives to Develop a Smart Food Culture – one that masters the basics of nutrition and makes healthy, local food more accessible for all.  On Thursday, Sept. 12 at Actors Theatre of Louisville, the forty-six community leaders who make up the class presented five projects that focus on improving the health of Louisville citizens using the strong food economy and nutrition as a platform.  Together, they secured over a quarter of a million dollars and reached all parts of the community, serving as catalysts for developing a smart food culture.
The 2013 Bingham Fellows include leaders from all corners of Louisville, thanks to a generous donation of scholarship funds from the Humana Foundation.  They include global companies with a local presence, universities and our public school system, nonprofit organizations, government, small local businesses and the media.
They approached the topic from many different perspectives, including the impact of food on health and wellness, the livelihood of farmers and availability of local food, as well as how food access and the business of food affect quality of life.  They are a unique gathering of individuals with expert knowledge and a passion for civic involvement, as Barry and Mary Bingham envisioned when the program was founded in 1988. (Full class list is below.)
The diversity of projects developed by the 2013 Bingham Fellows reflects the complex nature of their topic.  They all, however, recognize the role environment plays in shaping food culture. All five projects focus on modifying or supporting environments that encourage positive relationships with food.  Their projects include:
Building a Smart Food Culture Model
Wellington Elementary is a JCPS school that serves a diverse student body and is at the heart of the Shively community, a known "food desert" with poor health outcomes. The Fellows are connecting two non-profits, New Roots and The Food Literacy Project, with new expertise and resources to empower Shively residents and create a replicable model for other "food deserts" in Louisville.  This will build the nutrition IQ for students and families, create demand for fresh food, and reduce food insecurity through the Wellington Fresh Stop, a community-operated market that assists members in pooling their resources (including food stamps) to receive seasonal produce from local farmers at wholesale rates. This partnership has already seen remarkable gains in pre- and post-surveys with third graders, including: 1.) more than doubling the number who eat vegetables daily or want to (44% to 94%), 2.) have a higher food IQ evidenced by the number who can identify the edible part of a plant (34% to 92%) and 3.) the number of children who can prepare a healthy recipe (34% to 97%).
The Fellows have enabled growth and expansion to additional sites in Louisville through business planning and development support, including a $200,000 grant from Johnson & Johnson to prevent childhood obesity at Wellington Elementary and replicate the initiative at another school, Hazelwood Elementary. Another $2,500 Walmart grant was received and additional funds are also expected.
Louisville Barn Raising
According to the 2013 Local Food Demand Survey, there is unmet demand in Louisville for local food. The Fellows see this as an opportunity to transform our local food economy and provide the fresh food the community wants. The Fellows will convene hand-selected leaders for a charrette (solution-oriented meeting) called the Louisville Barn Raising, January 13-14, 2014 at 21c Museum Hotel. The charrette will tap into the wisdom of knowledgeable leaders to address the significant and systematic gaps identified in the survey. These stakeholders will design collaborative solutions to increase food production, improve aggregation and distribution, and create local processing capacity. The result will be an action plan to transform our local food economy.
Louisville Community Food Principles
How do you start a movement? You invite more than 100 leading organizations in our community to publicly commit to a set of food principles that declare simple, fundamental truths: healthful food is essential to healthy lives and to a healthy society, environment, and economy. By securing this support, the Fellows are fostering changes in institutional policies and decision-making of regional organizations.  To date, over 35 have signed the Community Food Principles, including Baptist Health Louisville, Bellarmine University, KentuckyOne Health, Louisville Urban League, Norton Healthcare, Passport Health Plan, Presbyterian Church USA, Spalding University, University of Louisville and YMCA of Louisville. Mayor Greg Fischer is planning to sign at IdeaFestival the week of September 23, 2013.
Students Taking Charge
The Fellows see the need for young adults to take ownership and lead the conversation around healthy eating and physical activity. Therefore, they are building on and assisting in the implementation of a proven national program called Students Taking Charge with Jefferson County Public Schools (JCPS) high school students. Students will be given the tools to identify areas of health policy and environmental improvement in their schools, formulate action steps for change, and then implement those changes by working with their peers, parents, educators, and community stakeholders. The Fellows have also created The League of Healthy Heroes, a network of chefs, nutritionists, trainers, and volunteers, to assist students in making policy and environmental changes in their schools. They have secured an $8,000 grant for multiple schools, achieved full buy-in with JCPS curriculum leaders and recruited 12 community volunteers.  This work will culminate in a student-led showcase at the end of the academic year.
LouisvilleIsFood.org
To amplify all of the work currently underway in regard to a smarter food culture, the Fellows have partnered with food economy stakeholders and businesses like Winston Industries to create a new resource to support and grow the initiatives in our region. LouisvilleisFood.org will promote greater connection and coordination among organizations working in all aspects of the food system, educate the public, provide a springboard for advocacy, and promote the good work happening in Louisville around food. By connecting these disparate but like-minded entities, their efforts become more sustainable.
Members of the Bingham Fellows Class of 2013 are:
Claire Arnold, Louisville Education & Employment Partnership; Summer Auerbach, Rainbow Blossom Natural Food Markets; J. Duffy Baker, Jr., Chase – Louisville Market; Julia Bauscher, Jefferson County Public Schools; Sasha Belenky, YMCA of Greater Louisville; Tanya Bowman, Frost Brown Todd LLC; Alice Bridges, KentuckyOne Health; B. Todd Bright, Kentucky Farm Bureau; David Burianek, Humana Inc.;
Jeff Calderon, Deming, Malone, Livesay & Ostroff; Christopher Chase, Discernity; Ivor Chodkowski, Field Day Family Farm, Grasshoppers Distribution, Community Farm Alliance; Elona DeGooyer, Humana Inc.; Lisa DeJaco, Wyatt Tarrant & Combs, LLP; Beth Dlutowski, Walmart; Jeffrey Ellison, The Heuser Clinic; Christopher Fuller, Yum! Brands, Inc.; Kelly Thompson Garvey, Neighborhood House, Inc.; Carol Gundersen, Food Literacy Project at Oxmoor Farm; Diana Han, M.D., GE; Karyn Hascal, The Healing Place;
Joshua Honaker, M.D., Norton Healthcare; Lisa Hunter, Brown-Forman Corporation; Maggie Keith, Foxhollow Farm; Kristopher Kelley, Woodland Farm LLC, Kelley Green Biofuel; Cheryl Kersey, Kersey and Kersey Architects; Robert Kingsolver, Ph.D., Bellarmine University; Andrew Koon, Venture Vending LLC; Steve Makela, Edible Louisville; Karyn Moskowitz, GreenFire Consulting Group/New Roots; Joel Neaveill, Governor's Office of Agricultural Policy; Karen Newton, MPH, RD, University of Louisville, Campus Health Services; Karen Omietanski, Kindred Healthcare;
Kiley Lane Parker, Kentucky Department of Agriculture; Mitchell Payne, University of Louisville; Melissa Richards-Person, Papa John's International; Lynn Rippy, YouthBuild Louisville; Attica Woodson Scott, Louisville Metro Government; Stanley Siegwald, Dare to Care Food Bank; Theresa Watson, RN, Seven Counties Services, Inc.; Debbie Wexler, GE; James Whaley, Consultant Chef; Edward Raynard White, River City Drum Corp Cultural Arts Institute, Inc.; F. Bruce Williams, D. Min., Bates Memorial Baptist Church; Jackson Woodward, The Horton Fruit Company, Inc.; and Theresa Zawacki, Louisville Metro Government.
Bingham Fellows' Steering Committee:
The steering committee served as an advisory board for the class throughout the program year.  The committee members include: Dr. Sandra Brooks, Norton Healthcare; Al Cornish, Norton Healthcare; Caroline Heine, Seed Capital KY; Robert Holmes, Corporate Services Consultants, LLC; Dana Jackson, Network Center for Community Change; John Kurnick, Yum! Brands, Inc.; Dr. LaQuandra Nesbitt, Louisville Metro Department of Public Health & Wellness; and Steve Tarver, YMCA of Greater Louisville.
About the Bingham Fellows program:
The Bingham Fellows program is the advanced leadership program of the Leadership Louisville Center.  It was created in 1988 through a $500,000 endowment from the Mary and Barry Bingham Sr. Fund. The participants are social entrepreneurs who have both a vision and the ability to assemble the resources required to implement that vision and address obvious social needs.  Now in its 22nd class, the Bingham Fellows have had an impressive track record of providing emerging issues with visibility and momentum.
In recent years, they've contributed to the development of a long-term vision for our community, enhanced environmental responsibility through initiatives at the grassroots and policy levels, worked to attract and retain talent with an internship program now managed by Greater Louisville Inc. and helped form the Kentucky Indiana Exchange, a regional leadership coalition.  The impact of the Fellows goes back to the 1990s with the creation of The Housing Partnership, construction of the Presbyterian Community Center, growth of local farmers' markets and numerous other positive outcomes.
About the Humana Foundation
The Humana Foundation was established in 1981 as the philanthropic arm of Humana Inc., one of the nation's leading health care companies. Located in Louisville, Ky., the site of Humana's corporate headquarters, the Foundation's mission is to promote healthy lives and healthy communities. The Foundation's key funding priorities are childhood health, intergenerational health, and active lifestyles. For more information, visit www.humanafoundation.org.
Humana and the Humana Foundation are dedicated to Corporate Social Responsibility. Our goal is to ensure that every business decision we make reflects our commitment to improving the health and well-being of our members, our associates, the communities we serve, and our planet.
About the Leadership Louisville Center:
Created in 1979, the Leadership Louisville Center is the region's most valuable resource for leadership development and civic engagement.  Its mission is to grow and connect a diverse network of leaders who serve as catalysts for a world-class community through dynamic programming and strong community connections. Over 6,000 community leaders have graduated from the Center's programs which include Leadership Louisville, Focus Louisville, Ignite Louisville and the Bingham Fellows.  In 2011, the Leadership Louisville Center was recognized as one of the top seven community leadership programs in the U.S. in a benchmark study by the Center for Creative Leadership, the "gold standard" global provider of executive leadership education and research. 
# # #
For more information, contact:
Holly Prather
Vice President – Marketing
Direct: (502) 753-6503  Main: (502) 561-0458
hprather@leadershiplouisville.org